A quick Nordic ski this morning
Sunday, January 17, 2016 at 04:08 PM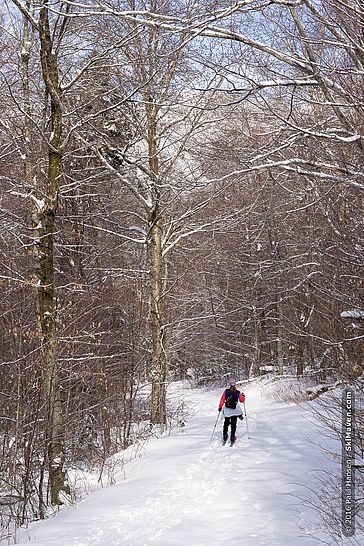 We were looking for some exercise today away from the weekend crowds on the slopes. We decided to ski around the Nordic trails at Bolton Valley. The sun was shining and we had on our light, waxless backcountry gear. We messed around in the snow for a while.
Due to the temperature drop after yesterday's wet snowfall, trails that had been skied on yesterday were now hard-packed and iced over, and untracked areas were crusty. (Bolton Nordic says there isn't enough snow for them to groom yet.) I was glad I had plastic boots and metal edges. The water bars on the trails are also still unfrozen. Luckily we avoided getting our skis wet and having to scrape them.
I'm looking forward to the snow that is expected to fall tonight, Monday and Tuesday! It will continue to add to the base. Keep an eye on conditions on our Vermont Snow Reports page.
Filed in: Backcountry skiing, Bolton Valley, Cross-country skiing
Share This Blog Post
Post a Comment
No Account Needed! To post without any kind of account, you can type in a name, nickname or trail name and an email (which we do not collect or use) then select "I'd rather post as guest." We'd love to hear from you!