Deal of the week: Buy a piece of Magic Mountain ski area in Vermont for $3,000
Wednesday, June 3, 2009 at 07:24 AM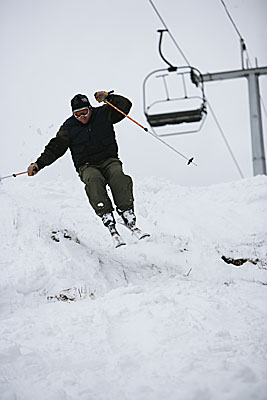 THE DEAL
What: Magic Mountain Ski Resort is being converted into a limited liability corporation and will sell shares in the company
Where: Londonderry, Vermont
How much: A share costs $3,000.
Heck, that's like bringing your family to Stowe for a long weekend!
Small, family friendly, rugged, steep. These are all words used to describe the southern Vermont ski area that is being sold share by share.

Magic Mountain president James Sullivan is working out the details with the Nelson family, which purchased the small ski area about 10 years ago. They are posting updates on the sale at the Magic Mountain Web site.
The new entity will be a limited liability corporation. The Nelson family will retain partial ownership and varying levels of investors are anticipated. However, anyone who buys a share would have the same voting and ownership rights as if it was being sold as a cooperative, which was the initial idea for the ski area's future life.
Could be very interesting to own a chunk of a Vermont ski resort. I hope the plans come to fruition and necessary mountain improvements are made. We really don't need to lose anymore of Vermont small ski areas. They are an important part of the fabric of Vermont.
Magic Mountain ski area at a glance
Vertical Drop: 1700'
Base Elevation: 1,150'
Summit Elevation: 2,850'
Trails: 40( 33% beginner; 30% intermediate; 37% expert)
Long Run: Wizard, 1.6 miles
Steep Trail: The top of Master Magician is 45 degrees
Snowmaking: 70%
Skiable Acres: 120
2 Surface Lifts
2 Chair Lifts
Black Chair: 5,000' long, 1,600' vertical
Red Chair: 5,400' long, 1,700' vertical
2008/09 Lift Tickets: An adult lift ticket at Magic cost $39 midweek and $56 weekends and holidays.
Photo courtesy of Magic Mountain ski area, Vermont.
Filed in: Alpine / downhill skiing, Magic
Share This Blog Post
Post a Comment
No Account Needed! To post without any kind of account, you can type in a name, nickname or trail name and an email (which we do not collect or use) then select "I'd rather post as guest." We'd love to hear from you!