First sliding on snow of the season!
Friday, November 24, 2017 at 04:42 PM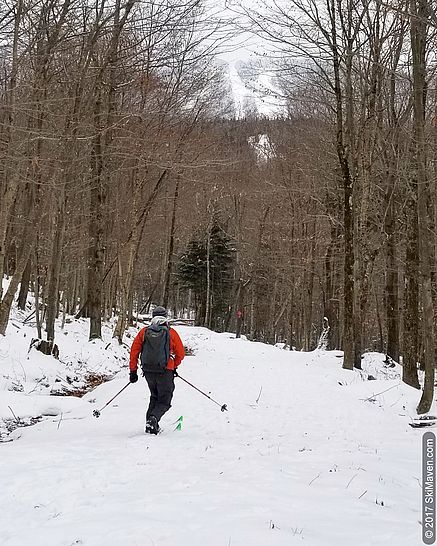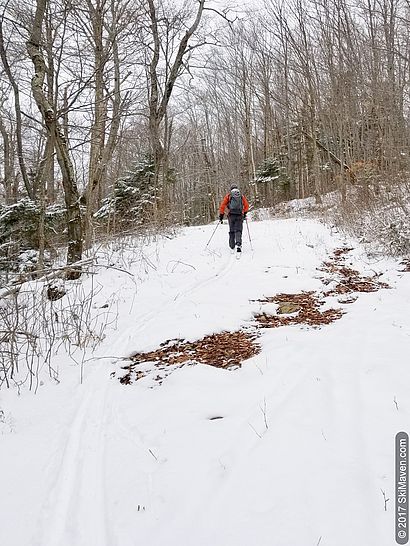 After spending time with family for Thanksgiving, the Skimeister and I wanted to play in the snow. We took our older, waxless, light backcountry gear out for a spin in Bolton, Vermont. We found approximately four inches of snow at about 2,100 feet in elevation.
We messed around on the slightly snowy trails. It felt good to glide and slide! There were many open water bars and rocks to keep us on our toes.
There was likely more snow up higher. As the clouds lifted today they were revealing frosty trees up high. However, with the inconsistent coverage and foot traffic that we saw, we feared that if we climbed higher, we would have a very bad time coming down.
We took in the views of trees sprinkled with snow and paused to watch a cold, bubbling brook. It was peaceful. So lovely to be in the woods in winter!
We plan to do some lift-served skiing very soon. We'll let you know what we find!
Filed in: Backcountry skiing, Cross-country skiing, Fall & Early season
Share This Blog Post
Post a Comment
No Account Needed! To post without any kind of account, you can type in a name, nickname or trail name and an email (which we do not collect or use) then select "I'd rather post as guest." We'd love to hear from you!