More early snow on Vermont's mountains and ski resorts
Tuesday, October 13, 2009 at 12:45 PM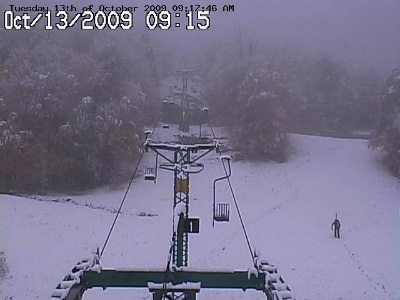 Vermont ski resorts reported a couple of inches of fresh snow on their peaks this morning. When I went to check out the Mad River Glen Web cam at 9:15, I spotted this lone skier climbing to earn some very early turns! What timing!
Killington is also reporting that they started snowmaking for the season.
In some areas, the snow is making an artsy statement as it covers some very bright foliage of orange, red and yellow.
I'm so glad I hiked Camel's Hump yesterday before the snow came down. It was darn cold up there, but the foliage views from this high Vermont peak were tremendous.
Filed in: Fall & Early season, Killington, Mad River Glen
Share This Blog Post
Post a Comment
No Account Needed! To post without any kind of account, you can type in a name, nickname or trail name and an email (which we do not collect or use) then select "I'd rather post as guest." We'd love to hear from you!