Skiing through new snow today. Winter doesn't want to let go!
Sunday, March 15, 2015 at 06:18 PM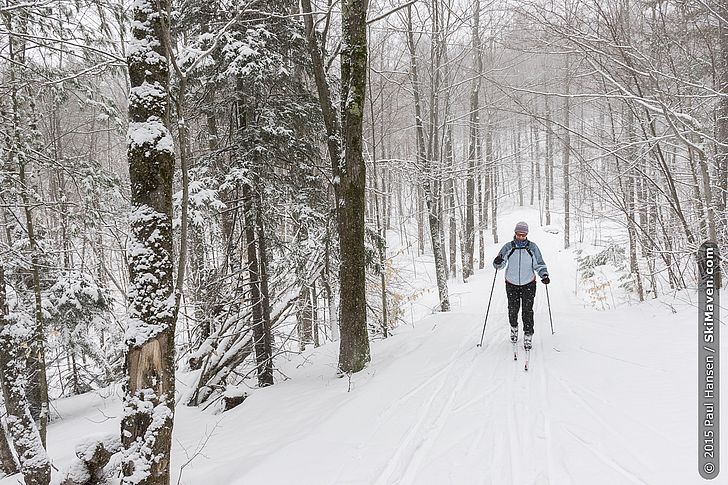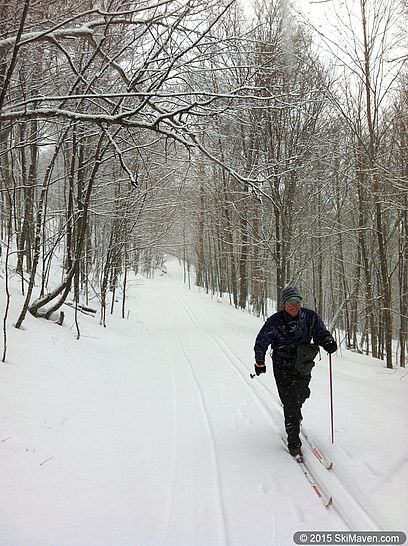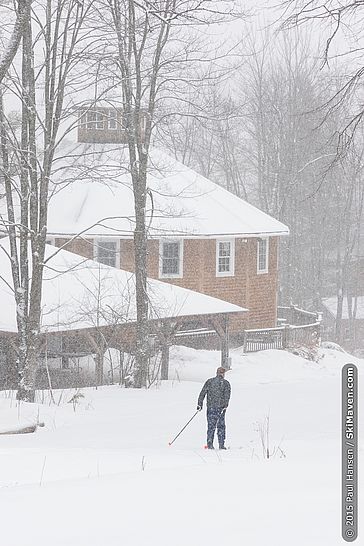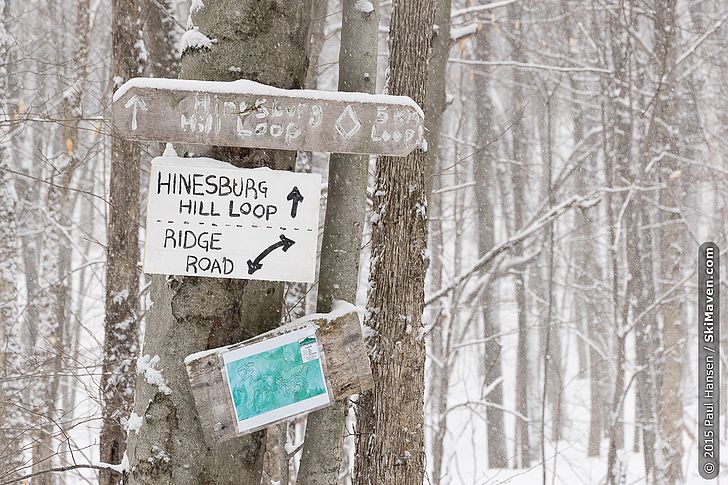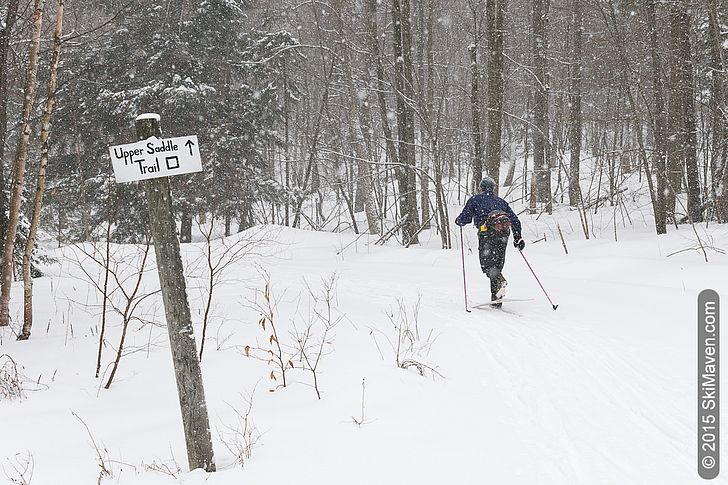 The Skimeister and I skied through a small snowstorm today in northern Vermont. At midday at Sleepy Hollow Nordic Ski Center in Huntington, Vermont, it was really coming down. The snow had covered up the morning's grooming and was filling in the classic tracks.
I prepared myself for skiing in the falling snow by putting a bandana around my neck and wearing light-tinted sunglasses. (It's not pleasant to let your eyes be pelted by the snow when you are going downhill!)
We skied two loops at Sleepy Hollow. From the lodge we skied the Ridge Road loop. It's a nice, wide trail that twists and turns as you climb up. With fresh, moist snow, we had to keep our skis moving to lessen the chance that they would ice up. (Iced-up skis don't like to slide very much!) The downhills were fun and challenging because we were pretty much skiing powder in our skinny skis. About two inches of new snow had fallen by early afternoon.
Ridge Road brought us back to the main intersection of trails and we decided to try a trail that we had never skied before: Upper Saddle Trail. It would bring us out into the hardwood forest and it felt like we were far from the rest of the world. We also noticed some interesting ungroomed trails that we'll have to try when we're not on our skinniest skis.
We climbed and then enjoyed a couple of downhills before reaching a trail junction. We consulted the map and decided to try the Sap Run trail to bring us back toward the center. This would require some initial climbing, but then some contouring and descending to get back to the lodge. (The other option was to ski further down the hill to Lower Saddle or Liberty Meadow, which are novice-rated trails that I have skied before. I recalled they both required a steady uphill ski to get back to the lodge.)
We enjoyed this loop and noticed some maple sap lines running between the trees below the Sap Run trail. How appropriate! On our drive to Huntington we noticed one sugar shack that was belching steam into the air; with the recent temps, maple sugaring is getting underway.
I felt a bit like a snowman as I finished skiing. The front side of my pants, boots, jacket and hat were white!
Sleepy Hollow Nordic Ski Center is a low-key and quiet place to ski. I wish we lived just a bit closer to it.
Sleepy Hollow Nordic Ski Center At a Glance
Located at 1805 Sherman Hollow Road / Ski Lodge Drive, Huntington, Vermont
35 km of cross-country ski trails
15 km of snowshoe trails
Limited snowmaking 1.2 km loop, when needed
Pisten Bully 100 grooming, including a tiller
Rentals & lessons available
Night skiing Mon/Wed/Fri on a 2-km lit loop
Citizens races on Wednesday nights in Jan. & Feb.
Visit our Vermont Cross-Country Ski Centers page for a link to their snow conditions
Filed in: Cross-country skiing, Sleepy Hollow
Share This Blog Post
Post a Comment
No Account Needed! To post without any kind of account, you can type in a name, nickname or trail name and an email (which we do not collect or use) then select "I'd rather post as guest." We'd love to hear from you!