Spring conditions at Bolton Valley today — but winter temps return
Sunday, December 28, 2014 at 05:27 PM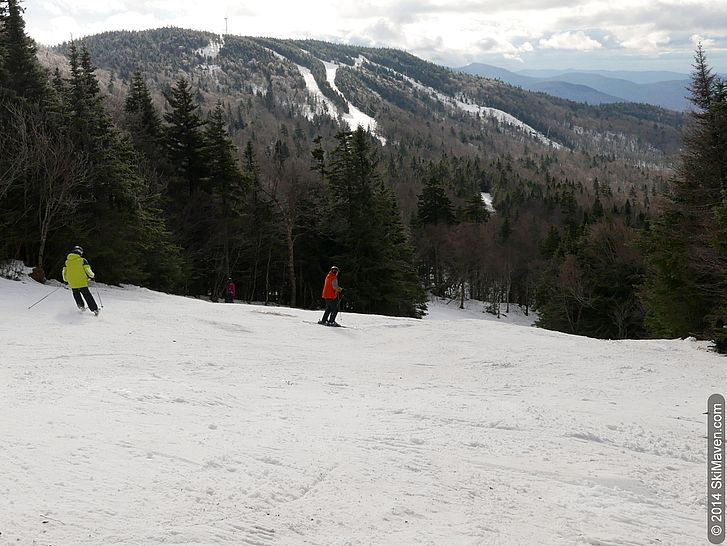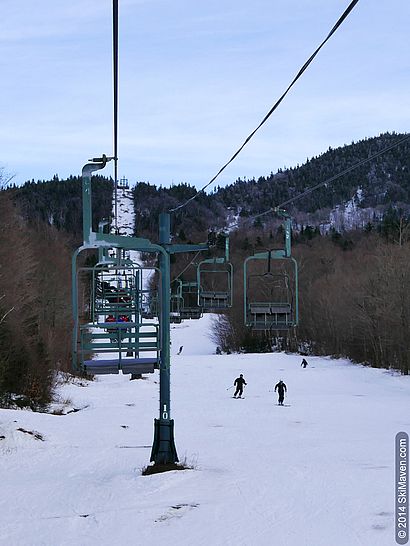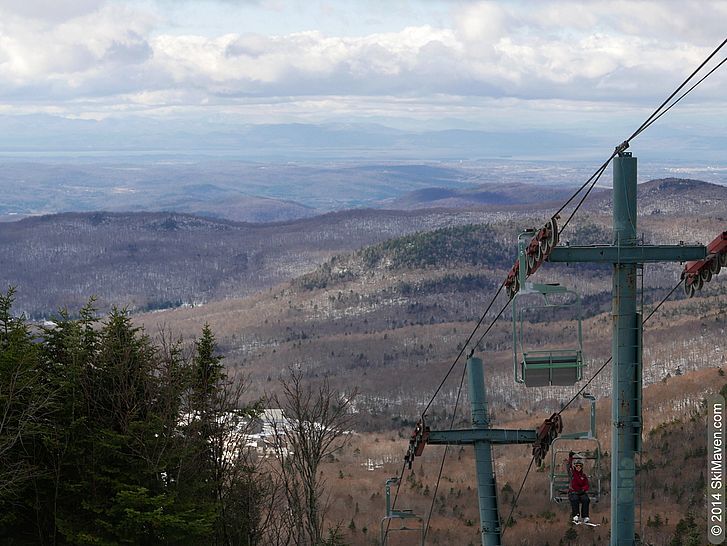 I took advantage of warm temperatures and clearing skies to get in some runs at Bolton Valley Resort today. It was very much like spring skiing and it was fun!
The snow had corned up in the well-traveled areas, the sun came out at midday, and people were enjoying not being bundled up. Also, you had to ski around typical springtime obstacles such as grass and dirt spots, occassional rocks and water hazards. (Although I did see one pre-teen ski right over a rock. On purpose. I was hoping for her parents' sake that she didn't just get those skis under the Christmas tree!)
My favorite runs today were Cobrass, Turnpike and Fanny Hill. All these trails have interesting twists and turns. Much of the time I was skiing with very few people around. I often skied right up to the lifts with just enough time to loosen my boot buckles.
There were quite a few families out taking laps with the kids on a Sunday. The bunny hill was busy with young and old practicing their turning and stopping skills. People were munching on slopeside waffles. A man was making balloon creations for kids. It was a good vibe.
All the main mountain lifts were open — Vista Quad, Mid-Mountain, Snowflake, Mighty Mite and even Wilderness. The Timberline area is not open and you can see why when you drive up to the resort; it has lost a lot of the snow that fell on it in December.
Tonight the temperatures return to those that are more associated with winter. Snowmakers at Vermont resorts are poised to turn the snowguns back on to replenish trail coverage where needed. Groomers will be out in force, too, no doubt. The weather forecast makes it look like a good week to make snow!
Filed in: Alpine / downhill skiing, Bolton Valley
Share This Blog Post
Post a Comment
No Account Needed! To post without any kind of account, you can type in a name, nickname or trail name and an email (which we do not collect or use) then select "I'd rather post as guest." We'd love to hear from you!