A full-blown powder day at Stowe, Vermont
Thursday, January 10, 2019 at 06:27 PM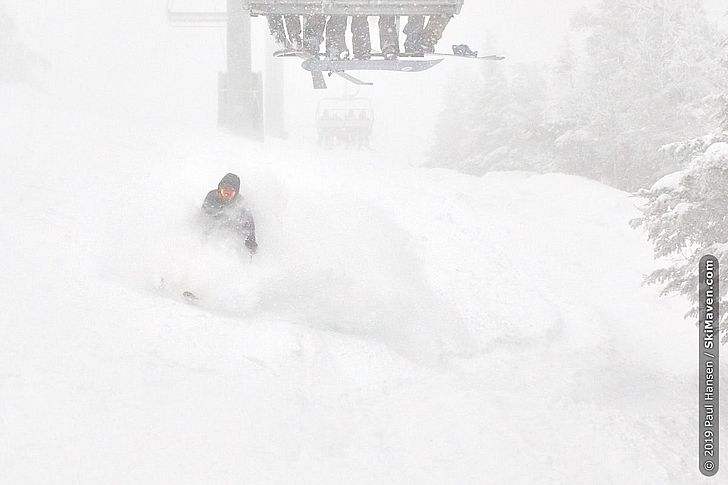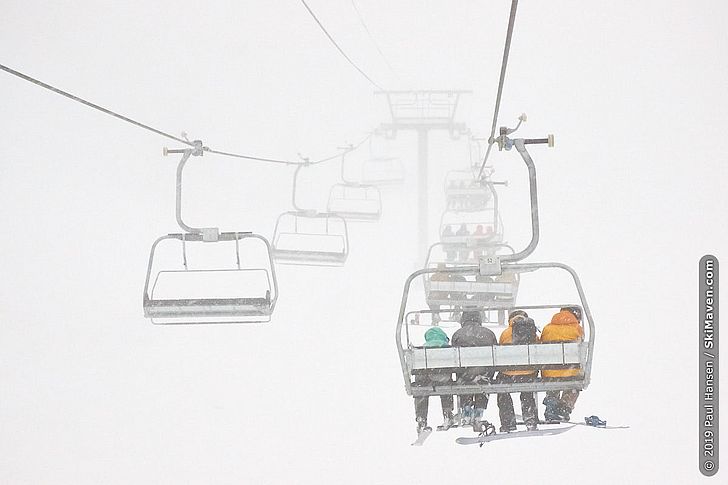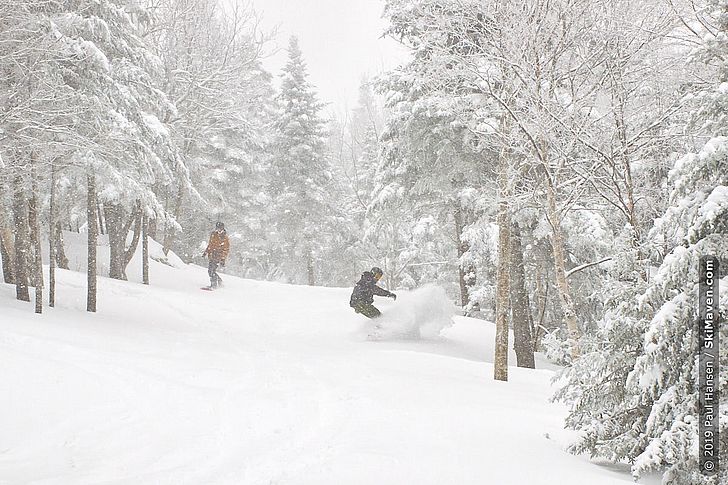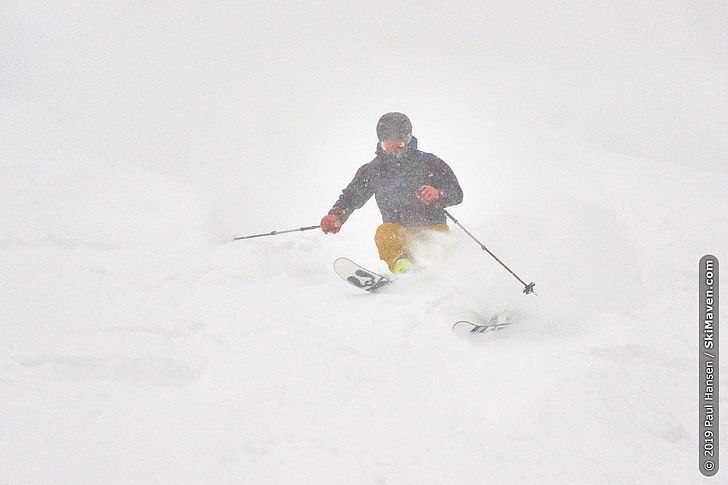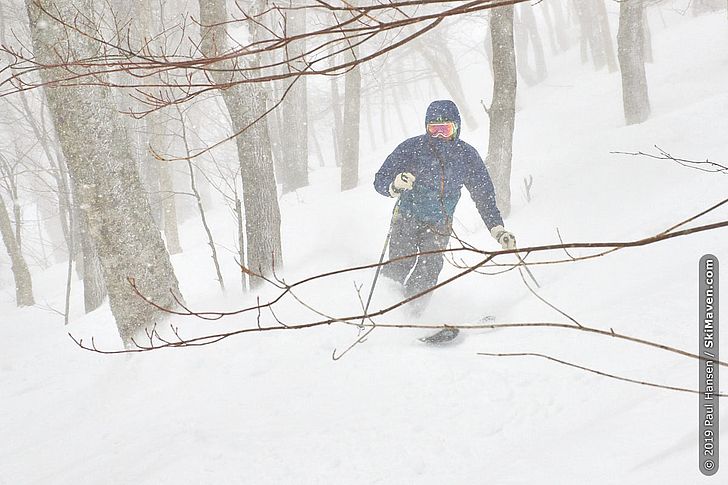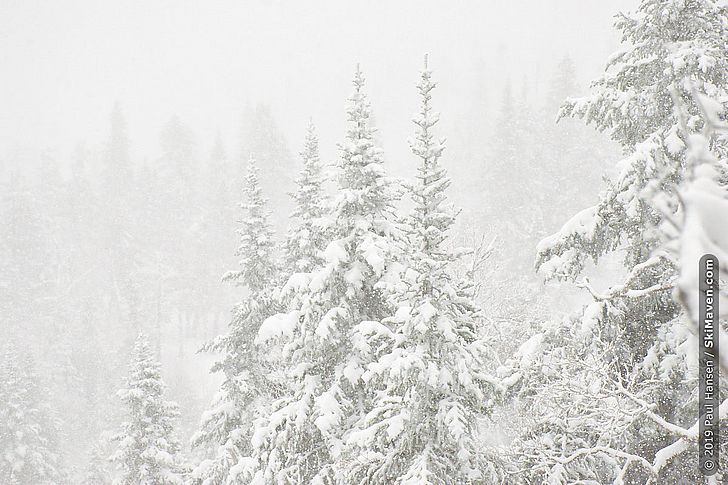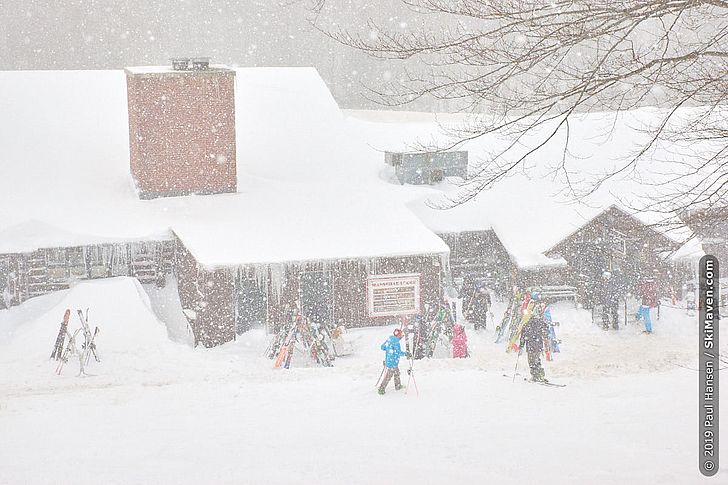 The first big storm of the new year has brought a welcome end to the roller-coaster temps we've been experiencing. Winter is back, and roaring like a lion!
Around 15-18" of snow has fallen at Stowe Mountain Resort in the past couple of days; it's a little tough to gauge the depth with all the wind swirling it around. Along with the snow that fell earlier in the week, it made today into quite a powder day.
That roaring wind was a factor for lift operations (it was yesterday, and may be tomorrow too). The leisurely Mountain Triple ran all day, but the high-speed FourRunner Quad only ran until just after noon, when it was placed on hold as the winds increased. The Gondola cars stayed snug in their shed, and the wind was an issue for lifts over at Spruce Peak as well. Indeed, strong winds put higher chairlifts on hold at most of the other ski areas across northern Vermont today. In a quick survey of lift status reports this afternoon, it appeared that only Burke had been spared.
With all the fresh snow, the mountain was in beautiful shape and nearly 100% open. The Front Four of Starr, Goat, National and Liftline were in full play. In some respects, the run of the day was Hayride, since most of it is accessible from the Triple, and it's a gateway to the popular Tres Amigos Glades.
I did find a few spots were a bit more wind-affected than others; this included Tres Amigos and areas just to the south of the "high hazard area" of blowdowns along Goat. Also, in some wooded areas, streams remain an issue, but this wind and the cold temps should really help fill those in.
With the snowstorm's low visibility, Stowe's many glades were extra-inviting. Besides Tres Amigos, I enjoyed Nosedive Glades, Sunrise Glades, and Birch Glades. By the way, if you head into the Birch Glades area, remember to exit left onto Lullaby Lane/Crossover, otherwise you won't make it back to the main base area. Instead, you'll get to enjoy a meditative long ride up the Toll House Double chair (there's also a shuttle bus).
The wind holds are a bummer, but there is a silver lining — there's a lot of untouched powder across the mountaintops and it will still be there this weekend!
Stowe Mountain Resort at a Glance
Mount Mansfield Summit Elevation – 4,395′
Highest Lift-Served Elevation – 3,625′
Vertical Drop – 2,360′
Number of Named Trails – 116
Skiable Acres – 485
Skiable Miles – 40
Terrain – Beginner trails 16%, Intermediate 55%, Expert 29%
Terrain Parks – 6
Snowmaking Coverage – 83%
Two sides to the resort – Mt. Mansfield and Spruce Peak
Lifts – 12 (1 Inter-Mountain Transfer Gondola, 1 high-speed summit Gondola, 4 quads, 2 triples, 2 doubles, 2 surface lifts)
Lift capacity -15,516 passengers per hour
Filed in: Alpine / downhill skiing, Stowe
Share This Blog Post
Post a Comment
No Account Needed! To post without any kind of account, you can type in a name, nickname or trail name and an email (which we do not collect or use) then select "I'd rather post as guest." We'd love to hear from you!