A great Friday ski at Burke Mountain
Monday, February 18, 2008 at 10:27 AM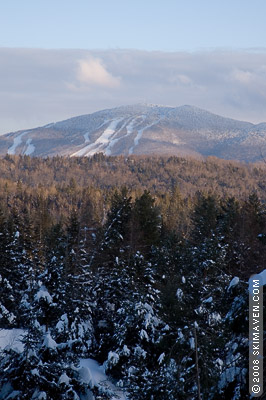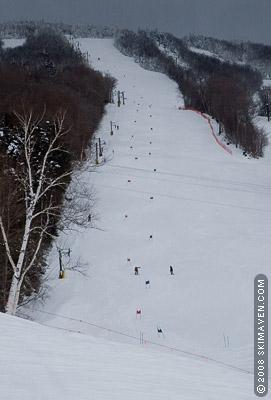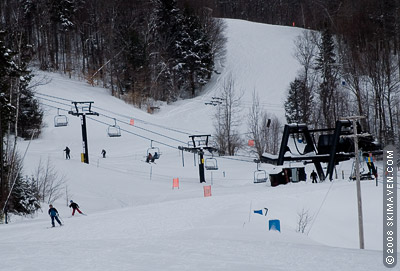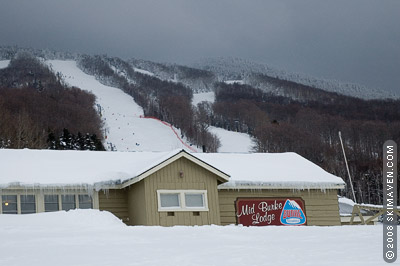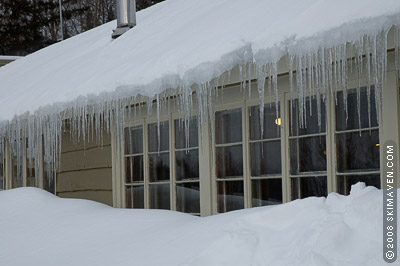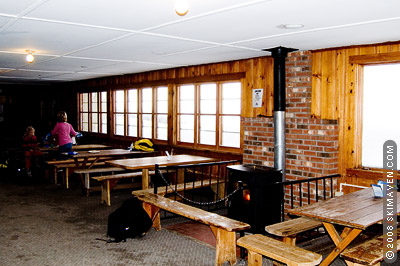 Burke Mountain in the Northeast Kingdom of Vermont used to have a jingle that went something like this: "Ski Burke, Vermont's northern star, Ski Burke!" I used to hear it on the radio and I wondered what Burke was really like. Now I know. It's a mountain that essentially has one lift, but it's a lift that serves nearly 250 acres of terrain that is a heck of a lot of fun!
The Skimeister and I joined four other Vermonters—Karen, Ken, Nicole and Pete—for a Friday ski. Yes, we played hooky from work and we're proud of it.
We arrived late morning at the Mid-Burke Lodge, which is a throw-back to the 1950s or so. It was small, rustic and a little stinky, but we bought our discounted Vermonter tickets ($39 every day except Saturday and holiday weeks), buckled our boots and headed for the lift.
Burke's main lift—its only lift serving real skiing—is a fixed quad that scales Burke Mountain to near its summit at 3,267 feet. Riding up, you can see racing gates set up on Warren's Way and Burke Mountain Academy skiers hitting gates and then riding a steep, long poma lift back up to do it again. This slope and others near the lift had a nice, rather steep pitch that lasted the whole way down. It didn't peter out at the end like many mountains.
We enjoyed fast cruising on Upper and Lower Willoughby and Upper and Big Dipper before seeking out the gladed trails. There were about eight glades to choose from and several of these were quite long. Even though the snow was crusty under a couple inches of fresh powder, we enjoyed making our way through the trees and bumps. Birches, Caveman and Y-Knot were all challenging and fun that day. They would be super-fun without the crust.
We found some moguls on Wilderness, Doug's Drop and under the chair on Fox's Folly, where the snow looked good from above, but was crunchy when we got there. We also discovered that on the map, Deer Run is listed as intermediate, but it's basically a green trail that's the easiest way off the summit. Live and learn.

For novices, there are a couple of beginner trails down below the Mid-Burke Lodge. The high-speed Sherburne Express allows for access to these trails and some ski-in condos, as well as the Sherburne Base Lodge, which I am told is rather nice.
Mother Nature threw a little bit of everything at us on Friday: some sun, some clouds and some snow. When the clouds lifted a bit we could see Willoughby Gap in the distance. It's a distinct glacially formed landmark and the lovely Lake Willoughby, which you cannot see from Burke, is nestled in between the mountains there.
All in all we had a great day at a great value. And no lift line on this day. I'm definitely coming back to Burke Mountain again when we are in the Northeast Kingdom.
BURKE MOUNTAIN AT A GLANCE
Located in East Burke, Vermont
Vertical drop: 2,011 feet
250 acres of terrain
45 trails and glades
25% novice, 45% intermediate, 30% expert
8 glades
1 fixed quad, 1 poma serving the main mountain
1 high-speed quad and 1 J-Bar serving beginner area
80 percent snowmaking
4 terrain parks
Filed in: Alpine / downhill skiing, Burke, Ticket discounts
Share This Blog Post
Post a Comment
No Account Needed! To post without any kind of account, you can type in a name, nickname or trail name and an email (which we do not collect or use) then select "I'd rather post as guest." We'd love to hear from you!