A ski tour around Ole's nordic center in the Mad River Valley
Sunday, March 4, 2012 at 07:44 PM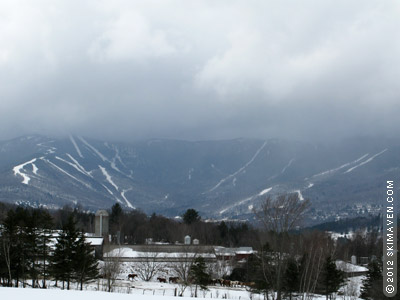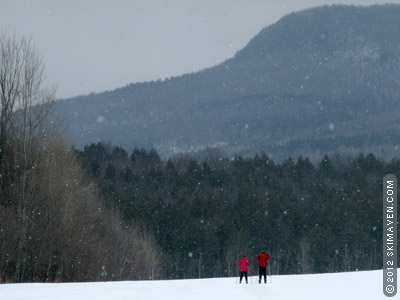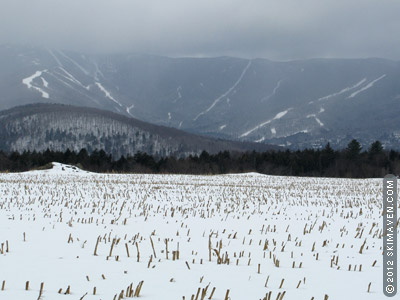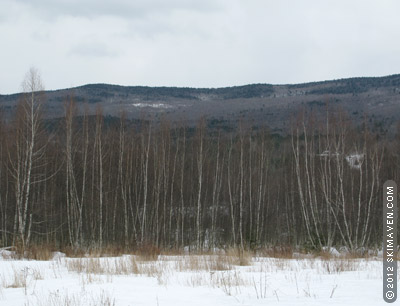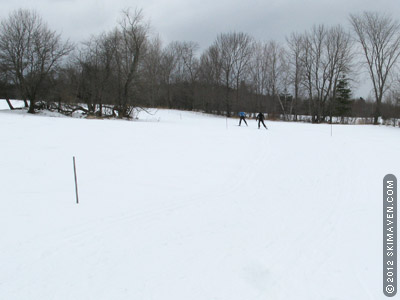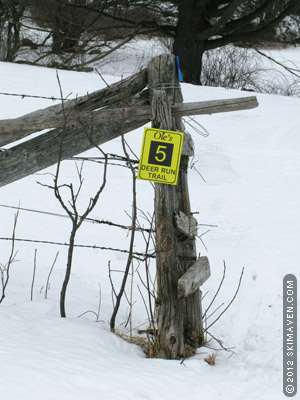 Today was a day for passing snow showers in the Mad River Valley of Vermont. We enjoyed a nice cross-country ski tour at Ole's nordic center in Warren, Vt.
The temperature was in the 30s with little wind, so it was a day when you could unzip your jacket much of the time. The snow on the sides of the trail had crusted over in the last couple of days, but the groomed trails were good for skate skis and waxless classic skis. In most places, the classic tracks were too slick to ski in the tracks. Such is the way with spring-like conditions.
We like taking in the pretty views from Ole's trails, so we skied a loop that would incorporate views. We skied through the woods on trail 5, then into the meadows and trail 7. We went farther into farmer fields on trails 4 and 4a. Here there's a big pile of tree trunks with their roots — likely taken from the field to make way for agriculture.
The return portion of our tour took us first downhill across a field on 7a and then along a small brook on trail 5. A climb up trail 5 and then trail 2, and a couple backroad crossings later, we were back at the air strip and the nordic center. (It serves as the Warren - Sugarbush airport in the summer months.)
A very nice tour on an afternoon that included occassional bursts of snow showers.
Ole's Cross-Country Ski Center at a glance
Located at 2355 Airport Road, Warren, Vermont at 1,500 feet in elevation
45 km of machine-tracked trails
Rentals and lessons are offered
Free skate skiing clinic weekly (not for novices)
Snowshoe trails available, too
Sugar Mama's Café at Ole's is open 10 - 4 on weekends and holidays
Filed in: Cross-country skiing, Ole's
Share This Blog Post
Post a Comment
No Account Needed! To post without any kind of account, you can type in a name, nickname or trail name and an email (which we do not collect or use) then select "I'd rather post as guest." We'd love to hear from you!