A weekend of Nordic skiing at Vermont's Craftsbury Outdoor Center
Thursday, March 5, 2015 at 12:48 PM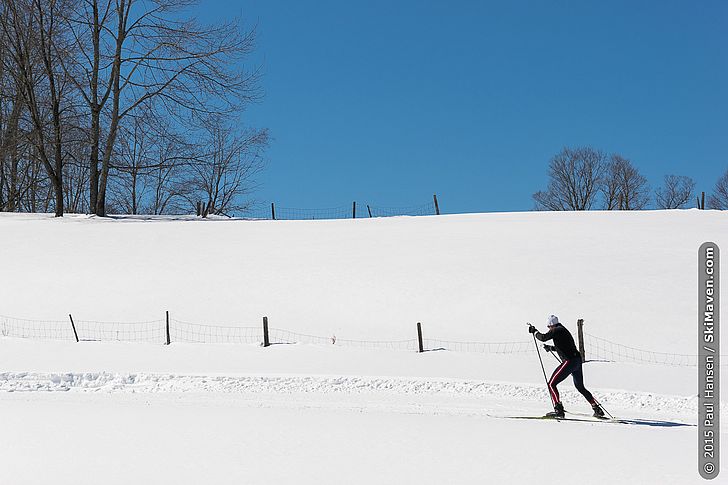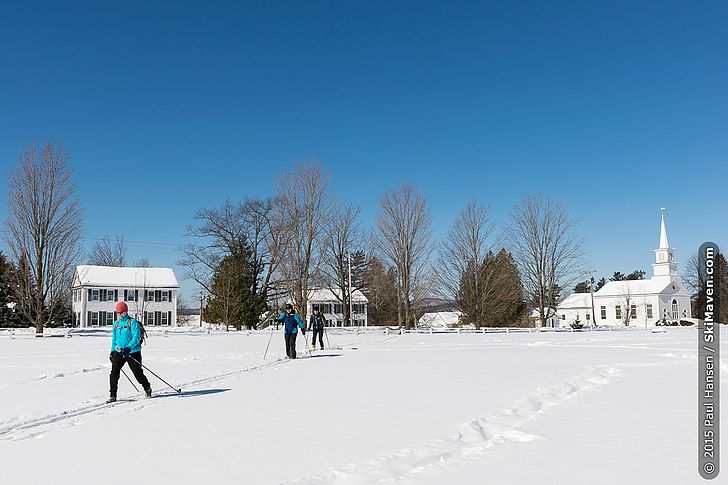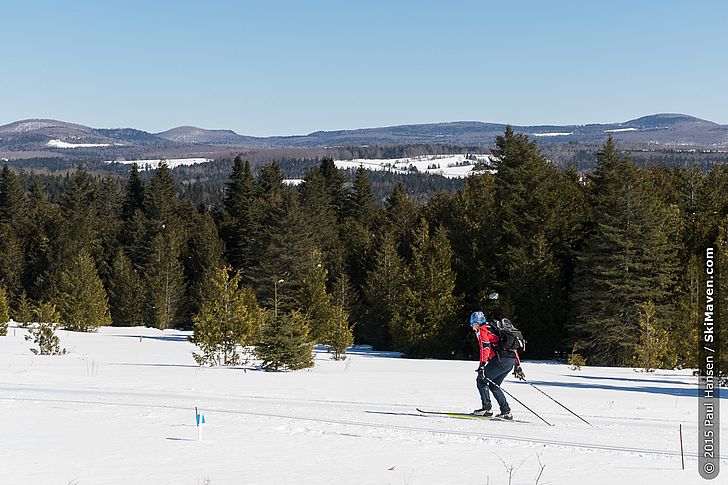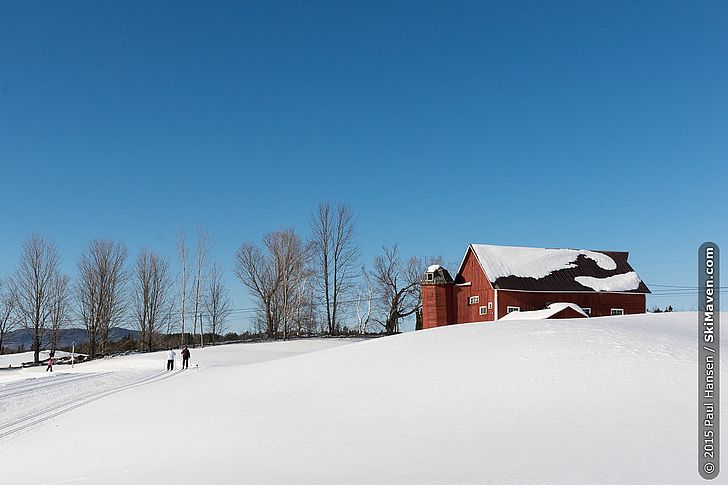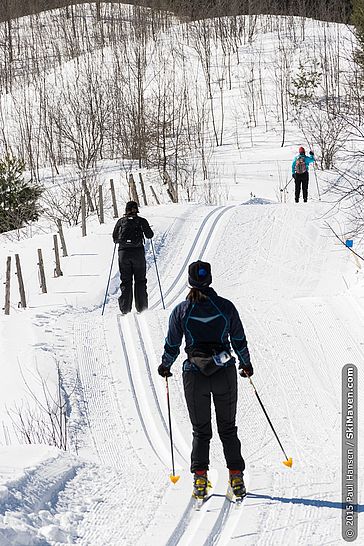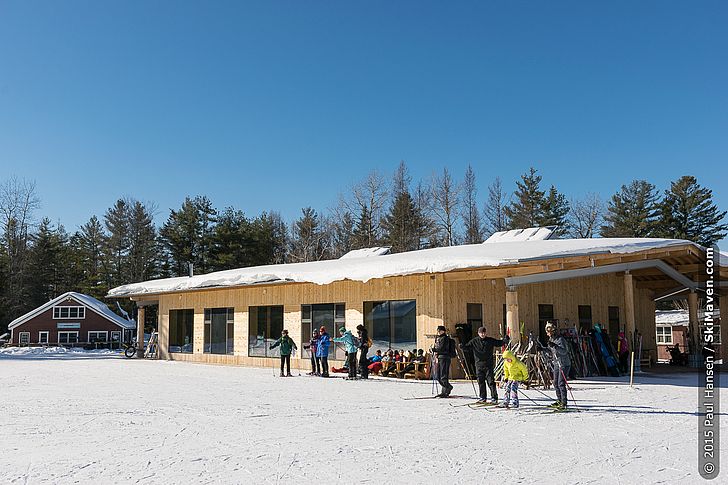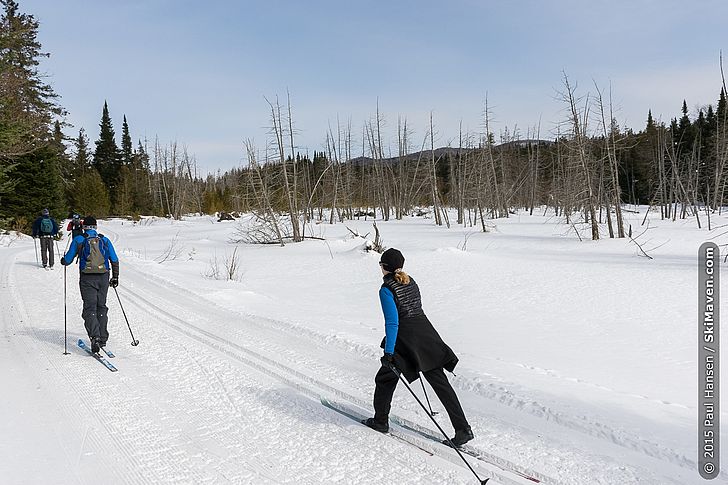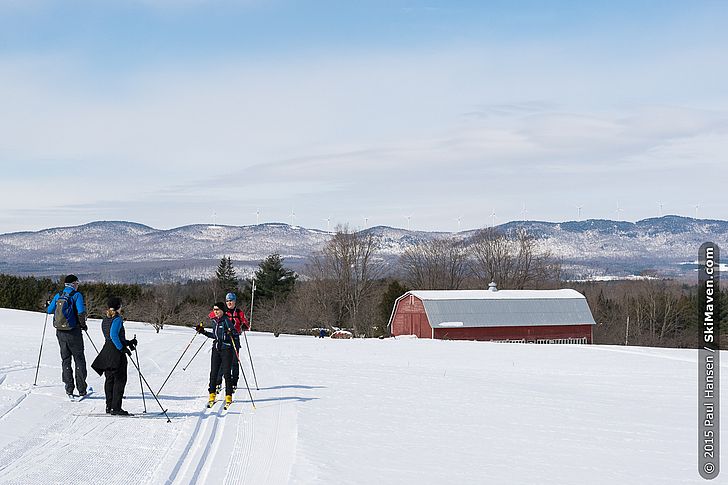 The Skimeister and I joined up with six other skiing buddies to explore the cross-country trails at the Craftsbury Outdoor Center last weekend. Located in Vermont's Northeast Kingdom — about 1.5 hours northeast of Burlington, Vermont; 1 hour north of Montpelier; and 1 hour northwest of St. Johnsbury — this place is a Nordic skier's dream.
The grooming is impeccable and the classic tracks are bomber. The center uses large Pisten Bully grooming machines to churn up the snow, smooth it and create sturdy classic tracks that make it easy for you to get into a rhythm and keep it going.
The Nordic trail network is in a beautiful setting. While the core cross-country ski trails travel through the woods, other trails cross fields and meadows, follow rivers, pass white-clapboard homes and red barns, and even cross frozen lakes.
We stayed in a house in Craftsbury Common, which is about two miles from the Outdoor Center. On our first morning, we put our skis on near the church on the Common and headed out for the trails. We caught up with Craftsbury's trail 6, which runs behind some white Sterling College buildings. From here we could ski one of the loops that makes up part of the Grand Tour – a tour that is 17 km in total. To get from the height of Craftsbury Common to the lower level of the Black River, we first crossed a scenic farmer's field and then zipped down a fast downhill on the the Grand Tour Cut-off — complete with S turns.
Now on trail 5 / 6, we enjoyed following the curves of the frozen river. We noticed animal tracks on and near the ice. The sun was shining and it was a gorgeous part of our tour. We would soon cross a field that had snowmobile tracks on it, but we didn't actually encounter a snowmobile while skiing this weekend. Then, within a short ski of Craftsbury Village (which has a nice general store), we turned up the hill for the portion of the tour that would bring us back up to the Common.
Here on trail 6, the Skimeister and I reapplied our kick wax on our classic skis because we were in for a long, sustained hill climb. But the sun was shining and every skier we met was smiling. It was a great day to be out on the snow and thoughts of lunch back at the house kept me going during the climb. We skied through hillside fields, behind some homes and through the woods before contouring back to our starting point on Craftsbury Common. A late lunch was our reward and some of our group headed over to the Outdoor Center to ski a bit more in the afternoon, including a pleasant loop on the Duck Pond trail.
Meanwhile, part of our ski group had taken on a long tour from the Highland Lodge in Greensboro to the Craftsbury Outdoor Center. The Center offers a shuttle service to allow skiers to do this without the hassle of a car shuttle. Since the lodge no longer offers Nordic skiing, Craftsbury Outdoor Center has been grooming some of their former trails to offer yet another selection of trails to explore.
We have enjoyed the Highland-to-Craftsbury tour before and it was lovely. I recall views of mountains from high meadows and fun downhills among the sugarbush. This tour is more than 12 miles in length.
We had more skiing planned for Sunday so in the morning the group started skiing from the Outdoor Center. We enjoyed both a longtime Craftsbury favorite trail and a newly cut trail. We skied trail 13, called Ruthie's Run. Not long after leaving the Center we were in for a long, exciting downhill through the woods. We crossed the Black River and then started a climb up toward Creek Road. Here in a snowy field we enjoyed some mountain views that included Mt. Mansfield.
We read signs here that sketched out a new loop on the other side of Creek Road, so we went to investigate the new offering. We crossed a field and then entered the woods again for a pretty loop with ups and downs through the trees. Again, the grooming was terrific and this is a worthwhile addition to a Ruthie's Run tour.
We popped out of the woods near a red barn and headed back to rejoin Ruthie's Run. We got to enjoy a long downhill in the field here. I love it when I can get into a tuck and zip down some solid classic tracks. Woo-hoo!
Back in the woods, we would cross the Black River again and then start a climb back up toward the Outdoor Center. It was quiet in the woods and we enjoyed checking out the tracks in the snow left by deer and other creatures. We encountered more skiers as we neared the Center and soon we were skiing up to the handsome, airy new lodge, built within the last year. This lodge is where you purchase your day pass, get your rentals and grab a hot drink or a bite to eat. The new green, net-zero building has transformed the Outdoor Center; it's impressive.
Our group just scratched the surface of the more than 95km of trails at Craftsbury. It's a place to return to time and time again for the top-notch trails and grooming, and for the views and peacefulness of the woods and fields of the Northeast Kingdom.
CRAFTSBURY OUTDOOR CENTER AT A GLANCE
Located at 535 Lost Nation Road, Craftsbury Common, Vermont
95+ km of trails
up to 95 km track set
up to 95 km skate groomed
Top-notch grooming
Lessons available
Rentals available
Some limited snowmaking
Frequent host of local, regional and national Nordic ski races
Operating as a nonprofit since 2008
Offers a weekend shuttle to linked trails in Greensboro, dropping off at the Highland Lodge, leaving the Center at 9:30 a.m. Double-check to be sure it will be offered.
Filed in: Craftsbury, Cross-country skiing
Share This Blog Post
Post a Comment
No Account Needed! To post without any kind of account, you can type in a name, nickname or trail name and an email (which we do not collect or use) then select "I'd rather post as guest." We'd love to hear from you!