All hail the powder! Amazing powder day at Smugglers' Notch in Vermont
Wednesday, January 30, 2019 at 09:12 PM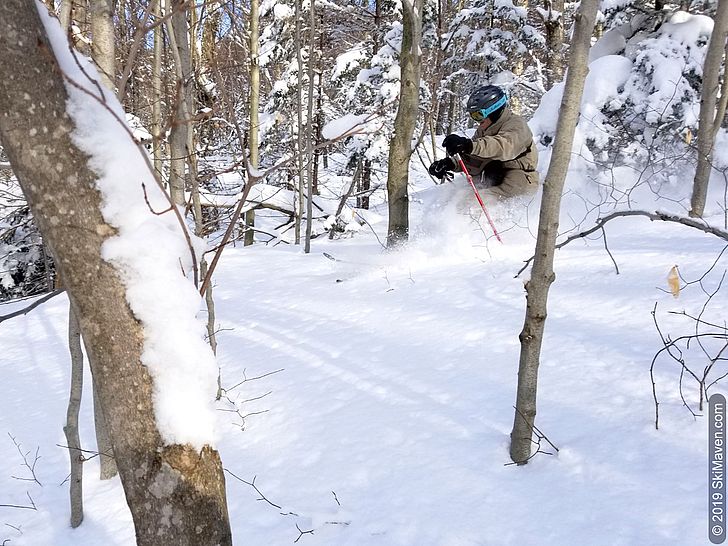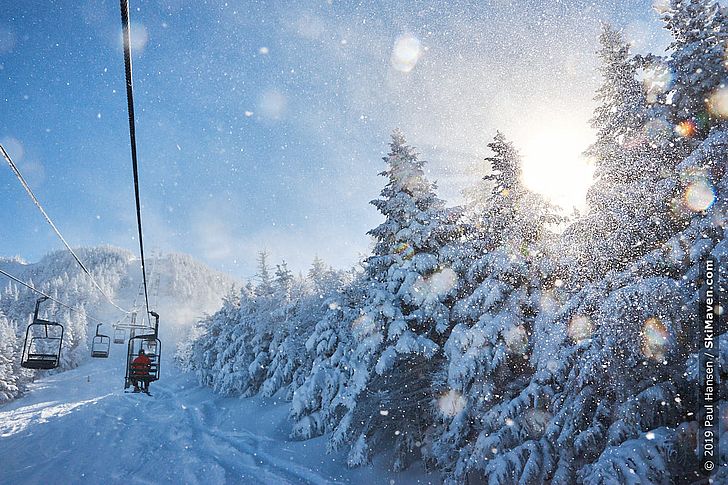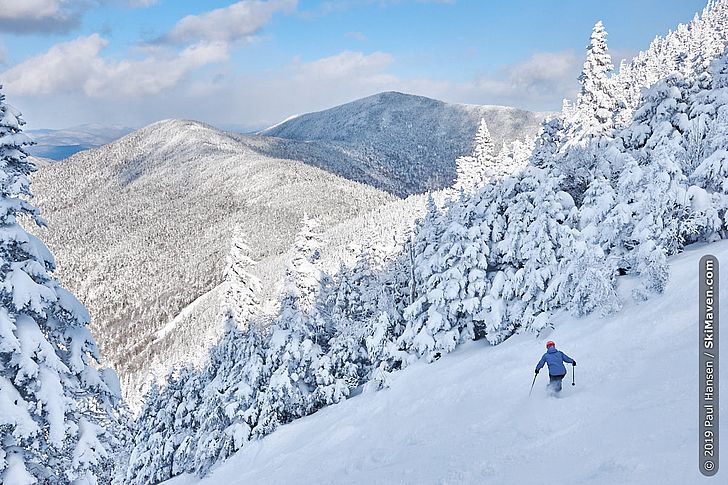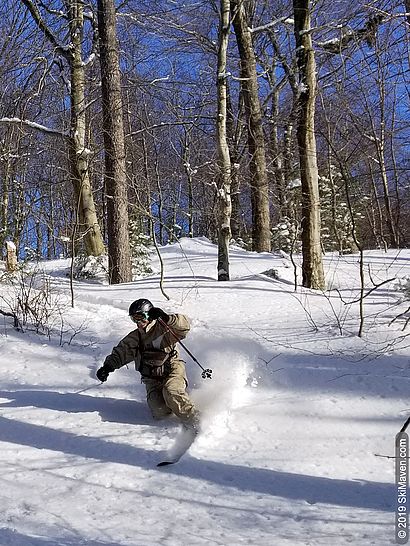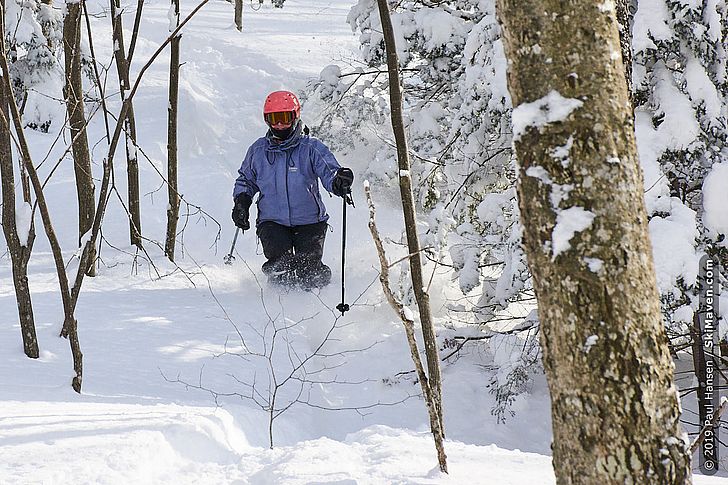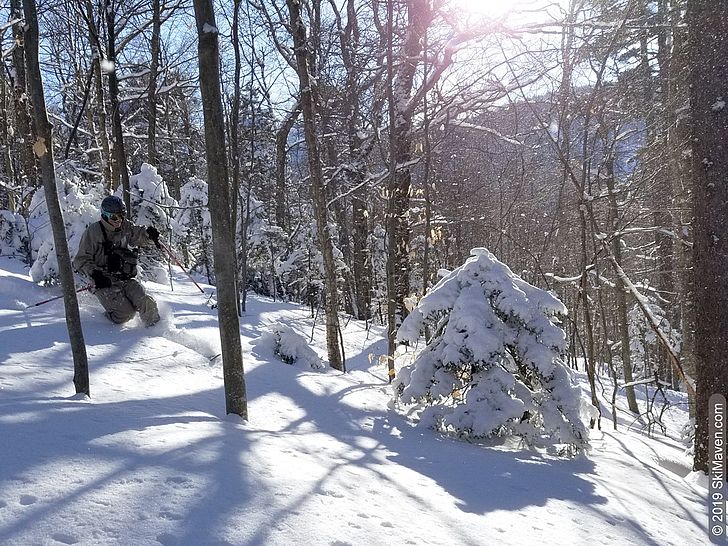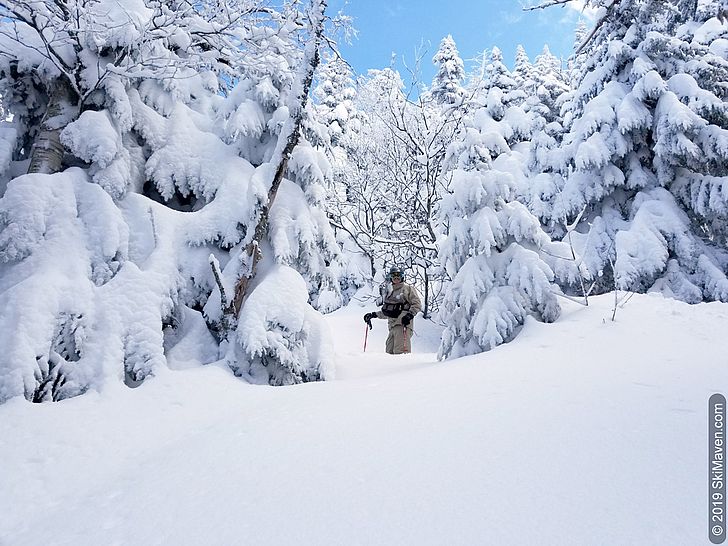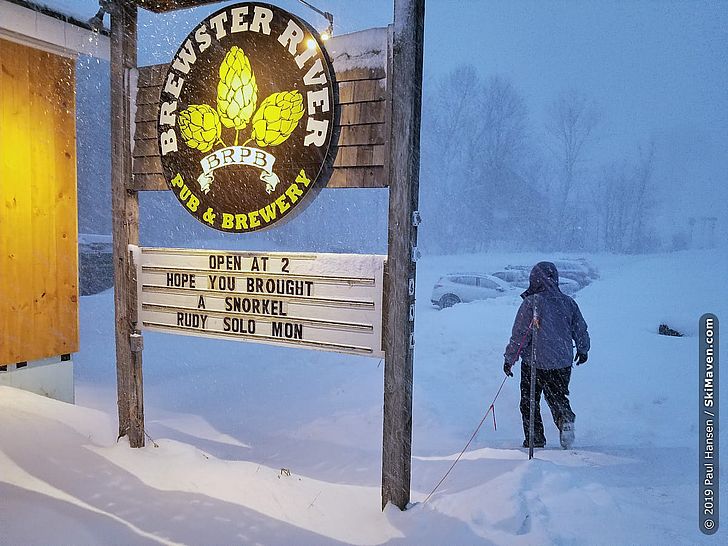 What a day to take off from work!
The weather forecast looked promising and we think it over-delivered. Smugglers' Notch reported 12 inches of new snow overnight. And when we got there we found it was the light, fluffy snow of our dreams. No windblown, windpacked stuff. Woo-hoo!
On the drive to the resort it was snowing. Then during much of the midday it was sunny with bright blue skies. (Gorgeous!) And then the snow decided to come back for another go at the end of the day.
We did laps on the Madonna I double chair, which takes you to the 3,640-foot summit. We ducked into some of our favorite glades including Shakedown, Doc Dempsey's, Bermuda, Three Mountain Glades and wherever else the powder took us.
In some of the less-traveled areas we would come across pockets of powder that were knee deep — and even thigh deep a couple of times. The Smugglers' Notch area has been picking up quite a bit of snow since the nasty rain event a week ago. They say that 40 inches of snow have fallen in the past six days!
All the lifts and trails at Smuggs are open so there's a lot to choose from. People who like trails with soft packed powder will likely enjoy the coming days. While others will head for the woods to frolic in the deep stuff.
After skiing we stopped in for a burger and brew at Brewster River Brewery. It's located just down Route 108 from the village entrance for Smugglers' Notch. They serve pub fare and Vermont beers. While finishing our meal it started to snow to beat the band. Crazy weather — buy of course we'll take it!
Check out our photos! And share this blog post if you think your friends and family might be interested in Vermont skiing and riding!
Smugglers' Notch Resort, Vermont, at a Glance
8 lifts: 6 doubles; 2 surface lifts
2,610' vertical drop from top of Madonna to the Village
78 trails
Novice: 19%
Intermediate: 50%
Advanced/Expert: 31%
310 acres of marked and patrolled acreage
Additional 750 acres of unmarked and unpatrolled wooded terrain
5 terrain parks and 1 learn-to-snowboard park
62% snowmaking capacity
Filed in: Alpine / downhill skiing, Food, coffee & après ski, Smugglers' Notch
Share This Blog Post
Post a Comment
No Account Needed! To post without any kind of account, you can type in a name, nickname or trail name and an email (which we do not collect or use) then select "I'd rather post as guest." We'd love to hear from you!