Antique Ski Race at Suicide Six ski area on Saturday
Thursday, March 18, 2010 at 10:56 AM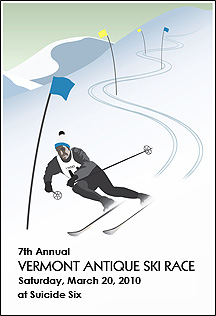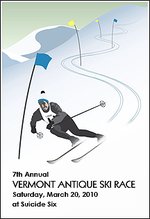 Still have wooden skis or long, straight skis kicking around? If they pre-date 1975, consider registering by Friday for Saturday's 7th Annual Vermont Antique Ski Race. It's presented by the Vermont Ski Museum and Suicide Six ski area in Woodstock, Vt. Racing starts at 10:30 a.m. on a dual slalom course.
The fun race benefits the Vermont Ski Museum and it often includes former Vermont Olympians and US Ski Team members. An awards ceremony and sugar-on-snow follow the race.
Sounds like a fun day full of reminiscing and some hard-earned turns.
Filed in: Alpine / downhill skiing, Ski gear, Ski racing, Suicide Six
Share This Blog Post
Post a Comment
No Account Needed! To post without any kind of account, you can type in a name, nickname or trail name and an email (which we do not collect or use) then select "I'd rather post as guest." We'd love to hear from you!