Back on the trails & Single Chair at Mad River Glen!
Tuesday, January 8, 2013 at 08:10 PM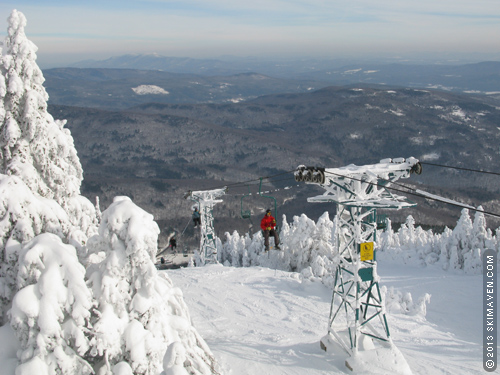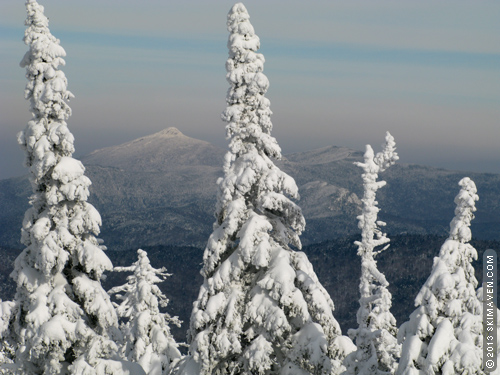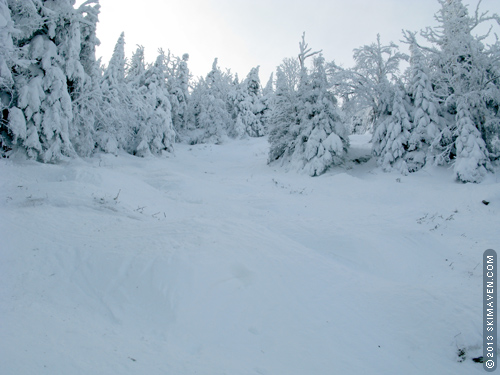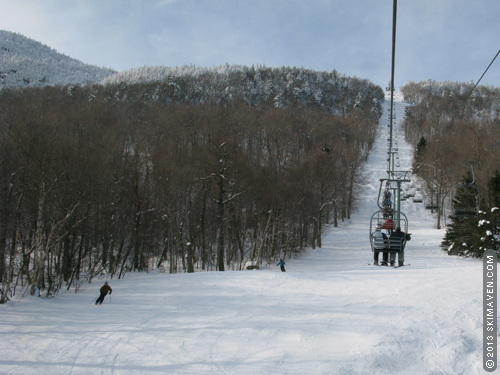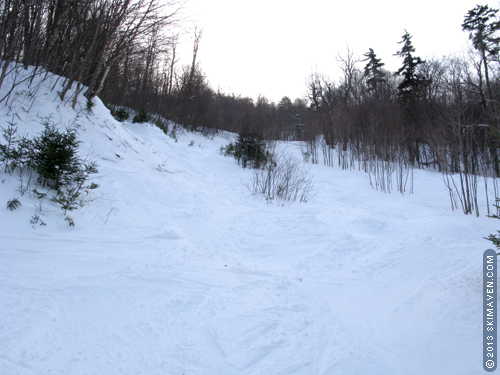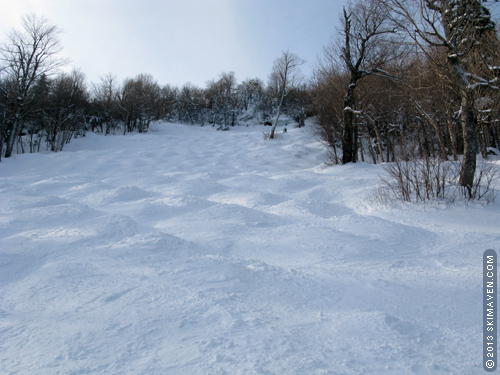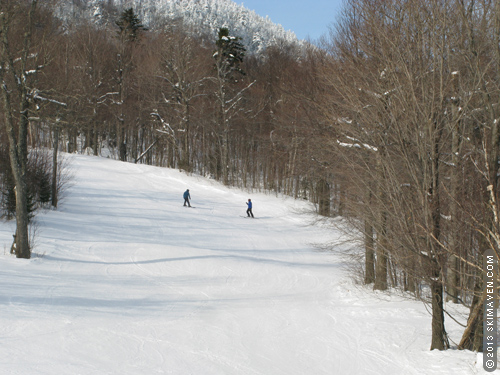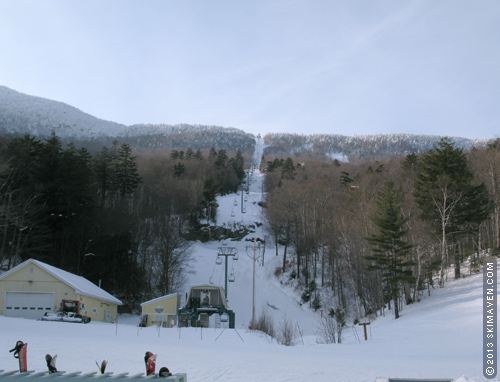 "Ski it if you can?" Well, OK, I will! Especially since Mad River Glen has a bunch of snow right now!
Today the groomers at Mad River Glen featured wonderful packed powder (yes, the ski area does groom some of its easier runs). The ungroomed trails were typically bumped up, and the glades and woods were quite snowy with some natural obstacles here a there to avoid. I'm pretty good at picking my way down while avoiding most rock and grass and roots and fallen wood. Although, I did come upon an unexpected icefall. More on that later.
I enjoyed laps on the Single Chair and then the Sunnyside Double chair on this low-key, low-crowd midweek day. I'm telling you, skiing midweek is sweet!
Off the Single Chair I warmed up on Upper Antelope and Catamount, where I was surrounded by trees plastered with all-natural snow. Mad River makes a limited amount of snow but not up this high! The views of Camel's Hump and Mt. Mansfield were gorgeous! Later I took my time skiing Fall Line — a challenging trail with those obstacles I mentioned.
I later enjoyed the Upper Glade and Lower Glade trails. They are really fun because the trees are spaced apart and there are plenty of lines to choose from. When I got tired I jumped on the intermediate trail called Bunny to do some long, cruising turns toward the base area.
Off the Sunnyside Double I enjoyed Panther to Gazelle Glades. Later I was surprised to have Slalom Hill all to myself. Maybe the others saw that there were scratchy spots to avoid on this slope that was wall-to-wall moguls.
Oh, about that icefall. I was messing around in the woods to the side of Fall Line and all of a sudden a snowy line called to me like a siren and I ended up atop a small waterfall of ice. The thick ice was a pretty color. I bet I could have jumped off it as it was just a couple of feet up, and others had done so, but I figured I didn't need to be a hero today. I went to one side and took a short slide on my hip to get my feet down on the snow. Hey, it worked!
I found some wind-blown powder stashes here and there around the mountain and just generally enjoyed the soft snow that has piled up over the last couple of weeks.
During a water break I sat in the sun on the deck of Mad River's retro ski lodge. Skiers young and old were greeting one another and sharing lunch together in the sunny windows of the lodge. This place has a great feel, especially when it's uncrowded like today.
The Single Chair is funky to ride all by yourself and when you pass the mid-station you are greeted with some music courtesy of the liftie. Today's music featured horns; it sounded good. The lift tops out at a scenic 3,644 feet.
It warmed up nicely today, although an occassional gust blew snow around and made you zip up your collar. The thing is, folks, it is expected to really warm up by this weekend so now is the time to get on the snow while it's good and soft!
I missed skiing Mad River Glen last season, which was a difficult, low-snow winter. But I am quite pleased with myself for picking such a great day to get back on its slopes again!
Just a reminder: Mad River Glen does not allow snowboarding.
Filed in: Alpine / downhill skiing, Mad River Glen
Share This Blog Post
Post a Comment
No Account Needed! To post without any kind of account, you can type in a name, nickname or trail name and an email (which we do not collect or use) then select "I'd rather post as guest." We'd love to hear from you!