Cold, classic skiing today on the Stowe Rec Path
Sunday, January 15, 2012 at 07:41 PM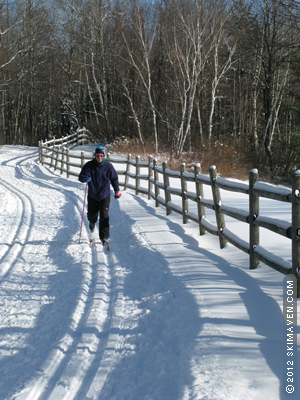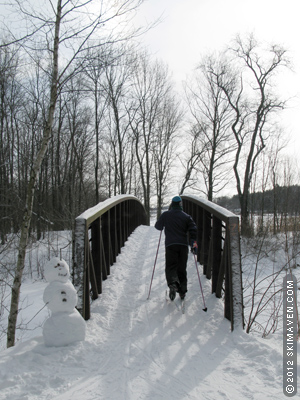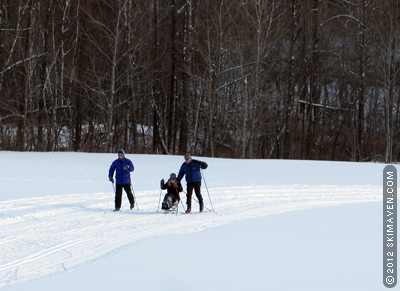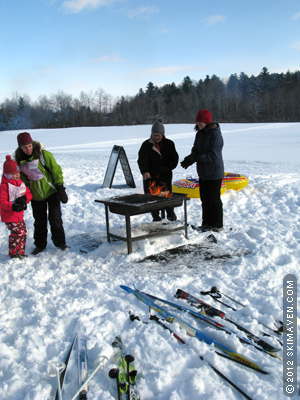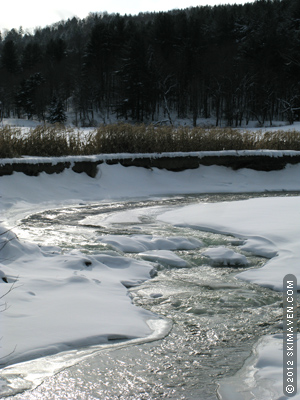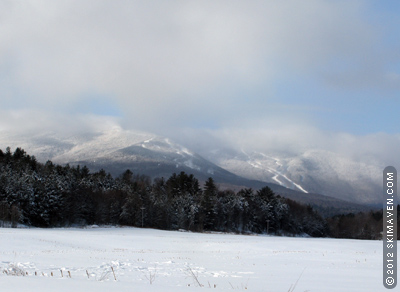 We got out on the Stowe Recreation Path today for a short ski today in the cold. I wore a balaclava to keep my face warm and kept moving along to keep my body warm. It worked!
The good folks in Stowe have arranged to groom the recreation path a couple times a week for cross-country skiing. Today the classic tracks were excellent. Fresh new snow this week made the coverage great.
Today also featured the Stowe Tour de Snow and we saw families taking part in the activities all along the path. We stopped in to lend support to folks at the NENSA tent and to friends with the Northeast Disabled Athletic Association. They were introducing a few people to sit-skiing.
The recreation path is about five and a half miles long in all and at its northern half it meanders along West Branch River and crosses pedestrian bridges. It skirts corn fields and runs through the woods. It's a pretty path.
Being located in the village, skiers on the central and southern portions of the path can stop in for a bite to eat along the way. They do also encounter two road crossings, and all along the path the Mountain Road can be frequently in view.
Keep in mind that all kind of human-powered traffic exists on the path (and dogs) so conditions are not as pristine as they would be at an official nordic center.
After our ski we stopped in for apres ski at the Rusty Nail. We debated how many times this establishment has burned down. (Once or twice?) The food was good and there were plenty of beers on tap to choose from.
Then we swung into the West Branch Art Gallery, which is next door. It's a great gallery to visit any time of the year.
Despite the cold, we had a nice skiing day in Stowe!
Filed in: Cross-country skiing, Food, coffee & après ski, Stowe
Share This Blog Post
Post a Comment
No Account Needed! To post without any kind of account, you can type in a name, nickname or trail name and an email (which we do not collect or use) then select "I'd rather post as guest." We'd love to hear from you!