Cool rime and fun runs at Mad River Glen today
Friday, March 1, 2013 at 04:05 PM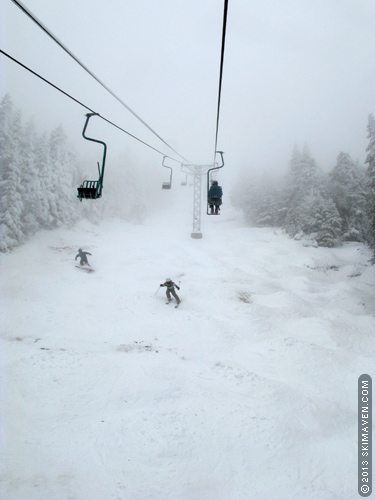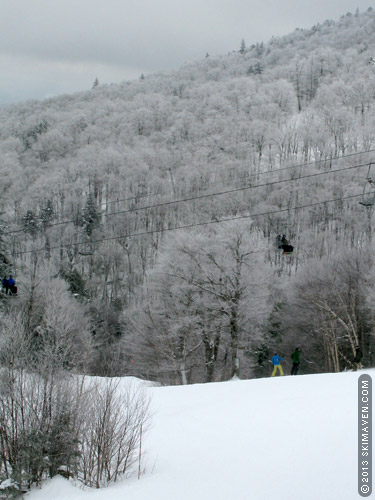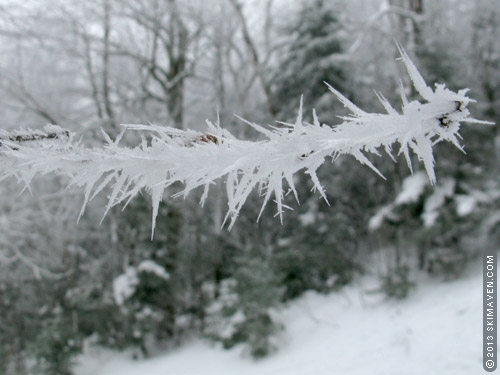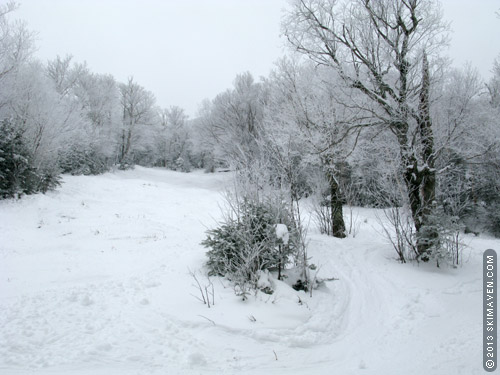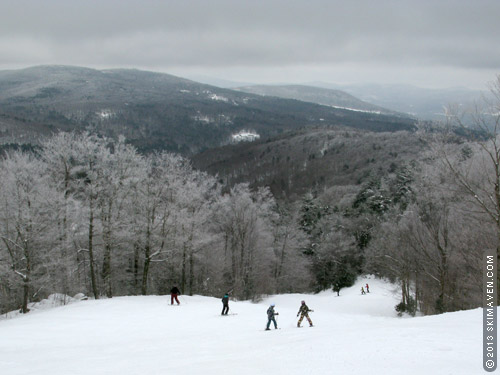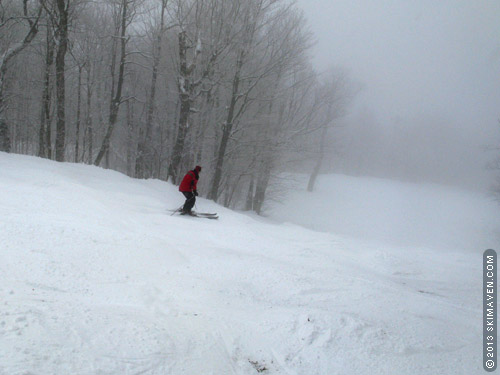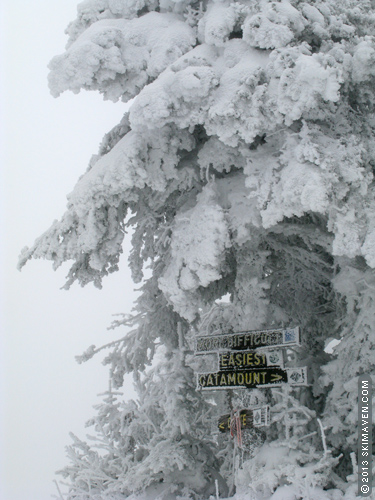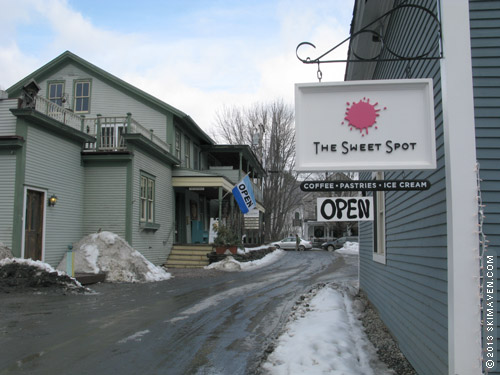 I took to the slopes of Mad River Glen today after the mountains in the Mad River Valley—and in other high spots around the state—received up to 30 inches of new snow this week. (It just kept snowing!)
Check out my photos from the day. The mountain was 100 percent open and it was stuck in a cloud with occasional light snow. I was amazed at what the dampness did to the trees — I saw some very cool rime formations on branches!
The snow was not the light, fluffy stuff that I frolicked in nearly two months ago at Mad River. Today was a day to start on the groomed runs and then work onto the traveled areas of the ungroomed trails and bump runs. In the morning the ungroomed stuff was very stiff and made for challenging turns. The skiing was actually getting better as the day went on!
I had great fun on trails such as Upper Antelope and Catamount off the Single Chair, as well as Chipmunk and Quacky. Later in the day Waterfall offered fun bumps.
Over on the Sunnyside Double I enjoyed skiing on Fox, Vixen and Chipmunk and also on Lark. I snuck through the woods to get a few turns under the Birdland Chair (which was closed on this midweek day).
The trails were uncrowded and it was a great day for cruising around. I did not go into the woods because it was rather crusted over and hard to turn in the snow.
This being Vermont school vacation week, a number of kids were tearing up the slopes. And I mean tearing it up. I was impressed by these Mad River ankle-biters!
For the last run of the day I ventured down Lower Antelope, which had an orange "experts only" sign at its entrance. It was ungroomed and bumped up in many places on this long, long run. If you look at the trail map, it's the trail that goes way out to the left of the ski area. Once you start this trail, you are committed.
I had the trail to myself and I really enjoyed it. Yeah, the bumps were tiring but I'd stop and look around and take a breather. It was on this run that I saw the coolest rime that looked like barbed wire.
I really enjoy exploring Mad River Glen and I like the non-frantic vibe of the place. A cool place to ski for sure.
I stopped into the Sweet Spot in Waitsfield Village after skiing. This is a newer bakery/ice cream place in the alley near the covered bridge. I had tried their homemade ice cream last summer (yum!) and I wanted to see what they were offering this time of year. They had scones, muffins, cookies and the like. They also make fancy coffee drinks here. A morning glory muffin was quite glorious, even in the afternoon!
Filed in: Alpine / downhill skiing, Food, coffee & après ski, Mad River Glen
Share This Blog Post
Post a Comment
No Account Needed! To post without any kind of account, you can type in a name, nickname or trail name and an email (which we do not collect or use) then select "I'd rather post as guest." We'd love to hear from you!