Exciting race on Mt. Mansfield is not downhill, but rather up the hill
Friday, July 9, 2010 at 01:38 PM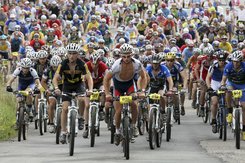 There have been plenty of downhill races on the storied slopes of Mt. Mansfield, but only one major competition in recent memory challenges racers to go up to the summit as fast as they can.
On Sunday, August 29, 2010, the Catamount Trail Association puts on the Third Annual FJG Race To The Top Of Vermont. It's actually two races: one for mountain bikers and the other for runners and walkers. Either way, it's a quad-burning exercise that is rewarded with summit views to Lake Champlain, the Adirondacks, New Hampshire and the Vermont countryside from the state's highest peak.
The course is 4.3 miles long and climbs 2,550 vertical feet on the Mt. Mansfield Toll Road. Last year, the runners narrowly edged out the mountain bikers for fastest times of the day.
Bikers Male: Nathan Ringquist, Stowe, VT 36:12.0
Bikers Female: Marilyn Ruseckas, Waitsfield, VT 45:37.1
Runners Male: Jim Johnson, Salem, NH 35:30.6
Runners Female: Kasie Enman, Huntington, VT 40:12.5
Registration is limited to 900 (yes, it's a popular race!), so check out the race details and sign up pronto if you are interested.
This contest benefits the Catamount Trail Association -- the protector of the 300-mile-long ski trail that runs from the southern to the northern border of Vermont -- as well as Mobius Mentoring and Girls Move Mountains.
The August issue of Runner's World selected The FJG Race To The Top of Vermont as one of the top four "short-but-sweet-climbs" in the country. "We currently have entrants from 17 states and Canada and we expect that to rise to 25 states by early August. The entries are pouring in," said Jim Fredericks of The Catamount Trail Association.
Photo: Courtesy of Catamount Trail Association.
Filed in: Mt. Mansfield, Ski towns in summer
Share This Blog Post
Post a Comment
No Account Needed! To post without any kind of account, you can type in a name, nickname or trail name and an email (which we do not collect or use) then select "I'd rather post as guest." We'd love to hear from you!