Fresh powder — and exploding grouse — in the Bolton backcountry
Saturday, February 9, 2013 at 07:20 PM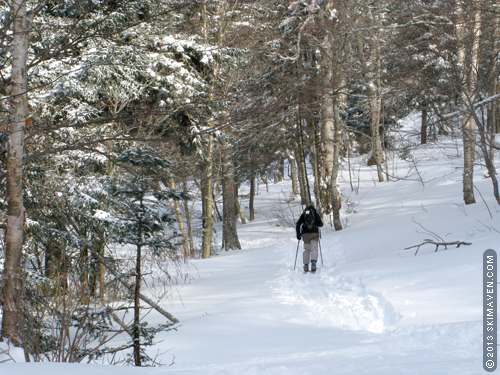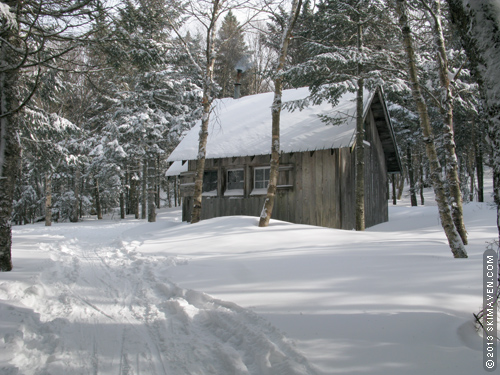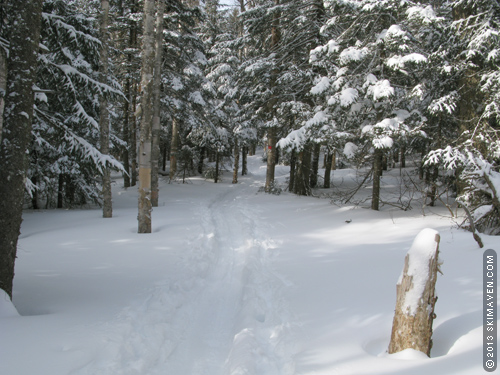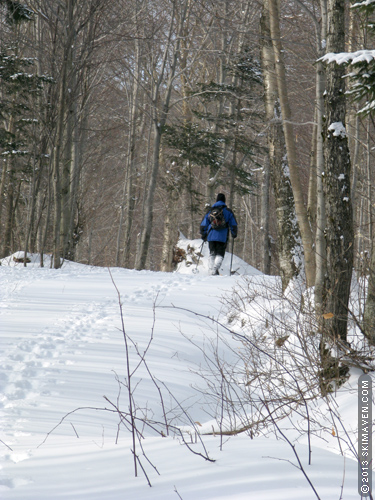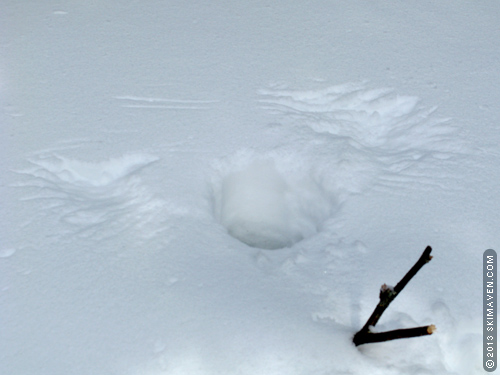 What a lovely, cold winter day to be out in the Vermont woods! When the temperatures dip down low, we like to stay warm by earning our turns. So we went to the Bolton Valley backcountry trails to enjoy the fresh powder.
I'd estimate that there was about 12 inches of new snow — more or less. It was mostly fluffy, except in extra-windy spots where it got a bit wind-packed.
We climbed Bryant trail, enjoyed Birch Loop and descended via Gardiner's Lane. The sky was mostly blue and the wind was brisk. I was glad that I had my neckwarmer — even for the climb up when I was getting plenty warm. The wind had knocked much of the new snow off the trees.
Another nice bonus of backcountry skiing: No worries about lifts closing due to the wind!
On Birch Loop I stopped to admire some wing prints left in the snow by a bird. As I pulled out my camera to capture the prints, a grouse exploded out of the snow about two feet away! This is the second time this has happened to me in the Bolton backcountry area. It made my heart skip three beats, but it was really cool! These birds stay warm by hanging out under the snow. Incredible.
With possible sleet and rain in the forecast for Monday, I'd suggest that you get out in the lovely powdery snow on Sunday!
Campaign to Save the Bolton Backcountry Land
For more background on the campaign to save the Bolton Valley Nordic and backcountry land from development, visit these two links:
http://www.skimaven.com/post/vermont-land-trust-steps-in-to-help-skiers-hikers-protect-bolton-valleys-nordic-and-backcountry-l/
http://www.vlt.org/initiatives/bolton
How can you contribute to this effort? Visit the Vermont Land Trust website, above, to make a donation today!
Filed in: Backcountry skiing, Bolton Valley
Share This Blog Post
Post a Comment
No Account Needed! To post without any kind of account, you can type in a name, nickname or trail name and an email (which we do not collect or use) then select "I'd rather post as guest." We'd love to hear from you!