More snow — and wind — on another powder day in Vermont
Monday, December 22, 2008 at 09:13 PM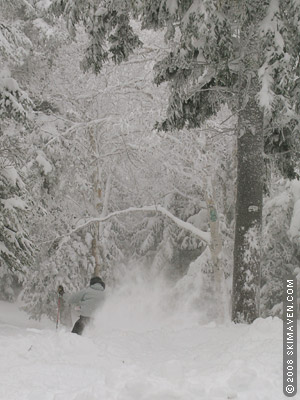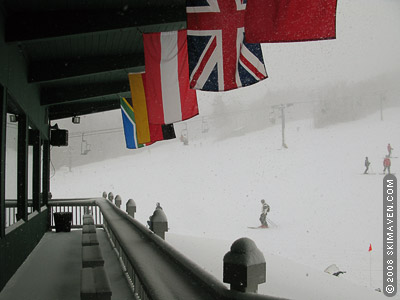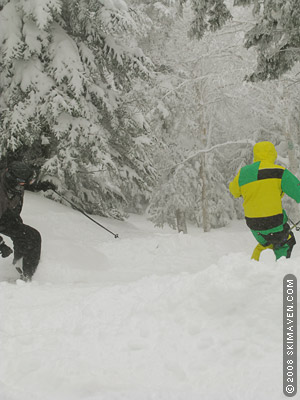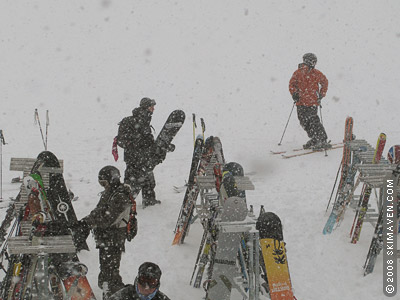 The Skimeister and I were on the road at 7 a.m. today. Our mission: to make some powder turns and to be at Smuggler's Notch when the lifts opened. We only had the morning to ski, and we were going to make the most of the second snowstorm of the weekend.
Some Vermont ski areas have now surpassed the 100-inch mark for snowfall this season! That is pretty darn good for December.
I got a "Powder Alert" from Burke Mountain this morning that reported more than 17 inches of snow fell on the mountain in the previous 24 hours and nearly 30 inches in 72 hours. Yee-hah!
This morning we found about another 8 inches of new snow to play in at Smuggs. It had been storming all day on Sunday and into today. Some of the snow was still light, but other areas had been windpacked, making the powder more dense. I found out just how dense it was when I was floating along, making some turns, and I sunk into a windpacked little dip in the snow. My skis stopped. My body didn't. At least it was a soft landing!
My favorite runs today were Doc Dempsey's Glades, Treasure Run, Lower FIS, Dan's Ford, McPherson's, ... Uh, I think you get the hint. There was some good pow-pow to be had just about everywhere. You just had to stay centered over your feet so the windpacked stuff didn't throw you.
Oh, and the other thing about all the wind that whipped through on Sunday and while we were there on Monday: more exposed rock and roots on the natural snow trails than on Saturday. The wind acted like a scouring pad in some places. Upper Robin's Run, for example, was a very bad idea this morning. I tiptoed around the obstacles. The lower half, which cat-tracks across toward the Madonna II area, was lovely, however! A sweet little powder stash just for me.
The Skimeister and I ended the morning with half-runs on the Madonna lift. That is, we got off at the mid-station and tried out Three Mountain Glades—pretty cool in there—and I took runs on the trails that follow and cross under the Madonna II lift. They were wide open and you could find untracked powder to play in.
Sorry I don't have the best of photos today. It was cold and wickedly windy. When I took out my camera in a rather protected corner of Doc Dempsey's, I nearly got frostbite on my thumb and forefinger.
Where did you make some powder runs this weekend? Do tell!
Filed in: Alpine / downhill skiing, Burke, Smugglers' Notch
Share This Blog Post
Post a Comment
No Account Needed! To post without any kind of account, you can type in a name, nickname or trail name and an email (which we do not collect or use) then select "I'd rather post as guest." We'd love to hear from you!