This Thanksgiving we're thankful for some fresh snow falling in Vermont! Some higher elevations and ski areas are reporting 6 to 10 inches of new snow so far this morning. The amount depends on location. A wide central swath of the state seems to have picked up a good snowfall.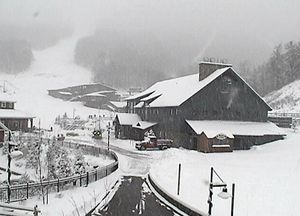 This morning a few more ski resorts announced their plans to open. So here's a recap of where you can ski in Vermont (these have been announced as of 9 a.m. this morning).
Killington (has been open)
Stowe (opened today, Wednesday)
Okemo (opening Thursday)
Sugarbush (opening Thursday)
Jay Peak (opening Friday)
Keep in mind that the ski areas are offering limited terrain that's best for advanced skiers. Beginners and early-intermediates may not find trails to ski! Go to our <link internal-link>Vermont ski areas page and click on the links to the snow reports to see what's open.
Photo: A snowy snapshot from the Sugarbush ski resort webcam this morning shortly after 9 a.m.