Nice grooming + temperatures make for a fun cross-country ski at Trapp Family Lodge
Sunday, February 11, 2018 at 05:14 PM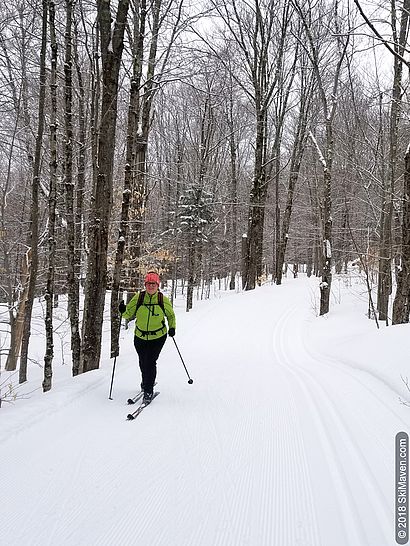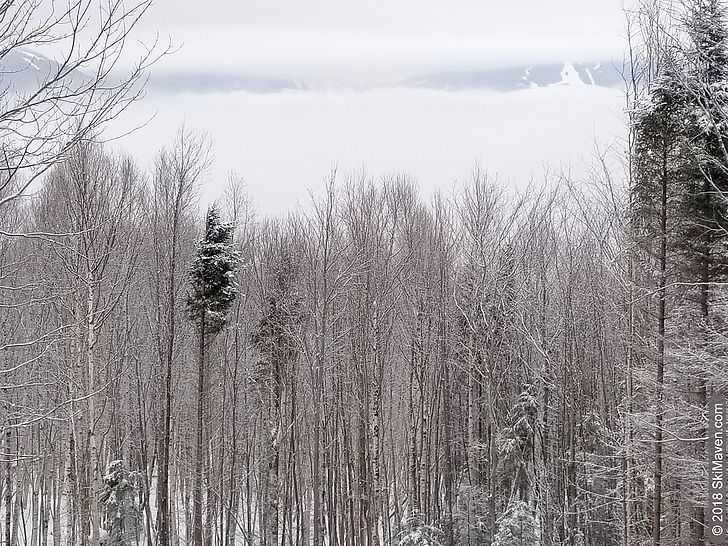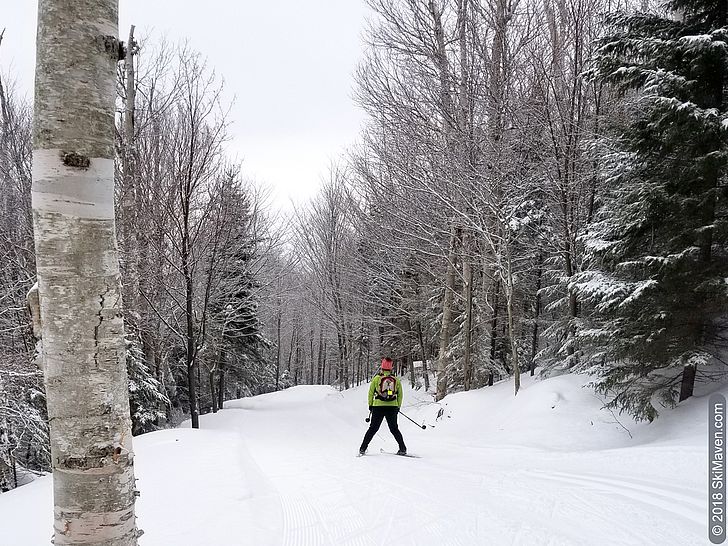 The recent snowfall has laid down a nice blanket of snow in Stowe, Vermont. My friend and I headed for the Trapp Family Lodge cross-country center early on Sunday morning. Before the crowds arrived, we started out for a scenic loop on stiff, freshly groomed snow. We were among the first people to ski on perfectly molded classic tracks. (Sweet!)
We chose the Slayton Cabin as our destination and worked our way uphill via the Parizo and Cabin trails. (The cross-country center's lodge is at 1,350 feet in elevation while the cabin is at about 1,940 feet.) There was a light coating of new snow on the trees and it was quiet in the woods—a very nice way to start the day!
After warming up by the cabin's fireplace, we enjoyed the zippy downhill toward the Haul Road. (Fun!) We took a right turn onto Hare Line and then Bobcat. We were circling around the back side of Round Top mountain.
We later faced a steep downhill on Yerrick's Yodel. (Did you know they renamed the Owl's Howl trail to be Yerrick's Yodel? Who is this Yerrick, anyways?) Strong snowplows kept our speed in check.
When we came to Picnic Knoll and Sugar Road, it became clear that many more skiers had arrived, and that the weather was going to turn soon to rain or sleet. We made a great choice to hit the trails early today!
For lunch, we decided to try someplace new on the Mountain Road in Stowe. We went to The Bench. We had nice service and tasty burgers made of Vermont beef. The kale caesar salad was also yummy.
I've decided I should taste test all the burgers on the Mountain Road in Stowe. It's a rough assignment, but someone's gotta do it!
Filed in: Cross-country skiing, Food, coffee & après ski, Trapp Family Lodge
Share This Blog Post
Post a Comment
No Account Needed! To post without any kind of account, you can type in a name, nickname or trail name and an email (which we do not collect or use) then select "I'd rather post as guest." We'd love to hear from you!