Remember Suzy Chapstick? Chaffee among those to join Vermont hall of fame
Thursday, October 22, 2009 at 10:51 AM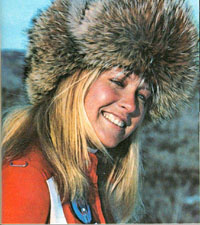 Are you old enough to remember the 1970s TV ads featuring a dynamic, blond skier pronouncing: "I'm Suzy Chapstick!"? Well her real name is Suzy Chaffee and this famous skier hails from Rutland, Vermont.
Chaffee skied on the US Women's Ski Team in the 1960s, competing in the downhill, before launching into modeling, film, designer clothing, and ski equipment made for women. She joined the US Freestyle Ski Team as professional in 1971 and competed with the men since there was no division for women. And she won titles in the early '70s.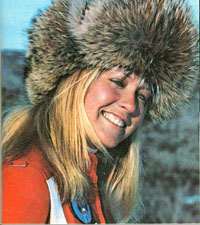 Chaffee has been an advocate for physical fitness and women's equality in sports. She was one of the first two women to serve on the US Olympic Committee's Board of Directors; she assisted in the passage of the "Amateur Sport Act of 1978"; and she served on president's council on physical fitness under four presidents.
Most recently she co-founded the Native Voices Foundation, welcoming Native Americans back to their majestic ancestral mountains for skiing and celebrations, and creating a generation of Native American Olympians.
Chaffee is one of four athletes who will be inducted into the Vermont Ski Museum Hall of Fame on Saturday, October 24. The others are:
Bill Beck of Middlebury, Vermont

Erlon "Bucky" Broomhall, originally from Rumford, Maine

Robert "Bobo" Sheehan of Newport, Vermont
Biographical information on all four inductees can be found on the Vermont Ski Museum Web site. Contact the Museum for ticket information for the induction event.
Filed in: Alpine / downhill skiing, Ski racing
Share This Blog Post
Post a Comment
No Account Needed! To post without any kind of account, you can type in a name, nickname or trail name and an email (which we do not collect or use) then select "I'd rather post as guest." We'd love to hear from you!