Well the snow is really hitting Vermont today! Nearly all of the state has a <link http: www.erh.noaa.gov btv external-link-new-window>winter storm warning or winter weather advisory. Gets me in the mood for more backcountry skiing!
With that in mind, here are two backcountry skiing events in Vermont that are coming up quickly.
Get Out and Backcountry Ski Festival
This <link http: www.catamounttrail.org external-link-new-window>Catamount Trail Association event is held at Bolton Valley Nordic Center on January 23.
You can learn from expert instructors who will help you improve your telemark technique or teach you the basics of backcountry skiing with the help of video analysis. Some of the latest backcountry skis and boots will be on hand to demo, but participants should bring their own equipment as well. Lessons and tours will take place throughout the day. Cost is $40 for CTA members and $60 for non-members and includes instruction, trail pass, equipment demo, complementary apres' ski snacks and video review. Register by January 21.
Intro to Backcountry Skiing for Women
This <link http: www.girlsmovemountains.org skiing.html external-link-new-window>Girls Move Mountains-sponsored event is February 5 & 6, also at Bolton Valley Resort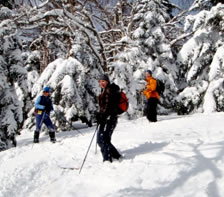 .
The two-day program offers women a non-intimidating and fun introduction to backcountry skiing. With expert instruction, you'll learn the basics of backcountry skiing techniques and the ins and outs of winter backcountry travel. With a low instructor to participant ratio you'll get individualized attention. Plus, all proceeds from this clinic benefit Girls Move Mountains' girls programs.
This program is designed for beginner to intermediate skiers who want to take their skills to the next level, and into the backcountry. Some experience on skis is necessary (but backcountry experience is not).

The fee of $195 benefits the girls' outdoor programs at Girls Move Mountains.

Photo courtesy of Girls Move Mountains