St. Patrick's Day ski deals and Smugglers' Notch in winter
Monday, March 16, 2009 at 09:52 AM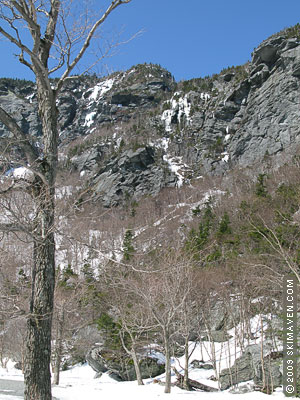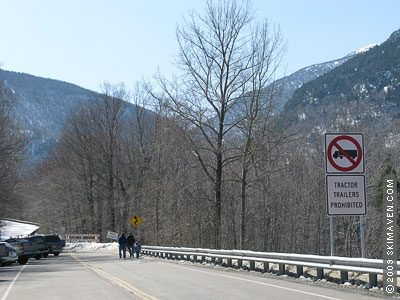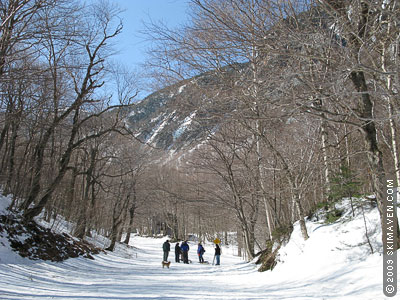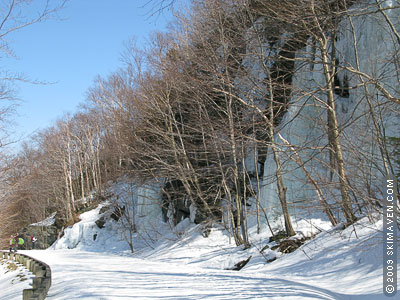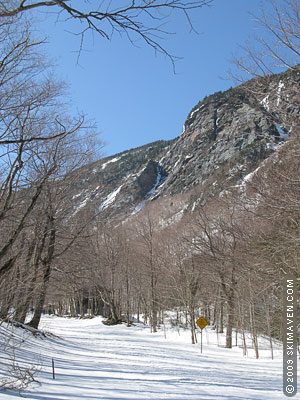 On Sunday I went to see if there was any snow at the Smugglers' Notch cross-country center. Nope. None. Nada. The sun had melted many areas and what little was left was all ice.
For some reason the attendant at the nordic center didn't realize that there wasn't enough snow to cross-country ski on. They were renting snowshoes, which weren't really needed either; you could just walk the trails in some decent boots. The Smuggs Web site also made it seem like there was plenty of skiing there. I tried. There wasn't.
So I enjoyed a lazy latté at the Sunrise Café, chatting with a couple of locals. The cafe is in a bright yellow building half-way between the resort and Jeffersonville. I also enjoyed a homemade English muffin with jam. Yum.
Luckily I had brought my light backcountry gear so for the first time ever I skied up into Smugglers' Notch, which is closed to traffic in the winter. It is very hard-packed now and my waxless skis made a lot of noise as they zoomed over the ice.
Route 108 in Smugglers' Notch connects Stowe and Jeffersonville in three out of four seasons of the year. It is often choked with cars on the weekends. But that's not the case in winter, when the road is closed because it's just too tough to plow its twists, turns and narrow sections that squeeze between big boulders.
It wasn't a very long or very exciting ski, especially with the snow conditions, but it was just great to be outside enjoying a warm spring day. At the top of the notch, I listened to the ice melt and drop from cliffs up high. I decided not to linger too long in that spot.
Some folks from Petra Cliffs climbing center were practicing their ice climbing on the shady side of the notch road. Giant ice waterfalls were scattered throughout the area.
I passed families with sleds, people out for a walk with their dogs, and I saw one snowmobile, as well. You can park at either the Stowe or Jeffersonville sides of the notch in winter. Giant "Road Closed" barriers let you know that you've reached the spot.
St. Patrick's Day Vermont Skiing
Tuesday is St. Patrick's Day and I know of these ski deals:
Wear green at Mad River Glen and get a ski ticket for $17.
Buy a $17 lift ticket for the Mt. Ellen area of Sugarbush on March 17.
Stowe is offering a $35 lift ticket that day. We may go there to enjoy some corn snow skiing on the Front Four and off the gondola.
It will be in the 40s and mostly sunny on the mountain. Slainte!
Filed in: Alpine / downhill skiing, Cross-country skiing, Food, coffee & après ski, Mad River Glen, Spring skiing, Stowe, Ticket discounts
Share This Blog Post
Post a Comment
No Account Needed! To post without any kind of account, you can type in a name, nickname or trail name and an email (which we do not collect or use) then select "I'd rather post as guest." We'd love to hear from you!