Starr, Nosedive, Hayride, Perry Merrill & more on Stowe's last day
Monday, April 21, 2008 at 09:54 AM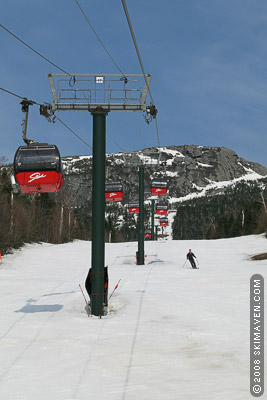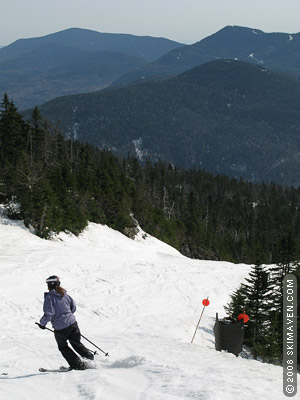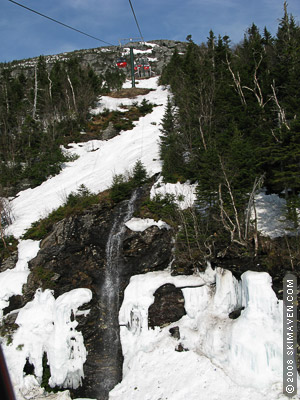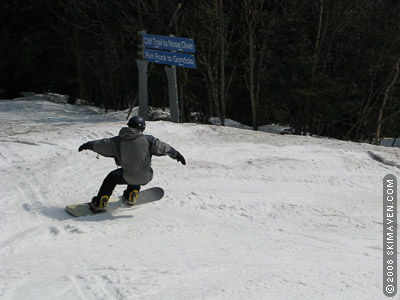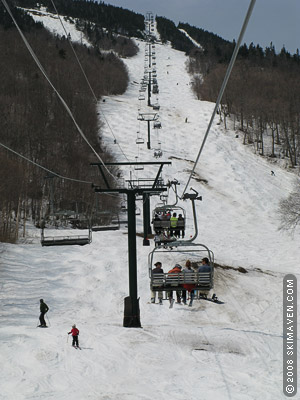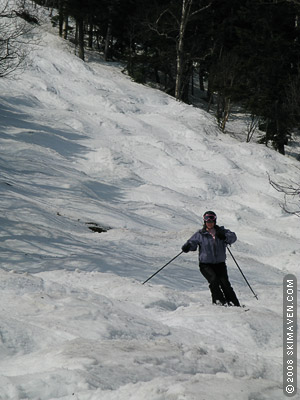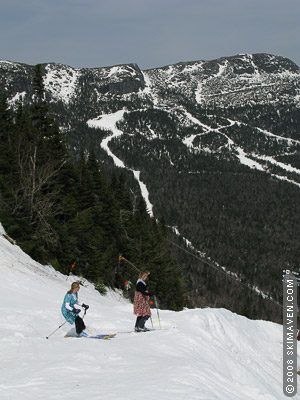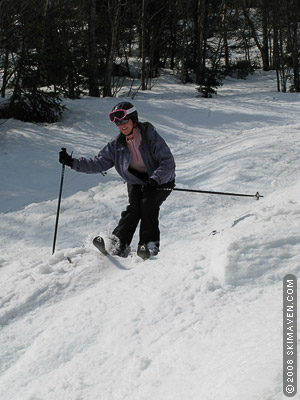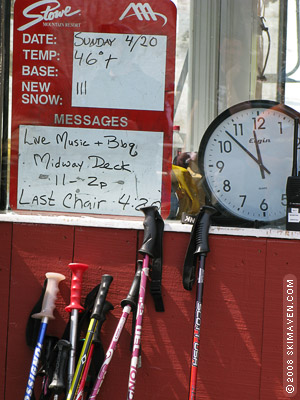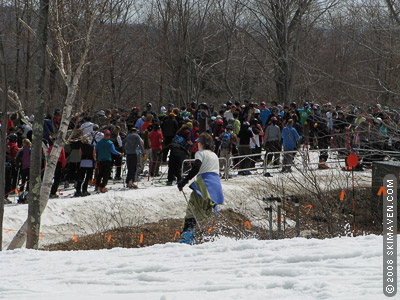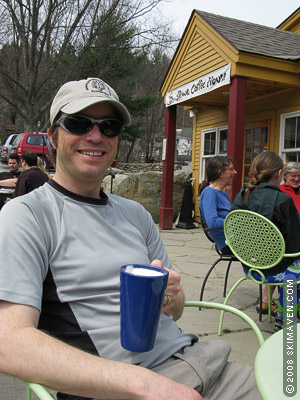 Nothing like a cheap lift ticket to get people out on the slopes! Stowe Mountain Resort had a rare ticket deal yesterday: bring two cans of food for the Vermont Food Shelf and you could ski for $20. With yesterday being the last day of lift service at Stowe, the Skimeister and I just had to go.
I used to work and live in Stowe years and years ago, back when there actually was a guy named Perry Merrill. OK, not that long ago. Working for the mountain company was not as glamorous as it seems, but still, I got in some good turns and a pro deal on ski equipment. (Ah, to have that again!) So hitting the gondola and Forerunner quad yesterday was like stepping back in time for me.
The sun and snow made for a perfect morning of spring skiing. We lathered up with sunscreen and took several runs off the gondola and quad, the only lifts that were running.
What would be our first run? Well, the famous Nosedive, of course! But it was like I had never seen it before: There were huge bumps for the entire first half of the trail. The Skimeister pointed his snowboard for the woods, which he said were pretty good, and I bumped my way down to the bottom half of the run, which had been groomed.

We decided to go to the gondola before the sun had completely baked the snow over there. Perry Merrill had not been groomed but I actually enjoyed it more than the groomed Gondolier, where my skis sank deep into the churned-up corn snow. These runs are great intermediate cruisers. They are long and fast, and I had Perry Merrill nearly to myself. Nice!
After enjoying the gondie, we headed back to the quad. It was surprisingly hazy, so the views up top weren't as great as we've been enjoying earlier in the month from northern Vermont mountains.
I stopped at the patrol shack to ask which of the Front Four were open from the top, and I decided to hit Starr. From the lift it hadn't appeared that many people were skiing over there.
The first five turns on Starr were very sketchy because of rocks. But I love the perspective from the entrance to this run. It must scare the bejezus out of people to only see the parking lot beyond the first pitch. It made me think twice, but I knew it wasn't that bad.
After picking my way past the rocks at the top, I was rewarded with moguls that were like generous scoops of French vanilla ice cream. How often to you get to plow through the snow on eastern bumps? They are usually frozen solid! It was great fun.
At the bottom, the normal exit looked like it was mostly melted out, so I followed other skiers into a woods trail to get back to Liftline, and I went back from more laps on the quad. Hayride was next and it offered similar bumps, but on a less steep grade. The moguls seemed to go on forever!
I later took cruising runs on Lord, North Slope and Sunrise. The snow was getting very soft, so I was skiing like I do in powder. I kept my feet quite close together and my weight rather equally distributed on both feet. I also found myself leaning back a bit to keep on top of the snow as much as possible. I realized that if I really concentrated on edging my upper ski early to start the turn, then I could let the ski come around on its own and not have to muscle it through the piles of corn snow.
The lift tickets are usually so pricey at Stowe that I haven't been alpine skiing there for about four or five years. (Hey, if I'm going to pay an arm and a leg for skiing, I'd rather be at the top of a 11,000-foot Colorado peak!) I couldn't believe the construction that had taken place there.
The inter-mountain gondola is in, and doesn't look too bad. It brings skiers between Spruce Peak and Mt. Mansfield. But the new base area at Spruce is gi-normous! They are still building there, so we'll see what the final look is. Right now it appears to be just plain huge.
The Skimeister and I had plans Sunday afternoon so we wrapped up our day at noon, just as the crowds were getting out of hand in the quad lift line, and the snow was getting very heavy. People wore funny outfits on the hill and they were tailgating in the parking lot. I smelled burgers and saw several beers in hand. What a fun way to end the season!
On the way out of town we headed to the Stowe Coffeehouse, near the three-way stop in Stowe Village. What did we have? If you've read this ski blog before, you would know that we had their signature maple latté. Sipping them on the stone patio, after a really fun morning on the slopes, we were quite the satisfied Stowe skiers.
Filed in: Alpine / downhill skiing, Food, coffee & après ski, Spring skiing, Stowe, Ticket discounts
Share This Blog Post
Post a Comment
No Account Needed! To post without any kind of account, you can type in a name, nickname or trail name and an email (which we do not collect or use) then select "I'd rather post as guest." We'd love to hear from you!