Stowe Film Fest approaches; and a fun video
Friday, November 20, 2009 at 11:23 AM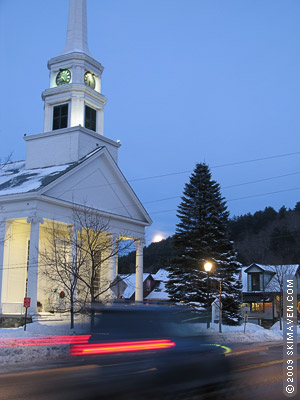 Have you seen a ski film yet this fall? There are several making the tour around the country this year. Good pickin's.
The new Warren Miller film is in Burlington, Vermont, this weekend.
You can catch a bunch of ski movies starting next weekend in locations throughout Stowe, Vermont. It's the Stowe Mountain Film Festival and the line-up is full of powder shots, tele turns, snowboard tricks and more. The festival benefits the Vermont Ski Museum, which is located in Stowe.
Completely unrelated to the film fest...I came across this very funny video, below. I'm slowly building a ski-related video collection in YouTube at http://www.youtube.com/skimaven The most recent video features helmet-cam shots of US ski jumpers Jessica Jerome and Billy Demong--on the big hill. Enjoy!
[youtube 4w7sVSMbjyM]
Filed in: Ski movies, Stowe
Share This Blog Post
Post a Comment
No Account Needed! To post without any kind of account, you can type in a name, nickname or trail name and an email (which we do not collect or use) then select "I'd rather post as guest." We'd love to hear from you!