Sunday fun day: A morning at Bolton Valley Resort
Sunday, January 25, 2015 at 05:49 PM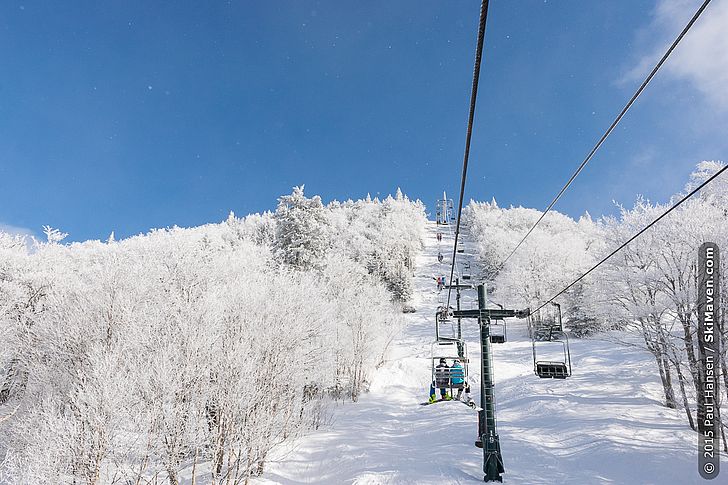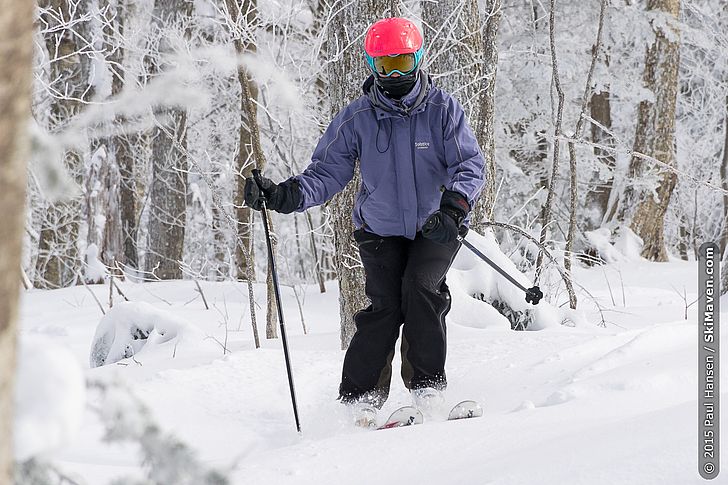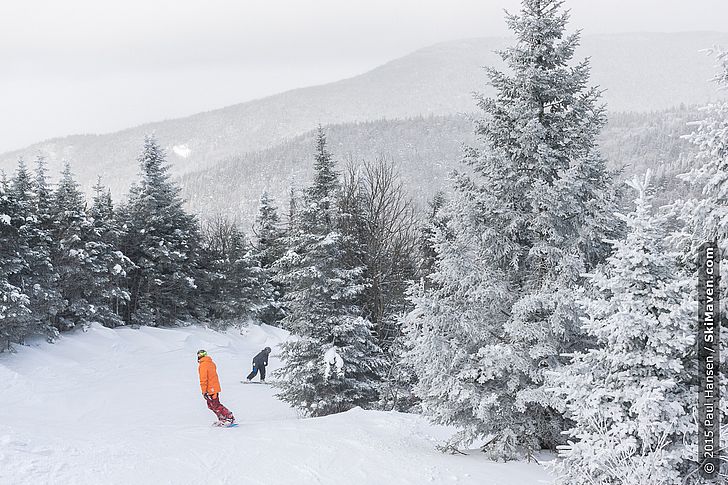 The Skimeister and I drove up into winter by driving up to Bolton Valley Resort in Bolton, Vermont, this morning. It's the closest big ski area to the Burlington area. While we've had some melting in the Champlain Valley, the higher elevations at Bolton Valley have been enjoying snow. We arrived to see frosty-white trees and about three inches of new snow on the trails.
Our plan was to do some laps on the Wilderness Chair, which is typically open only on weekends. For much of the morning the Vista Quad was on wind hold. The Timberline, Mid Mountain and Snowflake lifts were available and I heard it was less windy at Timberline.
From the Wilderness lift we saw that the trails had been groomed, and then the snow fell and then there was some wind that pushed it around a bit. We enjoyed skiing in the new snow on Peggy Dow's and Old Turnpike. Then, it was into the Wilderness Woods, which are mellow, well-spaced glades that you can see from the chairlift. The new snow made the glades super-fun! We helped a handful of other folks track up the glades by lunchtime.
We also explored Outlaw Woods and some woods off of the Coyote trail. In certain untouched places, the snow was quite deep! Getting to Outlaw Woods was rough because of rock and ice at the very top of the Upper Crossover trail.
It was great playing in the fresh snow but I did have to retreat to the base lodge once to warm up my fingers and toes. The temperature was dropping like a rock into the single digits. A balaclava was definitely required today.
There were quite a few families enjoying their Sunday on the slopes and also taking time to warm up in the lodge. It's cute to watch the little kids waddle around in their ski boots and many layers. I noticed that waffles from the waffle shack were popular with the kids.
We finished up the morning enjoying sunshine and blue skies juxtaposed against rime-covered trees. It was gorgeous!
Another Snowstorm Is On Its Way
The National Weather Service is calling for snow in Vermont from Monday night through Tuesday night. Yes! It is a coastal storm so we'll see how far the storm's tentacles will reach. As of Sunday afternoon, NWS is calling for the most snow to fall in Vermont to the south and east. Keep an eye on the forecast here and here (southernmost Vermont).
Bolton Valley Resort at a Glance
Location: 4302 Bolton Access Road, Bolton Valley, Vermont
2 fixed quad lifts; 3 doubles; 1 surface lift
71 trails
Easy: 34%
Intermediate: 38%
Advanced/Expert: 28%
300 skiable acres
Summit elevation: 3,150 feet
1,704-foot vertical drop
Three terrain parks
Night skiing Wednesday - Saturday nights
Rentals and lessons available
Filed in: Alpine / downhill skiing, Bolton Valley
Share This Blog Post
Post a Comment
No Account Needed! To post without any kind of account, you can type in a name, nickname or trail name and an email (which we do not collect or use) then select "I'd rather post as guest." We'd love to hear from you!