Thanksgiving week starts with good snowmaking temps — wintry mix to follow
Monday, November 25, 2013 at 05:12 PM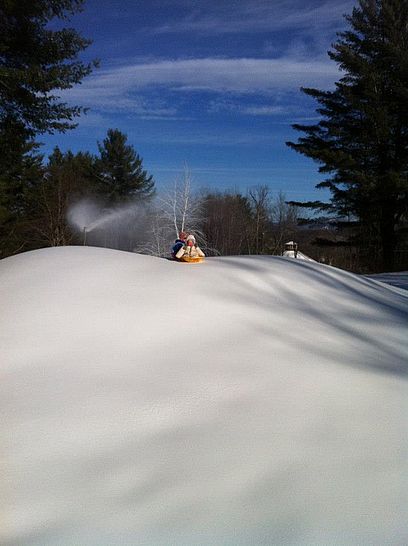 Snowmakers are earning their keep these recent cold days and nights. Resorts are pumping out a lot of snow in anticipation of Thanksgiving weekend, as well as some December opening days. (Who's open? Check here.)
It sounds like Mother Nature will get into the act on Tuesday night and Wednesday, with a wintry mix that should include rain, sleet and snow accumulation. We'll see how it pans out. Check the Burlington National Weather Service report.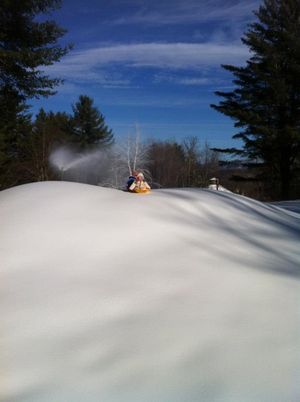 Even a few Nordic ski centers are making the most of snowmaking to open to skiers. Craftsbury and Rikert Nordic Centers are open for limited skiing due to some snowmaking. Snowmaking is now going on at Sleepy Hollow and Trapp Family Lodge. Sleepy Hollow hopes to open the afternoon of November 26 and Trapps on November 28 (maybe Nov. 27). Very limited terrain, of course.
Visit our Vermont Nordic ski centers page for direct links to snow conditions. And for alpine resorts, follow this link.
Photo: Kids enjoy sledding down the giant snowmaking whale at Sleepy Hollow Nordic Center. Photo from Sleepy Hollow Nordic Center.
Filed in: Alpine / downhill skiing, Craftsbury, Cross-country skiing, Rikert, Sleepy Hollow, Trapp Family Lodge
Share This Blog Post
Post a Comment
No Account Needed! To post without any kind of account, you can type in a name, nickname or trail name and an email (which we do not collect or use) then select "I'd rather post as guest." We'd love to hear from you!