Two feet of snow or more: great for skiing, and sled dogs?
Thursday, February 25, 2010 at 10:12 AM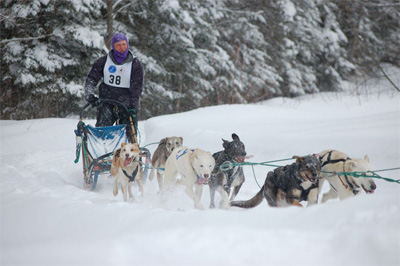 This storm has dropped about two feet of snow on many Vermont ski resorts thus far — some are reporting more. The weather is affecting lift operations here and there today, so check my Vermont ski resorts snow conditions page. It has direct links to the resorts' ski report pages.
This stuff is really helping to beef up our base. So happy!
I'm planning on skiing on Friday, so I'll let you know where I end up and you can be sure I'll post some photos and a recap.
Meanwhile, this weekend also brings a fun event over at East Burke, Vermont — home of Burke Mountain Resort. It's the annual Burke Sled Dog Dash and it benefits the children in the Northeast Kingdom. They are putting the proceeds toward building a community center for the kids.
Racing action takes place on both Saturday and Sunday on the nordic trails of Kingdom Trails in East Burke. Spectators' children also have the opportunity to participate in the one-dog event if they have a helmet. Cool!
I wonder if the dogs and mushers like having this much new snow?
Follow this link for more details: http://www.sleddogdash.com/
Woof.
Photos courtesy of Sugarbush Resort and the Burke Mountain Sled Dog Dash.
Filed in: Alpine / downhill skiing, Backcountry skiing, Burke, Cross-country skiing
Share This Blog Post
Post a Comment
No Account Needed! To post without any kind of account, you can type in a name, nickname or trail name and an email (which we do not collect or use) then select "I'd rather post as guest." We'd love to hear from you!