Vermont farmers' markets in and around ski towns
Monday, June 10, 2013 at 07:54 PM
Summertime, and the living is easy... Vermont is looking green and lush these days. Fields are starting to produce summer treats and the farmers are taking them to market. Many towns around Vermont ski areas have weekly farmers' markets, and they typically include more than produce — such as prepared foods, cheeses, wines, arts and crafts.
The Vermont Agency of Agriculture produces a website that has a statewide schedule of many farmers' markets. The list includes most of these markets, below, which I selected because they are located somewhere near a Vermont ski resort or ski town that you may be visiting during the summer months.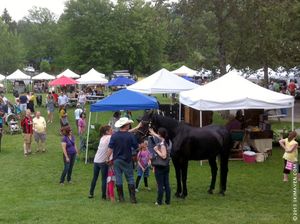 Northern Vermont Farmers' Market Schedule In/Near Ski Towns
Downtown Burlington on Saturdays, 8:30–2 (not too far from Bolton Valley and Cochran's ski areas)
Enosburg on Tuesdays, 3-6:30, and Saturdays, 9-1 (near Jay Peak resort)
Jay Village Saturday, 9:30am-2:30pm (near Jay Peak resort)
Jeffersonville on Wednesday, 3:30 – 7:30 (right at Smugglers' Notch Resort)
Johnson on Tuesdays, 3-6 (near Smugglers' Notch and Stowe ski resorts)
Richmond on Fridays, 3-6:30 (near Cochran's Ski Area and Bolton Valley Resort)
Smugglers' Notch Resort on Mondays, 8:30 am - 11:30 am
Stowe on Sundays, 10:30-3 (near Stowe Mountain Resort)
Stowe Mountain Resort, Fridays in July/August, 11am-3pm
Waitsfield on Saturdays, 9-1 (near Mad River Glen and Sugarbush ski resorts)
Southern Vermont Farmers' Market Schedule In/Near Ski Towns
Londonderry on Saturdays, 9-1 (near Magic Mountain, Stratton and Bromley ski areas)
Ludlow on Fridays, 4-7 (near Okemo Mountain ski resort)
Manchester on Thursdays, 3-6 (near Bromley ski area)
Middlebury on Wednesdays, 9-12:30, and Saturdays, 9-12:30 (near Middlebury Snow Bowl)
Rutland on Tuesdays, 3-6, and Saturdays, 9-2 (near Pico and Killington ski resorts)
Townshend on Friday 4-7pm (near Stratton ski resort)
Woodstock on Wednesdays, 3-6, and Saturdays, 9:30-12:30 (near Suicide Six ski area)
Photo of the Stowe Farmers' Market on Sunday.
Filed in: Ski towns in summer
Share This Blog Post
Post a Comment
No Account Needed! To post without any kind of account, you can type in a name, nickname or trail name and an email (which we do not collect or use) then select "I'd rather post as guest." We'd love to hear from you!