<<<link http: www.skimaven.com post _top external-link-new-window skiing>FOLLOW THIS LINK TO THE 2014 - 2015 POST ABOUT VERMONT LIFT TICKET DISCOUNTS!>>
I've been scouring the Internet, Facebook, Twitter and more for you (you can thank me later) in search of the best Vermont ski ticket discounts. These are some of the best skiing deals for my fellow Vermonters and our out-of-state friends, too.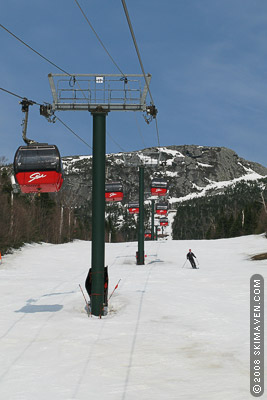 Double check on the details before you drive to the ski resort! And don't forget your ID if you want to cash in on a Vermonter ski discount.
When I can, I like to make use of these discounts to try a resort that I haven't skied for a couple of seasons. Don't get stuck in a rut; it's fun to ski around Vermont! If you are more interested in <link post vermont-season-pass-deals-seize-best-deals-on-ski-passes-and-discount-deals-in-early-fall external-link-new-window season pass>season pass deals for Vermont ski resorts, please visit my post on that topic. If you are skiing for a few days in a row at a ski resort, do check the resort's Web site for multi-day ticket rates.
Have you got a deal to share? Please share your beta by commenting below. I'll update this list as new Vermont ski ticket discounts are uncovered.
Ascutney Ski Resort
The Super Saver is a pack of five lift tickets for $199 adults, $149 juniors, valid during non-holiday periods. Skiers and riders get 2-for-1 full-day lift tickets on Tuesdays, during non-holiday weeks. Vermont and New Hampshire residents ski and ride for $29 on non-holiday Sundays starting at 12:30 p.m.
Bolton Valley Resort
Feb. 22 - March 2, kids 17 and under ski for $20 when accompanied by a paying adult. On the 25th of February and March, Bolton offers $25 lift tickets and $10 nordic tickets to those who bring two nonperishable food items for the Vermont Food Bank. A portion of each sale is also donated to the VYCC.
The Nor'easter Powder Pass gives you five lift tickets that you can use anytime, and you can use them with people you are skiing with, as well. It's $239 for adults and $169 for kids. From December 14-18, lift ticket prices drop to $15 a day ($5 for a nordic ticket). When you purchase your lift tickets online before December 11, $5 of each ticket you purchase will be donated to the Vermont Children's Hospital.
Bromley Mountain
The Sun Mountain Club Card costs $69 for adults, $59 for teens and seniors, and $49 for juniors and seniors 70+. It comes with one free day of skiing, $10 off every all-day lift ticket, weekends and holidays included. On select Fridays, you can combine Bromley's $39 midweek/non-holiday adult ticket with $15 youth tickets (up to three). On many Tuesdays, you can get a $44 lift & lunch ticket.
Burke Mountain
Ski and Ride NEK Style offers $18 lift tickets, $18 rentals, and $18 lessons starting at 12:15p.m. on Sundays. Burke has a $41 lift ticket available to residents of Vermont and Coos and Grafton Counties of New Hampshire every day except Saturdays and holidays ($31 for students and seniors). On Tuesdays (non-holiday) skiers age 55+ get a lift ticket and cup of joe for $20. And non-holiday Thursdays, college students can ski at Burke Mountain for $40 per carload. $17 tickets if you wear green to the slopes on St. Patrick's Day.
Jay Peak
Residents of Vermont and Clinton County, New York, pay $47 to ski Jay Peak, as do passholders from other ski resorts. Starting March 4, Vermonters ski on Thursdays for $40. College students can skip classes (did I say that?) and pay $55, but they should really buy a cheap college student season pass! Farmers get a deal on Jan. 29, but must pre-register.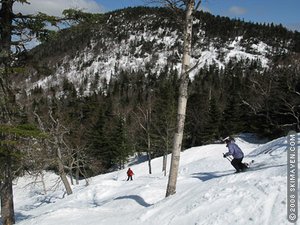 Killington Resort
$49 lift tickets for Vermonters every non-peak Tuesday and Wednesday. For those that plan to ski three to eight days during the season, the Killington Express Card provides savings of at least $10 off daily ticket rates. The one-day Saturday and holiday ticket price at Killington weighs in at $82 this year. "Deal Grabber" offers online lift ticket deals that are updated through the winter.
Mad River Glen
Ski midweek at MRG when tickets are $39 a day. Ski every Sunday afternoon for $35. The Mad Card at $129 gets you three transferable day tickets good any time during the season. Keep an eye out for: January 9 and 10, when Green Mountain Club members ski for half price; Roll Back the Clock Day on January 26-->moved to April 1, when you ski for the original 1948 price of $3.50; March 17, St. Patrick's Day, when if you wear green you ski for $17; and March 2, Town Meeting Day, when Vermont high school, middle school and elementary school students ski free.
Magic Mountain
On Car Pool Wednesdays (non-holiday) if you pack at least four people into your car you can receive lift tickets for $80 per car. During non-holiday midweeks, you can ski and ride with at least three of your friends or family for $25 per person. The $39 Magic Card offers discounts on lift tickets all season; featuring $25 midweek lift tickets and $10 off weekends and holidays.
Mount Snow
The $99 FANfare card offers 50% off midweek non-holiday lift tickets, 25% off weekend non-holiday tickets, and 10% off holiday lift tickets. Kids aged 6-18 pay their age on December 13, January 10 and March 21. Ski for $17 at Mount Snow on March 17.
Okemo Ski Resort
Food Drive Days: On December 13, bring in 3 non-perishable food items and get a day pass for $25. On April 1 do the same for $10. Vermont and NH resident ski discounts are selected $39 Wednesdays and $35 Sunday mornings. Purchase tickets online two days ahead for these deals: Ladies' Days $39 tickets on selected Tuesdays and $39 Okemo Online Thursdays on selected Thursdays through the season. Also check for special discount days for active US Military, U.S. Military Veterans, Fire, Police and Ambulance personnel.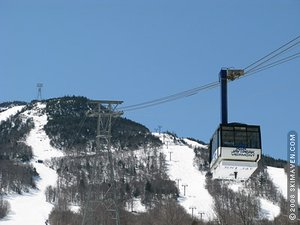 Pico Mountain
Buy $25 Vermonter tickets and college student tickets on non-peak Mondays, Thursdays and Fridays. The Pico Card, available for $24, allows for discounts of up to $16 per day off regular ticket prices. Prior to Dec. 11, purchase up to four $35 lift tickets online.
Smugglers' Notch Resort
Bash Badges offer significant discounts to skiers who will ride the lifts at Smuggs several times this winter. Buy lift tickets in advance at selected area ski shops and you'll save $12 per adult ticket (making it $50). Drop your business card at the ticket booth on a non-holiday Monday and receive $15 off an adult full-day lift ticket. Also on non-holiday Mondays, present your military ID and pay $29 for a full-day lift ticket. On Thursdays, present your college ID and pay $29 for a ski ticket. And on Fridays, Vermonters pay half-price for lift tickets (making it $31), and half price group lessons and rental equipment (during non-holiday weeks). On March 17, wear green and pay $39 for a ticket.
Stratton Mountain
The $69 X2 Card gets you a free day of skiing and $30 off Monday to Friday (non-holidays), $20 off weekends (non-holidays), $10 off holidays.
Stowe Mountain Resort
On February 2 get a ticket for $39; March 17 buy a ticket for $39; and April 3-4 get a two-day ticket for $99. From Feb. 22 - 26, get an adult, Child or Senior 3-day lift ticket for $99. The $75 Stowe Points Card gets you discounted lift tickets for $59 adult, $54 senior. Stowe's full-price day ticket lands this year at $84 and $89 for regular and holiday season, respectively.
Sugarbush
From Feb. 22-26, print a coupon from their site and pay the regular price ($77) for a ticket, then come back for a second midweek day for free that week. On Wed., March 17, ski/ride Mt. Ellen for $17.
Other Vermont skiing discount cards and packages:
Catamount Trail Association skiing coupon book
As a benefit of becoming a member of Vermont's Catamount Trail Association, you get a substantial <link http: www.catamounttrail.org involved membership membership-benefits external-link-new-window skiing coupon>ski coupon book with half-off or two-for-one skiing at a number of Vermont ski resorts and nordic centers (and retailers, too), valued at about $1,000. You can't go wrong for a $35 membership. This is a great deal.
Ski Vermont 3 Pass / Ski Vermont 5 Pass
You need to email Ski Vermont at passes@skivermont.com to get the low-down on these ticket bundles. Only a limited number are available.
Ski and Ride with the Point
A terrific Vermont radio station, The Point, promotes this program. You buy a button and coupon book for a few bucks then present them on Fridays at the ski resort du jour to get half-price skiing. You'll hear more about this as the ski season gets going.
Children's Hospital at Dartmouth Ride and Ski New England Card
This $29 discount card includes deals at Ascutney, Bolton Valley, Burke, Jay and Magic.
Vermont Travel Club Card
Obtain this card for $35 and you get discounts at ski resorts that include Stowe, Mt. Snow, Sugarbush, Stratton, Jay Peak, Okemo, Magic, Smugglers' Notch and Bolton Valley.
American Lung Association of New England Ski & Ride Card
$60 for booklet of deals that include nine Vermont ski resorts: Ascutney, Blueberry Hill, Bolton Valley, Burke, Jay Peak, Magic Mountain, Middlebury Snow Bowl, Quechee, Smugglers' Notch.
Updated 3/17/10