Vermont Maple Weekend is this weekend. Sweet!
Friday, March 26, 2010 at 08:58 AM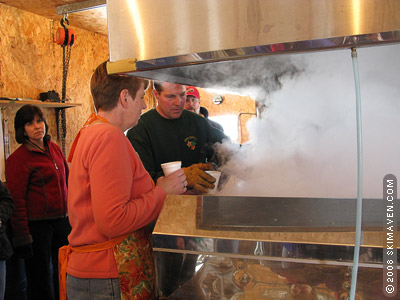 Maple syrup: Oh, how sweet it is.
When you are out and about Vermont this weekend, stop into a sugarhouse that's participating in Vermont Maple Open House Weekend.
Sugarmakers are found all over the state -- from the Massachusetts line to the Canadian border. They will show you how they make their sticky, sweet jugs and bottles of golden maple syrup. You may also get a free sample, too.
For details, check out this Web site: www.vermontmaple.org
Also keep on the lookout for signs that point you toward participating sugarhouses. Large amounts of steam may also be a tip-off!
I just checked and I better pick up a half gallon to get me through this year. Yum.
Filed in: Food, coffee & après ski
Share This Blog Post
Post a Comment
No Account Needed! To post without any kind of account, you can type in a name, nickname or trail name and an email (which we do not collect or use) then select "I'd rather post as guest." We'd love to hear from you!