<<FOLLOW THIS LINK TO THE 2013-2014 SEASON PASS DEAL DEADLINE POST!>>
I'm sitting at my computer in a tank top and shorts, sipping a half-and-half (half lemonade and half iced tea). At the same time I'm fretting over the upcoming deadlines for season pass discounts and frequent skier programs at Vermont ski resorts.
This summer has zoomed by much too fast, and now we're already planning our ski season. It's a darn good thing that I love winter!
Many Vermont ski resorts offer the best deals on season passes and ski discount programs in the early fall – some as early as Labor Day. So folks, it's time to bone up on your options and make a decision that will save you some cash.
Grab a beverage and have a heart-to-heart chat with your family and friends about where you will want to ski this winter in Vermont and about how many days. Then dust off your calculator and do the math. Is it worth it to get a frequent skier card, a limited season pass, or an all-you-can-eat, über grandé season pass? A little bit of planning can save you some decent cash, which can be spent on other things such as a ski weekend away or some après ski. Mais oui!
Here's a look at ski season pass deadlines and deals in northern Vermont – at the ski resorts in my neck of the woods.
Smugglers' Notch Resort
At Smugglers' Notch, you get the best rates on season passes and Bash Badges when you purchase by Labor Day. The next best rates are had by Halloween. Bash Badges require an up-front fee but they give you discounted or free daily lift tickets through the season so they are well worth considering.
Smugglers' Notch season pass site
Sugarbush Resort
September 17 is the magic date for getting the best ski deals at Sugarbush. Parents, you'll want to know that for every Adult 7, Adult Mt. Ellen or Adult Mt. Ellen Plus Pass purchased, you can get a free equivalent youth pass for a dependent child under 12. College students can get a season pass for $319.
Sugarbush season pass site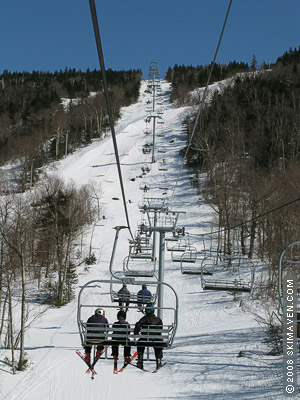 Bolton Valley Ski Resort
At Bolton Valley, purchase a season pass before September 21 for the best bang for your buck. BV offers a strong selection of passes for families of various sizes, as well as a combo alpine/nordic pass, and an Off Peak Pass that rewards you for not skiing on certain peak days. College students check out the Triple Major Pass (Jay Peak, Mad River and Bolton Valley).
Bolton Valley season pass site
Jay Peak Ski Resort
Jay Peak offers discounted pass rates through October 12, including the Triple Major Pass – an amazing college student season pass that is valid at Jay Peak, Mad River Glen and Bolton Valley resorts in Vermont. It's $289 by October 12. Don't procrastinate on this one! Canadians paying with cash or check can buy passes at par.
Jay Peak season pass site
Mad River Glen
October 15 is the early-bird special deadline for season passes at Mad River Glen. Also check out the Mad Card for three days of skiing, any days, for $129. Hey Moms and Dads, a free season pass is available for kids 12 and under with the purchase of a Family Mad Card or Adult Season Pass. College students check out the Triple Major Pass (Jay Peak, Mad River and Bolton Valley).
Mad River Glen season pass site
Stowe Mountain Resort
Stowe Mountain Resort offers its best rates through October 30 on a range of season passes, including a $399 college student season pass. Stowe's Marketfest promotion, where shoppers and diners on Burlington's Church Street Marketplace can qualify to earn a free Stowe Points ski discount card or shave down the price of a season pass, will take place this year from September 11 to October 11.
Stowe season pass site
Cochran's Ski Area
At this family-friendly ski hill, they haven't posted their 2009 – 2010 season pass information yet. However, last year they offered their best rates before December 1.
Cochran's season pass site
Burke Mountain Resort
Burke Mountain season passes often afford discounts at other ski areas in the region, as well. Great deal: The $199 Kingdom Pass is for students aged 6 – 24 who live or attend school in Caledonia, Orleans and Essex Counties of Vermont, or in Coos and Grafton Counties of New Hampshire.
Burke Mountain season pass site
Killington Ski Resort
Killington offers a page on their Web site that compares various frequent skier programs and season pass programs. For example, you can prepurchase $50 tickets to ski Killington while supplies last. Also consider the Killington Express Card for four or more visits this season. Check out their Web site for details and blackout dates, and all their season pass info.
Killington season pass and ticket comparison site
Photo: Bolton Valley and other Vermont ski resorts offer a variety of season pass deals and frequent skier cards.