<<<link https: www.skimaven.com _top internal-link ticket>FOLLOW THIS LINK TO THE CURRENT VERMONT LIFT TICKET DISCOUNTS!>>
Updated 3/5/2012
When it comes to the 2011 - 2012 ski season, are you wondering what's new for lift ticket discounts in Vermont? We've been compiling our annual list of what we think are some of the better lift ticket deals and promotions so that you can start shopping around.
As usual, we'll update this blog post as new ticket discounts are announced throughout the fall and ski season.
Of course, when it comes to getting the best value for your skiing dollar, it's important to look at how often you will ski at various Vermont ski resorts. While this blog post focuses more on special promotions, frequent skier discounts, and Vermont resident discount lift tickets, be sure to also consider season passes, multiday ski vacation packages, and advanced online ticket sales through the Vermont ski resorts and hotels. Explore your options and save some dough!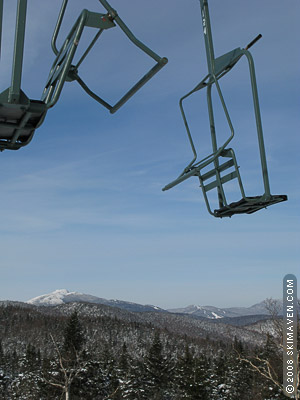 Be sure to visit the ski resort websites before you plan to cash in on a lift ticket deal so that you are clear on all the details and fine print! And if you are interested in a skiing discount for Vermonters or other nearby residents, don't leave home without your ID!
Northern Vermont Skiing Discounts
Bolton Valley Resort deals
If purchased by December 23, the Powder Pass buys you a total of five lift tickets for $199 for adults, or $179 for juniors, college students and seniors. The Powder Pass is available later in the season for a different price. On December 18, skiers and riders dressed head to toe in official Kris Kringle attire will ski and ride free that day. From Dec. 19 - 25, Bolton offers $25 lift tickets and $5 nordic tickets. On Wednesday, Thursday and Friday of that week, lift tickets are valid for skiing and riding until 8 p.m., as well. On Mondays through Fridays from January 2-13, college students ski or ride for $19. From January 17 - 20, $29 lift tickets that are valid all season can be purchased at area ski shops. From February 13 - 17, $35 lift tickets that are valid all season can be purchased at area shops. Visit their website for details. On February 15 you can save $10 on a lift ticket by bringing two non-perishable food items for the local food shelf. Starting January 7, night skiing from 4-8 pm on Saturdays is priced at $19.
Burke Mountain discounts
Vermonter rates are available on non-holiday Sundays - Fridays to residents of Vermont and Coos and Grafton counties of New Hampshire. $48 adults; $39 seniors; $38 college students and kids. Valid proof of residency is required. Show your valid military ID at the ticket window to receive a $15 discount on lift tickets — discount also applies to spouse and children. Show your Veteran's ID at the ticket window for a $10 discount on your lift ticket. Beginning Jan. 1, show your current season pass from another ski resort for a $40 lift ticket. Beginning Jan. 7, get a Sunday afternoon lift ticket, rental and group lesson for $25. On non-holiday Tuesdays and Thursdays, guests age 55+ are entitled to a $30 lift ticket and a free cup of joe. Skiers with valid Quebec driver's licenses can buy one ticket and get one free (except for February 18-25). On Valentine's Day, February 14, bring your sweetheart to the slopes for two-for-one tickets (even on Vermonter and senior tickets).
Jay Peak discounted tickets
The 581 Card sells for $99, and your first ski day is included in that price, while subsequent visits are $50. Dependents can purchase a card for $5 and use it to purchase junior lift tickets for $35. Vermont residents get a lift ticket discount, as do Clinton County, NY, residents: with an ID they can ski for $55 adults; $45 juniors. Save a couple bucks off that by using their RFID card. Jay Peak offers free season passes to all immediate family members of Vermonters currently deployed, or about to be deployed, overseas. Contact the resort for details.
Mad ski deals at Mad River Glen
The Mad Card goes for $144 and you get yourself three transferable day tickets good any time during the ski season, plus $5 off any additional full-day lift tickets purchased throughout the season. Mad Cards are sold until December 15. Active US military personnel and their immediate families are eligible for free lift tickets throughout the ski season. Simply bring a military ID into the ticket office to qualify. Buy a two-day weekend ticket and ski Monday or Friday for only $1 more during a non-holiday period. Now for the lift ticket deal madness: On January 7- 8, Green Mountain Club members ski half price. On January 31, roll back the clock with $3.50 tickets. On February 14, kiss at the ticket desk and ski for $14 each. On March 6, Vermont school students (elementary to high school) ski free for Town Meeting Day.
Smuggle some deals at Smugglers' Notch
Buy a Bash Badge (priced at $115 before Halloween and $125 thereafter) and pay $25 per day for an all-day lift ticket, or $15 for a half-day afternoon lift ticket — all season long with no restrictions. On non-holiday Mondays, drop your business card at the ticket booth and receive $15 off an adult full-day lift ticket. On Tuesdays, present proof of Canadian residency for a buy-one-get-one-free lift ticket. On Wednesdays, women get half off a full-day ticket and mom's get a childcare discount. Present your college ID on non-holiday Thursdays and pay $29 for a ticket. On non-holiday Fridays, Vermonters with proof of residency pay half price for lift tickets, group lessons, and rental equipment. Present a valid military ID any non-holiday midweek day and pay $29 for a lift ticket. All of the above specials are valid from 12/11- 4/3, excluding holiday times.
Stowe discount lift tickets
The $75 Stowe Points Card gets you discounted lift tickets ($69 adults; $49 kids; $58 seniors) — but not valid on Saturdays, early-season, late-season, or holidays. On Woodchuck Day, Thursday, February 2, Stowe offers $39 lift tickets. This special prices does not include a one-time $5 refundable Evolution Stowe Card fee. All active, full-time, Vermont military personnel, Guard and Reserve members along with their families receive complimentary single-day lift tickets at Stowe Mountain Resort on select Sundays; contact the resort for details.
Sugarbush skiing discounts
The SugarDirect card offers one included lift ticket; 25% off midweek rates; 20% off weekend and holiday rates; and one free ticket after 10 purchased tickets. Purchase the card for $99 until December 16. Families of Vermont Guard members deployed to Iraq and Afghanistan receive free season passes; contact the resort for details. Starting January 5, ski and ride for $30 on Thursdays at Sugarbush's Mt. Ellen. Starting March 5, anyone can ski and ride at Mt. Ellen any day of the week for $30. On Friday, March 16 (the day before St. Patrick's Day), you can ski or ride for $17 at Mt. Ellen.
Central Vermont Skiing Discounts
Killington skiing deals
The Killington Express Card is for those who will hit the slopes at Big K between 4 and 10 days this season. The card is $99 if you buy it before January 1, 2012. With the card you'll get lift tickets for the following rates: $40 midweek, non-peak; $65 weekend and peak days.
Middlebury Snow Bowl deals
The Snow Bowl offers $28 midweek and $34 weekend tickets for full-time students age six through college, and the same price for Midddlebury College alumni.
Northeast Slopes steals
At petite Northeast Slopes, an all-day ticket is $15, and kids 14 and under can ski Wednesday afternoons for just $6!
Pico ski ticket savings
The Pico Express card costs $39 and with it you can purchase an adult, teen or senior ticket for $29 midweek (Monday, Thursday, Friday), non-peak, and $39 on Saturday, Sunday and peak days. With the card, juniors ski or ride for $29. Vermont and New Hampshire residents pay $29 for an adult lift ticket when an ID is presented at the ticket window on non-peak Mondays, Thursdays and Fridays. College students and US Military (active and retired) are eligible for a 15% discount off adult lift ticket prices on non-peak days. On Sunday afternoons, adults can ski for $29. Through November 30, purchase up to 10 "P39" tickets online, for use whenever you want this ski season. Give 'em to your friends and family to use, too. $39 a pop.
Suicide Six discounts
Rates and deals were not published by the date of this posting.
Southern Vermont lift ticket deals
Bromley Mountain discounts
The Sun Mountain Club Card costs $69 for adults, and $59 for juniors, teens and seniors and it offers one free non-holiday day of skiing then $10 off any day of the season. Ski non-holiday Sunday afternoons for $29. On non-holiday Fridays, you can combine Bromley's $45 adult ticket with up to three $15 youth tickets. Value Tickets save skiers up to $15 off holiday lift tickets – if that's the time that you are planning to ski. Must purchase at least 5 tickets before December 6. Mom's Day Off is February 3; moms show a picture of their kid and ski or ride for $15. Show your college ID and save $10 off the posted all-day rate. Show your active military ID and save $10 off the posted all-day rate. Print a coupon from Bromley's website to ski on January 16 (MLK Day) for $49 and save your ticket for $10 off your next weekend or holiday ticket. Print a coupon from Bromley's website for a two-for-one Valentine's Day deal.
Magic Mountain deals
Ski or ride any non-holiday Sunday afternoon for $25. The Magic Card for $39 gets you $25 midweek lift tickets and $10 off weekend and holiday lift tickets. For $125, the Magic 3-Pack buys you three lift tickets valid all season long with no blackout days. The 3-Packs must be purchased before December 4. 50th anniversary "Retro Day" on February 4: anyone 50 years or older gets 50% off a lift ticket at ticket booth.
Mount Snow skiing discounts
On December 25, residents of Windham County, Vermont, can purchase a lift ticket for $10 cash, with proceeds to benefit the local food pantry. Proof of residency required. On the first two Thursdays of January, college students ski for $29. On January 8, children ages 6-18 pay their age at the ticket booth. On Valentine's Day, get two tickets for $49. On March 16, a day before St. Patrick's Day, ski for $17. With the $79 FANfare card, save 50% on midweek lift tickets, 25% on a ticket on the weekend, and 10% during holidays. Valid on full-day tickets only. Members of the military save $10 on a full-day ticket any day.
Okemo Resort discount offers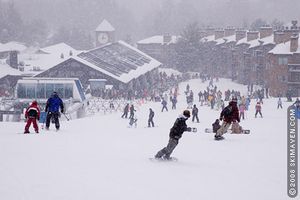 The Super 7 card for $89 (adults) gets you varying discounts on your first six ski days, then a free day, then 40% discount thereafter. With the Okemo 8-Pack (no, not a new chairlift!) sold at $588, you pre-purchase 8 unrestricted lift tickets for the price of 7 and the tickets are transferable between family and friends and may be used for one or two tickets per day. Similar set-up for the $840 12-Pack. Bring at least five non-perishable food items, a new toy, or new piece of clothing to the ticket window and ski/ride on December 18 for $39. Bring any 5 non-perishable food items on April 1 and ski for $39, with donations going to the local food bank. New Hampshire and Vermont residents get a discount lift ticket on non-peak Sundays from 8 am - 1:30 pm for $35 adults, $30 for young adults/seniors, and $24 for junior/super-seniors. Prefer Sunday afternoon? A Sunday ticket valid from 12:30 – 4 p.m. is $29 for VT and NH residents. Vermont and New Hampshire residents can also ski/ride on non-holiday Wednesdays for $39 (or the afternoon for $29); selected early-season dates and April dates are $29. Anyone can buy a ticket online in advance for a non-holiday Tuesday, Wednesday, or Thursday and pay $49; and in April pay $39. U.S. military personnel on active duty and their dependent families get $15 off midweek, $10 weekends and holidays, or if they buy online in advance they get steeper discounts. College students get $15 off midweek, $10 weekends and holidays. Go to the Okemo website for details.
Stratton card and family deal
The X2 Card gets you one day of non-holiday skiing plus $30 off midweek, non-holiday tickets; $20 off non-holiday weekends; and $10 off holiday tickets. The card costs $69 through November 28. On non-holiday Sunday afternoons, get two adult tickets and two children's tickets (age 17 and under) and one cheese pizza for $99.
Other Discount Programs
Ski Vermont Fifth-Grade Passport
Vermont fifth-graders get free skiing vouchers for Vermont alpine and cross-country ski resorts for a mere $10 application fee. Visit the Ski Vermont website for details.
Catamount Trail Association Vermont skiing coupon book
As a benefit of becoming a member of Vermont's Catamount Trail Association, you get a hefty ski coupon book with half-off or two-for-one skiing at at 24 nordic ski centers and 8 alpine resorts (and retailers, too), valued at about $1,000. You can't go wrong for a $35 membership.
Children's Hospital at Dartmouth Ride and Ski New England Card
This $29 discount card includes deals at Bolton Valley, Burke, Jay Peak, Magic Mountain, Mount Snow and Sugarbush. Sample deals include $10 off weekend tickets or two-for-one tickets during the week.
Photos: Bolton Valley, Smugglers' Notch, Middlebury Snow Bowl, Okemo Mountain
Text and images © SkiMaven.com.