Warm weather, and Easter sunrise services at Vermont ski resorts
Wednesday, March 31, 2010 at 10:00 AM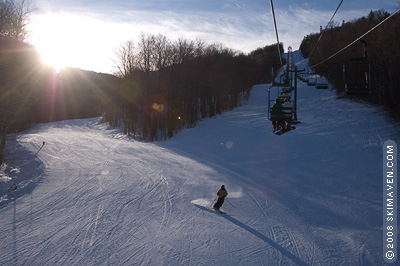 After some wet weather (and some snow at higher elevations) we are heading into a really warm and sunny stretch of weather in Vermont. In the coming days you'll want to ski in the morning because it will get very warm, and slushy, by afternoon. Oh, and wear your sunscreen. You'll need it.
These Vermont ski areas have succumbed to spring. They are now closed for the season:
Suicide Six
Ascutney
Middlebury Snow Bowl
Cochran's Ski Area
Easter Sunrise Services at Vermont Ski Resorts
This Sunday is Easter, and we should have nice weather in which to enjoy an on-mountain sunrise service. These Vermont ski resorts are holding Easter sunrise services:
Stratton Mountain will hold a sunrise, summit service led by Rev. Louis Midura. The gondola opens at 6 a.m. for the 6:30 a.m. service.
Smugglers' Notch's free, non-denominational sunrise service will be performed at the top of Sterling Mountain. Skiers and pedestrians are invited. The Sterling Lift will run from 6 - 6:30 a.m. for the 7 a.m. service. After the service take your first run of the day or you may ride down on the lift.
Stowe resort's 56th annual non-denominational sunrise service will be held at the top of the gondola. The service will start at 6:26 a.m. promptly. Complimentary gondola rides open to the public from 4:50 a.m. - 5:50 a.m.
Sugarbush Get up early and take the Super Bravo lift to Allyn's Lodge for their non-denominational sunrise service, which starts at 7:30 a.m. Enjoy a ride down the lift afterwards, or just strap on your skis or board and make your own way down.
I attended the Smugglers' Notch Easter sunrise service last year and wrote about it here.
Photo: A morning lift ride on the Sterling lift at Smugglers' Notch.
Filed in: Smugglers' Notch, Spring skiing, Stowe, Stratton, Sugarbush
Share This Blog Post
Post a Comment
No Account Needed! To post without any kind of account, you can type in a name, nickname or trail name and an email (which we do not collect or use) then select "I'd rather post as guest." We'd love to hear from you!