Weather ups and downs and a Mardi Gras parade
Thursday, February 26, 2009 at 08:34 PM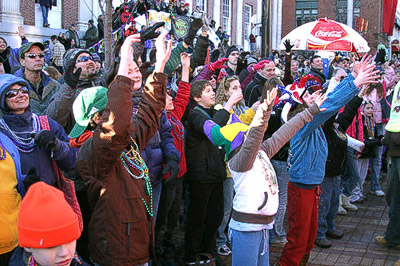 The weather highs and lows are affecting my mood. Tuesday I was thrilled with an amazing powder day here in Vermont, but now it's likely to rain tomorrow—even at higher elevations—before it turns back to snow in the mountains.
Argh!
Well at least we have a substantial snowpack. Check out this NOAA page for the latest snow depths, which includes 87 inches at the stake on top of Mt. Mansfield! (Let's see: 87 divided by 12...hey, that's over 7 feet!)
After Friday's rain, the temperatures will drop again and make things down-right chilly on Saturday. The sun will be out, but the wind will make things blustery. Be sure to layer up and cover your skin.
I may be headed to the Mardi Gras parade in Burlington, Vermont, on Saturday at 3 p.m. People line Church Street to catch beads, candies and if you're lucky, Moon Pies. It's quite fun and it draws a big crowd.
Here's what the National Weather Service has to say for the Green Mountains of Vermont:
.THE HIGHER SUMMITS (3,000 ft +) FORECAST FOR THE GREEN MOUNTAINS OF VERMONT...

.TONIGHT...PARTLY CLOUDY UNTIL MIDNIGHT...THEN BECOMING CLOUDY. LOWS
IN THE UPPER 20S. SOUTHWEST WINDS 20 TO 30 MPH...INCREASING TO 40 TO
55 MPH AFTER MIDNIGHT.

.FRIDAY...CLOUDY IN THE MORNING...THEN SUMMITS BECOMING OBSCURED IN
CLOUDS. A CHANCE OF RAIN SHOWERS IN THE MORNING...THEN RAIN SHOWERS
IN THE AFTERNOON. HIGHS AROUND 40. SOUTHWEST WINDS 65 TO 80 MPH.

.FRIDAY NIGHT...SUMMITS OBSCURED IN CLOUDS UNTIL MIDNIGHT...THEN
BECOMING CLOUDY. SNOW OR RAIN SHOWERS LIKELY UNTIL MIDNIGHT...THEN A
CHANCE OF SNOW SHOWERS AFTER MIDNIGHT. LOWS IN THE LOWER TEENS.
SOUTHWEST WINDS 50 TO 65 MPH...BECOMING NORTHWEST AND...DECREASING
TO 25 TO 35 MPH AFTER MIDNIGHT.

.SATURDAY...SUNNY. HIGHS AROUND 20. NORTHWEST WINDS 20 TO 25 MPH...
BECOMING NORTH 10 TO 25 MPH IN THE AFTERNOON. WIND CHILL VALUES IN
THE SINGLE DIGITS BELOW ZERO.
Mardi Gras parade photo courtesy of Magic Hat
Filed in: Alpine / downhill skiing, Backcountry skiing, Cross-country skiing, Mt. Mansfield
Share This Blog Post
Post a Comment
No Account Needed! To post without any kind of account, you can type in a name, nickname or trail name and an email (which we do not collect or use) then select "I'd rather post as guest." We'd love to hear from you!