Well-covered cross-country trails at Vermont's Catamount Outdoor Center
Sunday, February 1, 2009 at 04:55 PM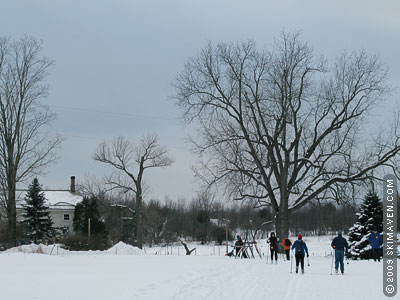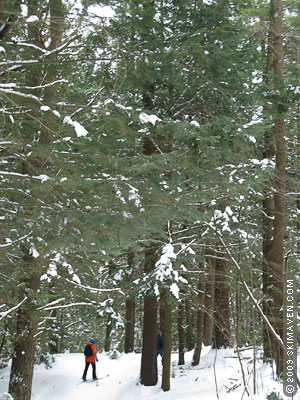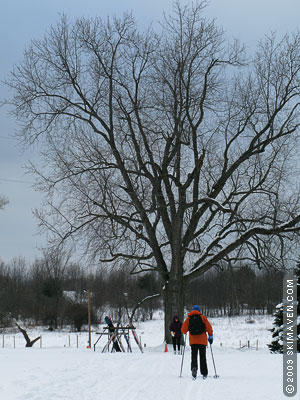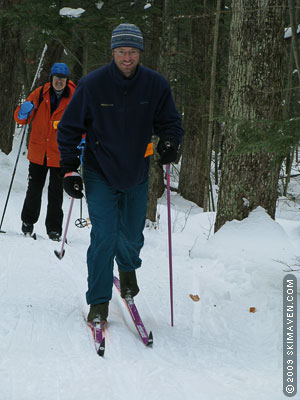 The Skimeister and I had some work and house chores to do this weekend. We felt a bit guilty about skiing on Thursday, so this was our penance. But all work and no play makes the Skimaven cranky, so we made time to do some cross-country skiing this afternoon in nearby Williston, Vermont, at the Catamount Outdoor Center.
Catamount is the closest cross-country trail network to Burlington. It is pretty fun to ski in Burlington at Red Rocks Park or on the Burlington Country Club, but there are no tracks set at either places.
We met up with Skimeister's parents to do a loop in the wooded section of the trail network. Once again we were there on a windy day and the woods were the place to be.
The snow coverage is the best I've seen it there all season. Not a single rock or dirt patch to be found. Hallelujah!
I stuck my pole into the snow by the side of the trail and it had to be at least a foot deep. With warmer temperatures and all this snow, I bet the skiing all around Vermont was fantastic today.
I just read something that I did not know. The property at Catamount is listed by the Vermont Division for Historic Places and the national Register of Historic Places as the "Giles Chittenden Homestead." The place was originally the home farm of Giles Chittenden, and the main house was built by his father, Vermont's first Governor, Thomas Chittenden, in 1796. Very cool.
I also see that one of Catamount's upcoming events is a Moonlight Snowshoe Tour on February 7. Here's a bit more about the nordic center.
CATAMOUNT CROSS-COUNTRY CENTER AT A GLANCE
Located at 592 Gov. Chittenden Road, Williston, Vermont
35 km of cross-country skiing trails
Trails in both the woods and fields
Snowshoeing trails and a groomed sledding hill, too
Operated as a nonprofit organization, with mountain biking in the summer
Offers nighttime nordic skiing Tues - Thurs from 5 - 8 p.m.
Adult trail pass: $18 full day; $15 half day; $9 at night
Lesser rates for children, teens and seniors
Ski rentals and lessons available
Filed in: Catamount Nordic, Cross-country skiing
Share This Blog Post
Post a Comment
No Account Needed! To post without any kind of account, you can type in a name, nickname or trail name and an email (which we do not collect or use) then select "I'd rather post as guest." We'd love to hear from you!