Woodward Mountain Trail: Gorgeous backcountry glades — and plenty of climbing, too
Sunday, March 23, 2014 at 01:17 PM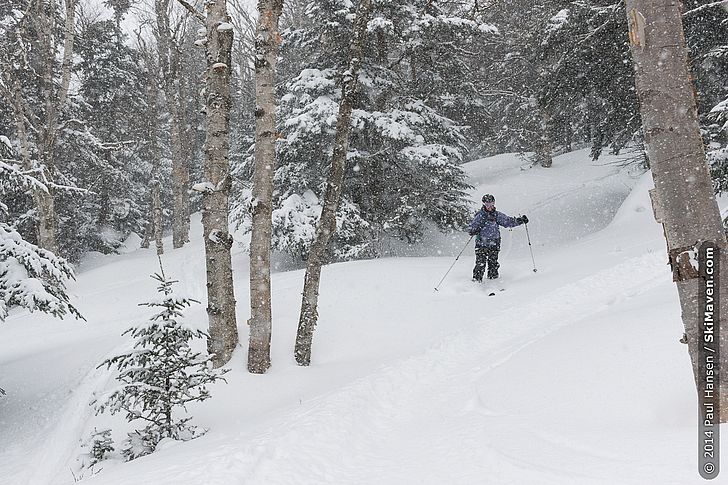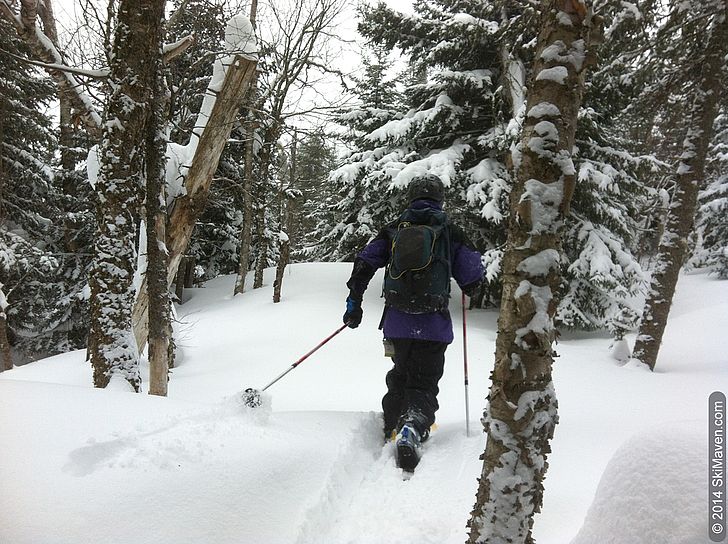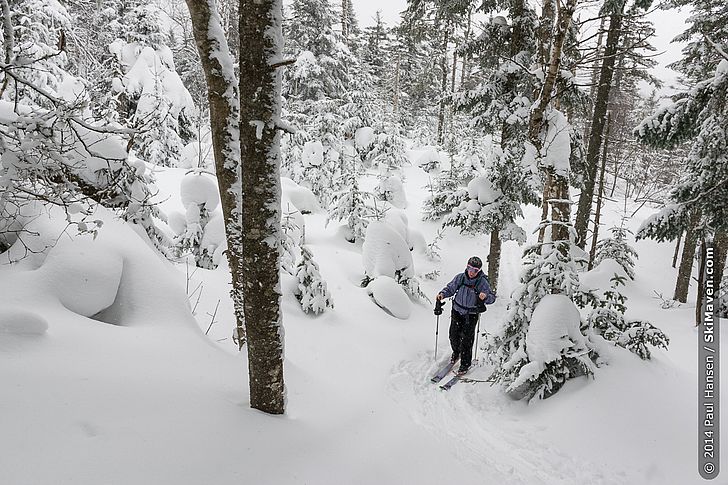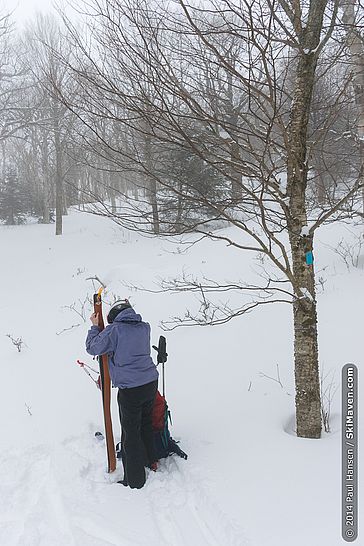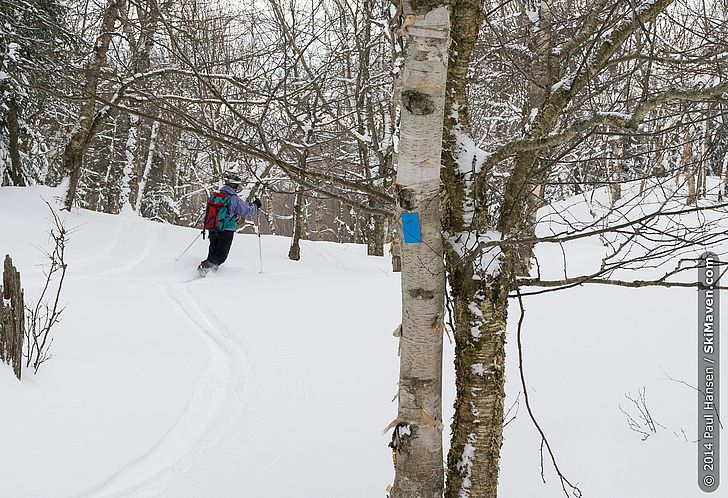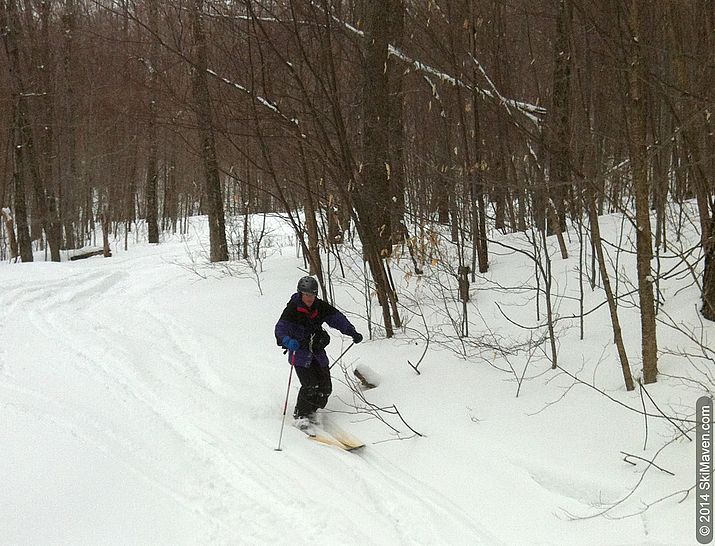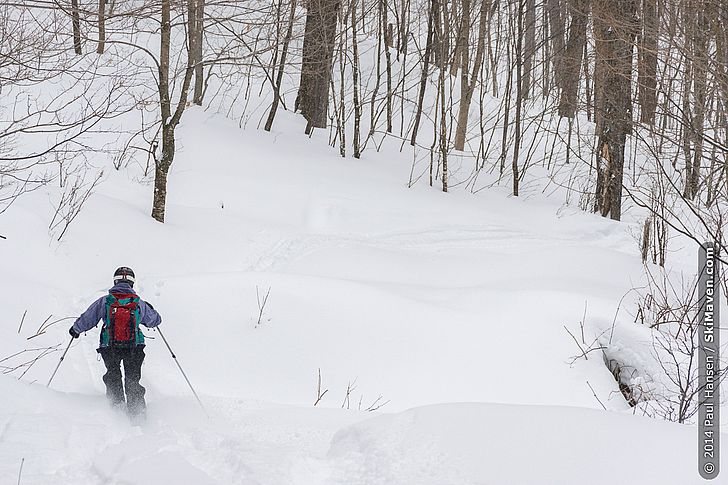 I checked another backcountry ski tour off my long to-do list on Saturday! The Skimeister and I took on the Woodward Mountain Trail from Bolton to Waterbury, Vermont.
This demanding six-mile backcountry ski trail featured beautiful glades, but also plenty of climbing up the peaks that dot the ridgeline that would lead us down toward the Little River State Park and Waterbury Reservoir area. The guidebook we had warned skiers that this was a committing ski and in fact it took us five hours including breaking trail on the middle one-third of the trail.
We had dropped a car on Little River Road in Waterbury and took another up to the ski resort to start our tour. We purchased a single-ride ticket and rode the Vista Quad at Bolton Valley Ski Resort. At the top we put on our helmets and secured our backpacks which were packed with climbing skins, food, water, map and compass, emergency blanket, first aid kit, some duct tape, Swiss army knife and multitool, whistle, lighter, another jacket layer and dry mittens and socks—covering the "10 essentials" for the backcountry. We sidestepped up to the fire tower just above the ski lift (about 3,100 feet in elevation) and soon we were zooming down the narrow start to the Woodward Mountain Trail.
The trail soon opened up and we started to experience the deep powder that had been piling up very recently in the northern Green Mountains. It was deep!
We were on telemark gear: plastic boots and skis that had tele bindings. Along with climbing skins, this is the gear we would recommend for this tour. We did see some guys on AT gear but they were doing laps on some of the upper glades and were planning on skinning back up to the top of the ski lift instead of making the full descent down to Little River State Park.
We would quickly start making our first transition to climbing skins in order to climb up Woodward Mountain, which tops out at 3,110 feet. In all we would put on our skins five times during the day. (I got some good practice and was getting quite proficient at whipping off the skins without taking off my skis!)
In between the climbs we were treated to wonderful (although short) gladed areas with deep snow. In the most open glades, I was doing some of my very best telemark turns ever as I floated through the powder. It was awesome!
We came across about 10 other skiers during the day. Most were planning to ski the upper portions of the trail and skin back up to the top of the ski resort. Another pair was heading all the way down and they did not have skins. They remarked that they regretted that decision.
We followed blue plastic blazes and found that we really had to be cautious about that. Tempting glades and tracks from other skiers easily led us away from the trail. We had to be very careful about getting back on the blue-blazed trail. This was especially important on the middle third of the trail when we were breaking trail. It looked like some skiers had done the entire trail sometime within the last week, but in many places you could not tell that because of the new snow and plenty of snow drifts (it was even windy on Saturday).
I think my favorite section was near the midpoint of the trail where there were open glades and nearly untouched snow. We had fun taking photos and taking breaks for water and a snack.
If the skies had been clear we would have probably seen Camel's Hump and the Worcester Range from various places along the trail. But we got a glimpse of the steep cliffs of Bone Mountain on one stretch where we contoured along the western edge of the ridge. We could also hear the trucks on the interstate in one stretch of the trail.
A crust under the snow became apparent as we got down to the lowest quarter of the trail. This was especially true in areas where the sun had hit the snow. There was about four inches of new snow over this breakable crust. It made turning more tricky.
Up and down we went for nearly five miles before we hit a long descent along logging roads. Here a new challenge was whales of snow that had built up along the many water bars on the roads. Never a dull moment!
We did well following the blue blazes and the guidebook until we were nearly at the bottom of Woodward Mountain Trail. Here the guidebook led us astray as we got onto a snowmobile trail to get back to our parking area on Little River Road. We ended up on a steep, plowed back road (signed "Woodward Hill" at the bottom) and had to walk almost a mile to the car (located at about 450 feet in elevation). Not good when you are exhausted!
All in all a good, but demanding, ski tour. I might consider skiing the upper third of the trail next time so I can get in some glade runs but not have to ski all the way out. Still, skinning back up would be tiring, too!
Posts About Other Nearby Backcountry Skiing Trails
Filed in: Backcountry skiing, Bolton Valley
Share This Blog Post
Post a Comment
No Account Needed! To post without any kind of account, you can type in a name, nickname or trail name and an email (which we do not collect or use) then select "I'd rather post as guest." We'd love to hear from you!