Main content
Vermont lift ticket discounts and skiing deals — SkiMaven's annual list — 2018-2019 ski season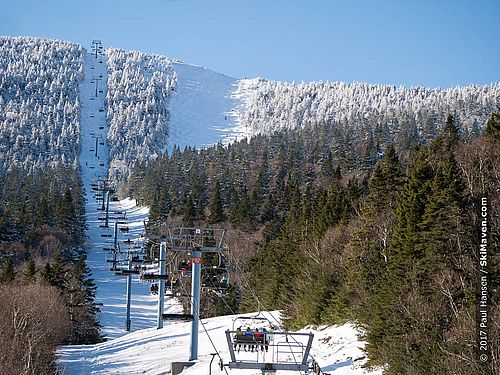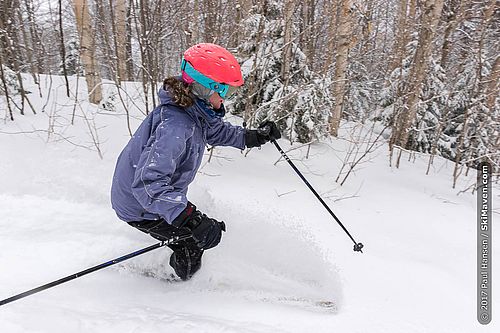 Updated 3/17/19
Each year we compile a list of some of the best skiing deals, discount days, resident discounts and frequent skier deals in Vermont. Here's the list of deals for the 2018-2019 ski season.
Found on this page, from top to bottom:
We may mention a few exceptional season passes but we really do not cover them here. You need to look at how many days you want to ski to calculate if a season pass is worthwhile. And if you are under age 40, some Vermont ski resorts are offering you cheap season passes, so look for them!
If you live away from the mountains and you are planning a Vermont ski vacation, be sure to look at lodging packages that include lift tickets. And everyone with kiddos: Examine ski school packages to see if they include lift tickets before you buy tickets for your children.
Vermont resorts temp skiers and riders into buying tickets in advance online at rates that are less than if you were to walk up to the ticket window in your ski boots. Do check out their online pricing before you go.
With the help of social media, special online deals appear from time to time. They usually require an advance, online purchase to get the ticket deal. These links can help you keep tabs on the resorts' announcements:
On Twitter, our list of Vermont ski resorts that you can subscribe to.
On our website, <link vermontskiresorts>the Vermont Ski Resorts page has a link to each ski resort in Vermont.
Avoid disappointment; carefully verify any offer that entices you. Also do not forget your ID if you are planning to take advantage of a resident-based discount!
WE WILL UPDATE THIS LIST as more ski discounts are announced this fall and winter so you might as well bookmark this page! :)
Northern Vermont Lift Ticket Deals
Bolton Valley Resort ticket discounts
Available through December 9, the Powder Pass buys you a total of five lift tickets for $199 for adults, or $149 for juniors, college students and seniors. The Ski Bum All-Access Pass is for anyone ages 18-25, or any full-time college student and the price through October 31 is $199. (After that date it goes up to $299.) On November 12 only, buy non-holiday Bolton Valley lift tickets online for $39. On Cyber Monday, November 26, online deals include $20 early-season tickets and $209 Ski Bum Passes. Night tickets are $18 from 4 - 7 p.m. Tuesday through Friday nights from December 11-21. Through the ski season, go night skiing for $25. Ski or ride on non-holiday Mondays for $25. On Wednesdays, college students score a $25 ticket. Members of the military and their families get half-off every day. From March 19 to the end of the season, get $39 lift tickets on Tuesdays and Wednesday — and you can ski into the evening.
Burke Mountain skiing deals
On non-holiday Wednesdays, purchase one lift ticket at $69 and receive two more same day tickets free. For skiers and riders 55 and older, $35 tickets are available on non-holiday Tuesdays and Thursdays. Locals rates are available every day (not including holiday periods) to residents of Vermont and Coos and Grafton counties of New Hampshire: $59 adults; $49 seniors and juniors. Everyone skis on non-holiday Sunday afternoons for $28. Active members of the military and their immediate families can ski free.
Cochran's Ski Area = family value
At the family-friendly Cochran's, it costs $25 for an adult lift ticket and $20 for a child/student. A six-pack of tickets costs $125. For a slim $5 bill, you can ski on Friday night under the lights. They often have a good combo deal that includes Friday night dinner.
Jay Peak lift ticket discounts
Full-time college students should look at a season pass combo with Burke Mountain for the best deal: $289 before December 25. If you are between the ages of 19 – 29, check out their discounted season pass. Know someone who just needs access to the beginner lifts on the lower mountain? They can get their ticket for $56 adults and $44 juniors.
Mad River Glen skiing discounts
The Mad Card goes for $169 and you get yourself three transferable day tickets good any time during the ski season, plus $5 off additional full-day lift tickets purchased throughout the season. Mad Cards are sold until December 15. Before October 15, you can get a Family Mad Card for $219 that will also include free season passes for your kids 12 and under. If you are aged 19 - 29, get a midweek pass for $299 ($199 if bought before October 15). Full-time college students should consider a MRG season pass ($245) or the combo pass that's also valid at Sugarbush ($389). On January 29, roll back the clock with $3.50 tickets. On Valentine's Day, February 14, kiss your sweetie at the ticket booth and you each ski for half off the window rate. On April 1, act like a fool in the ticket office and ski for half off the window rate.
Ticket deals at Smugglers' Notch
Buy a Bash Badge for $119 adults/$99 young kids ($139/$119 if bought after October 31) and pay $30 per day for an all-day lift ticket, or $20 for a half-day afternoon lift ticket — all season long with no restrictions. A Bash Badge Plus for $189 adults/$159 young kids ($209/$179 if bought after October 31) adds on free early-season and late-season skiing. On Fridays, Vermonters with proof of residency pay half price for full-day lift tickets, group lessons and rental equipment. Members of the military receive $20 off full-day lift tickets. From November 23 - 25, bring a food item for the local food shelf and get a ticket for $32 if you're an adult, $20 if you're a kid. On Cyber Monday, November 26, you can snag season passes or Bash Badges at pre-Halloween prices. Buy a full-day lift ticket on Valentine's Day, February 14, and receive another ticket for free. Add $5 for a RFID card if you don't already have one. From February 25 - March 1, Vermont residents get a variety of lesson and rental discounts, plus half off full-day lift tickets.
Stowe lift ticket deals
Full-time college students get the best deal at Stowe with the $409 college pass, which is not valid during some peak periods. Seniors 70+ can buy a discount card. Otherwise, the resort is promoting various Epic season passes for everyone else.
Sugarbush skiing and riding deals
For sale online through the end of November is the $269+tax Quad Pack, a pack of four transferable tickets to Sugarbush with no blackout dates. Skiers and riders aged 30-39 get a discount on a season pass, while folks aged 19-29 get an even better deal. Seniors 65+ can get a midweek season pass for $169. College students should check out the $389+tax pass deal that includes Mad River Glen; best rate by November 7. Ski or ride at Sugarbush for $14 on Valentine's Day, February 14. Add $5 for a RFID card if you don't already have one. On non-holiday Thursdays ski at Mt. Ellen for $30.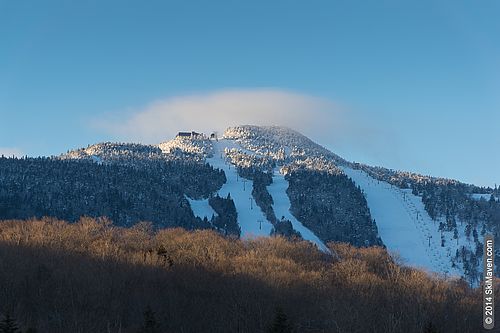 Central Vermont Lift Ticket Discounts
Killington lift ticket discounts
K-Tickets are available to buy in the fall through October 18, 2018. They get you a day of skiing during the current ski season for $75 for adults; $65 for kids. Midweek K-Tickets tickets are $65 for all ages. You can go to Killington's /bogo page on their website to ask for a two-for-one early-season ticket voucher. On non-holiday Tuesdays and Wednesdays during the ski season, Vermont and New Hampshire residents can get a full-day ticket for $59. For those who plan to ski or ride four or more days a season, buying a Killington Express Card gets you 50 percent off midweek and 25 percent off weekend and peak day ticket rates. Use the Express Card six times and your seventh visit will be free. The sticker price for the card through October 18 is $84 adults; $71 seniors; and $65 juniors. After that date it costs $99 adults; $84 seniors; $77 juniors. Active duty, retired and honorably discharged members of the military can get a free Express Card. On Cyber Monday, November 26, you can buy $84 lift tickets to use during the ski season.
Middlebury Snow Bowl deals
Middlebury Colege students, alumni, faculty and staff get the best deals on season passes and tickets here. But younger students do, too, making it a family-friendly ski area.
Northeast Slopes bargains
Affordable is the name at the game at Northeast Slopes: $15/day on weekends/holidays and $10 on Wednesday afternoons (only $6 if you are 18 or younger). Do your little ones only need the Little Tow? That'll be $5.
Pico Mountain ticket deals
Vermont students in grades K-12 can get an $99 Vermont Student Pass for unlimited access to Pico all season long, plus perks for themselves and their families. From December 14 -16, bring three non-perishable food items to be eligible for a $39 lift ticket. On Fridays, January 27, February 3, February 10, March 10 or March 24 all ages can ski for $49. Everyone can ski on non-peak Sunday afternoons for $40 throughout the season. Residents of Vermont and New Hampshire ski for $39 on non-peak Mondays, Thursdays and Fridays. For those who plan to ski or ride four or more days at Pico this season, buying the Express Card gets you 50 percent off midweek and 25 percent off weekend and peak day ticket rates. Use the Express Card six times and your seventh visit will be free. The price through October 18 is $84 adults; $71 seniors; and $65 juniors. After that date it costs $99 adults; $84 seniors; $77 juniors. Members of the military get a complimentary Express Card. Pico has a couple of Cyber Monday deals that you can find online on November 26: purchase $51 one-day lift tickets valid any day; $135 3-Packs valid any day; and $125 3-Packs valid on non-peak days.
Quechee Ski Area discounts
The Friday Special ticket is priced at $34 and includes $5 voucher for lunch. Active military receive 15 percent off regularly priced lift tickets.
Suicide Six best ticket prices
On non-peak weekdays, lift tickets are $35 for adults or $30 for children and seniors — that's half the weekend and holiday rate. Kids 5 and under always ski for $10. Got a beginner who just wants to use the J-bar? That'll cost $15 for the day.
Southern Vermont Discounted Tickets
Bromley Mountain ski ticket deals
The Sun Mountain Card costs $81 ($91 after December 14) and it offers one free non-holiday day of skiing then $30 off midweek tickets or $20 off weekend tickets or $10 off holiday tickets through the season. Members of the military save 20% on tickets. College students save $15 on the posted lift ticket rates. On Cyber Monday, November 26, buy a 3-pack of non-transferable tickets valid any day this season for $159. On February 8 for the Mom's Day Off Event, mothers show a photo of their kid(s) at the ticket window and get a ticket for the day for a $25 donation to a local cancer center. Starting in late February, buy a four-pack of Spring Loaded lift tickets for $119. The non-transferable tickets can be used February 24 through December 22, 2019.
Living Memorial Park ski hill
At this Brattleboro, Vt., community hill it will cost you a mere $5 to ski or ride — even for night skiing. Get a punch card of 12 tickets for $50.
Magic Mountain discount tickets
The Throwback Card for $129 - $149 (depending when you buy it) will get you $29 lift tickets all season; the price of the card price goes up as winter gets closer. The Freedom 4-Pack at $189 is four transferable tickets good anytime (and by anyone) this season. The best rates on season passes are through October 15. Vermont school kids aged 6-17 can get an unlimited season pass for $139. A Vermont parent or teacher can add on a pass for themselves for $269. Anyone between the ages of 18-29 can get an unrestricted season pass for $299. If you are age 18-24, you can sign up for a free Zero Commitment Card and ski anytime for $39. During the ski season, on non-peak, non-powder day Throwback Thursdays, ski for $39. On non-peak, non-powder day Fridays, carload of up to four ski for $149, and Vermont and NH residents ski for $44 adults; $34 kids. On non-peak Sundays, Vermont and NH residents ski for $54 adults; $38 kids.
Mount Snow skiing deals
On December 14 to celebrate Founder's Day, Mount Snow offers tickets as low as $12 when bought online in advance or $49 at the window. Prices increase as quantities sell out. On March 15, feel the luck of the Irish with tickets as low as $17 when purchased online in advance or $49 at the window. Skiers and riders aged 18-29 get a good deal on a multi-mountain season pass: $399 if bought by December 17. Members of the military get 40% off midweek/non-holiday lift tickets and 25% off weekend/holidays. On Cyber Monday, November 26, you can purchase online a four-pack of unrestricted tickets starting at $229 (the price goes up through the day); and you can get a beginner package of three ski lessons, rentals and lift tickets for $99.
Okemo Resort ticket deals
The 3 & Easy Packs are available online and they get you three transferable tickets for $249 adults; $209 juniors. On December 2, when you donate at least five non-perishable food items or a new/unused child's toy or piece of clothing, you can ski for $45 that day (plus $5 RFID card if you don't have one).
Stratton discounted lift tickets
At $269, the Flex Card buys you three tickets valid any day, plus you can visit again for $89 — and if you do, the fifth visit is free. After that, buy more tickets at $89. Vermont kids can get passes for $199 (grades K-6) and $299 (grades 7-12). On Cyber Monday, November 26, you'll find $79 lift tickets valid for non-peak skiing.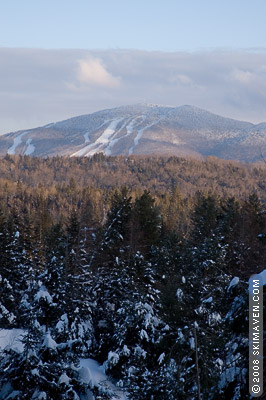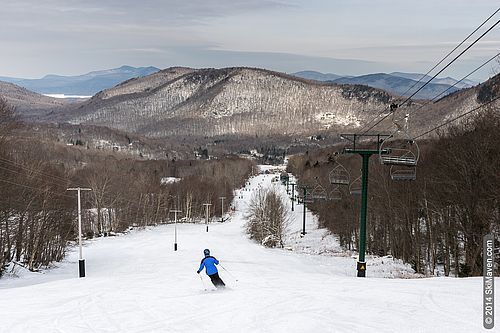 Other Ski Ticket Discount Cards and Programs
Vermont ski resorts that are now part of multi-mountain season pass offerings:
Killington - Icon Pass
Stratton – Icon Pass
Sugarbush – Icon Pass and Mountain Collective Pass
Okemo – Epic Pass
Stowe – Epic Pass
Mount Snow - Peak Pass
Bolton Valley - Freedom Pass
Magic Mountain - Freedom Pass
Catamount Trail Association coupon book
When you become a member, Vermont's Catamount Trail Association gives you get a booklet with coupons for discounts at a handful of Vermont alpine resorts and a number of Nordic ski centers.
Green Mountain Club member ski days
As a member of the GMC, you can ski at a discount at two Vermont ski areas. Mad River Glen: Half-price lift tickets on January 5 and 6. Jay Peak Resort: $55 tickets on Sundays and $45 tickets on Mondays during these dates - January 13, 14, February 10, 11, and March 17, 18.
Irving Gas BOGO Lift Ticket Program
Get an Irving Rewards card and when you fill up your tank between January 2 and April 2 you'll earn a buy-one, get-one free lift ticket voucher for every three purchases of 10 gallons or more. The Vermont ski areas that are participating include Smugglers' Notch, Bolton Valley, Middlebury Snow Bowl, Burke Mountain, Jay Peak and Suicide Six.
My Champlain Valley Ski & Ride Card
This $175 card gets you a day of skiing at Smugglers' Notch, Magic Mountain, Middlebury Snow Bowl, Burke Mountain, Suicide Six, Northeast Slopes and Mad River Glen, plus others in the region.
Ride and Ski Card
This $50 card includes one lift ticket and discounts to Vermont's Bolton Valley, Burke, Jay Peak, Killington, Magic Mountain, Mount Snow, Pico, Smugglers' Notch and Sugarbush ski resorts, plus others in the region.
Ski & Ride with the Point
The Point radio station in Vermont sells a $5 button and coupon book with coupons for half-price skiing on predetermined Fridays at predetermined ski areas.
Ski Vermont Fifth-Grade Passport
Fifth-graders from any state get free skiing vouchers for Vermont alpine and cross-country ski resorts for a mere $10 application fee. (Not valid during holiday periods.) Visit the Ski Vermont website for details.
Take-3 Beginners Package
Beginner skiers and riders can sign up for this $129 package and receive three days of lessons (at the same resort or a different resort for each lesson). Each will include rental equipment for the day plus a lesson with a professional instructor and a lift ticket to access beginner terrain. (Not valid during holiday periods.) Ten resorts are participating; sign up at the Ski Vermont website.
Vermont Ski & Snowboard Museum coupons
A $60 museum membership gets you two-for-one tickets at seven ski resorts (Bromley, Burke, Jay Peak, Killington, Mount Snow, Pico, Stratton) and three Nordic centers (Grafton, Rikert, Trapps) in Vermont.
Vermont Travel Club Card
This card gets you various lift ticket discounts at 10 Vermont ski resorts. Pricing starts at $44 for one card or $23 per card if you're buying a five-pack for the family. Resorts include: Burke, Bolton Valley, Jay Peak, Killington, Mount Snow, Okemo, Pico, Smugglers' Notch, Stowe and Sugarbush.
Daily Deal Websites
Websites such as WCAX Jump On It and Groupon will occasionally offer a lift ticket deal.
Photos, top to bottom: Sugarbush, Vermont; Stowe, Vermont; Killington, Vermont; Burke Mountain, Vermont; Pico Mountain, Vermont
Have you come across a good Vermont skiing discount? Let us know in the comments below!
Text and images © 2018 SkiMaven.com.
No Account Needed! To post without any kind of account, you can type in a name, nickname or trail name and an email (which we do not collect or use) then select "I'd rather post as guest." We'd love to hear from you!