Blowing + falling snow = happy Vermont ski resorts
Thursday, November 20, 2008 at 12:01 PM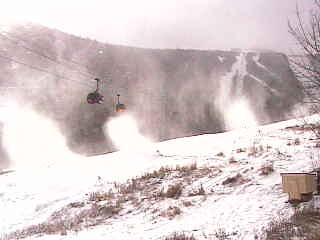 Since temperatures did a swan dive on Sunday evening, we've been enjoying steady, cold temperatures here in Vermont.
Snowmaking crews are working hard to lay down a good base, and Mother Nature even helped out with up to a handful of inches of fresh snow in the mountains. We even received about an inch of snow here in town this week.
Check out this Web-cam picture from Killington from this morning. The gondola is chugging skiers safely through the blowing snowguns. How luxurious — I usually end up on a slow chairlift going through those manmade blizzards!
Things are looking good for late-November skiing! I plan on taking to the slopes on Thanksgiving weekend after having some family time. But Killington is open for skiing today and this weekend Mt. Snow, Okemo, Jay Peak, Sugarbush and Stowe resorts will also open. Check their Web sites for details before you hit the road.
Don't forget the Warren Miller film showing in Burlington, Vermont, on Saturday. I'm going to check it out and have some dinner with friends before the show.
Filed in: Alpine / downhill skiing, Fall & Early season, Killington
Share This Blog Post
Post a Comment
No Account Needed! To post without any kind of account, you can type in a name, nickname or trail name and an email (which we do not collect or use) then select "I'd rather post as guest." We'd love to hear from you!