Anyone who reads this blog understands by now that we like to do "après." Après-ski snacks and beverages are extra tasty after a cold day on the snow. Plus, you can do après and still get to bed at a reasonable hour. Bonus!
We particularly enjoy tasting beers from Vermont's famed breweries. The Green Mountain State now has a ridiculous amount of breweries — large to tiny in size. How spoiled we are!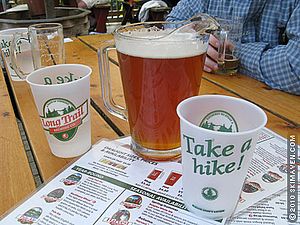 Here's a list of Vermont breweries near Vermont ski resorts so you can work them into your plans this winter! Some offer tastings and food, some just tastings and beer sales, so check it out online before you go. Explore this website for more information on all <link http: www.vermontbrewers.com membermap external-link-new-window breweries near ski>Vermont breweries and their locations; check out the following website for <link https: www.beeradvocate.com lists state vt external-link-new-window beer>Vermont beer reviews.
Of course, most local ski bars and restaurants pour local beers, so ask what Vermont beers are on tap!
Photo at right: Long Trail Brewing in Bridgewater Corners, Vermont.
Breweries Near Vermont Ski Resorts
Near Jay Peak ski resort:
Kingdom Brewing
Hill Farmstead
Hill Farmstead
Covered Bridge
Near Smugglers' Notch ski resort:
Lost Nation
Rock Art
Brewster River
Ten Bends
Near Stowe ski resort: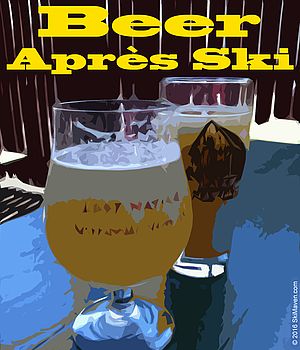 Alchemist
Idletyme
von Trapp
Lost Nation
Rock Art
Ten Bends
Prohibition Pig
Near Bolton Valley ski resort:
Stone Corral
Prohibition Pig
Near Sugarbush + Mad River ski resorts:
Lawson's Finest Liquids
Prohibition Pig
14th Star
Four Quarters
Zero Gravity
Burlington Beer
Queen City
Switchback
1st Republic
GoodWater
Simple Roots
Vermont Pub & Brewery
Fiddlehead
Magic Hat
Frost Beer Works
Near Middlebury Snow Bowl: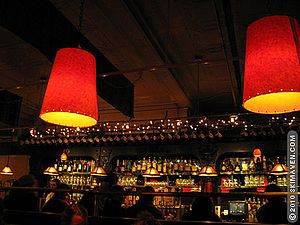 Bobcat Cafe & Brewery
Otter Creek / Shed
Drop Inn
Foley Brothers
Near Killington + Pico ski resorts:
Backacre Beermakers
Trout River
Harpoon
Near Mount Snow:
J'ville Brewery
Hermit Thrush
Whetstone Station
McNeill's
Near Stratton, Bromley + Magic:
Photos at right:
Ambience at Bobcat Cafe and Brewery, Bristol, Vt.
Testing a flight of beers at Zero Gravity Brewery, Burlington, Vt.
What are your favorite beers from Vermont???