Clear, wintry day on Bolton's backcountry trails, and maple syrup rewards
Sunday, March 30, 2008 at 05:23 PM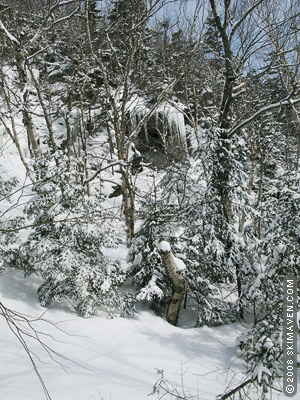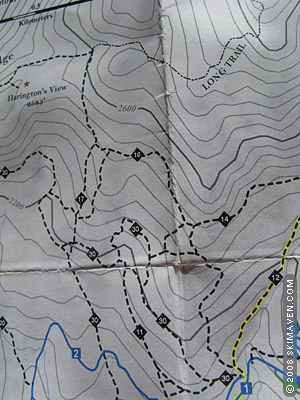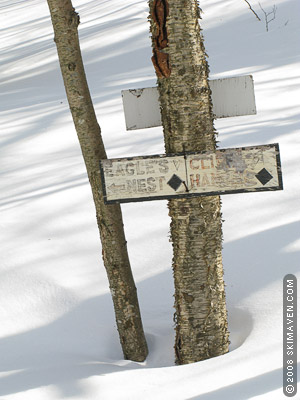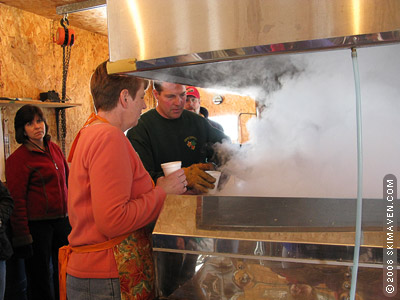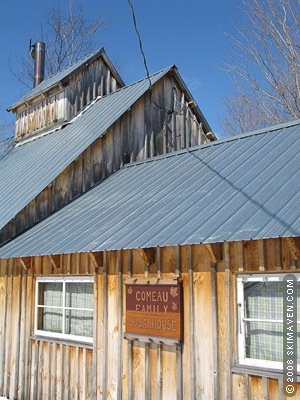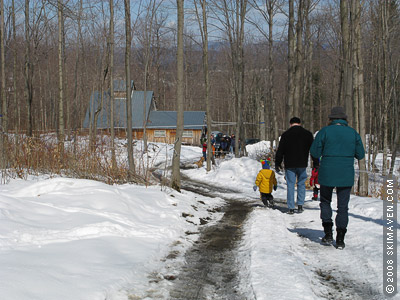 The sun was deceiving on Saturday morning. If you looked at the calendar and the blue skies, you would have sworn it was going to be a spring skiing day. You would have also been wrong.
It was windy and downright cold in the mountains. At Bolton Valley ski resort, someone said it was zero degrees at the top of the lift early in the morning. Brrr.
While the Skimeister took to the lifts, I headed for Bolton's lower backcountry trails. I was intent on generating my own heat on this chilly day. I wanted to check out where Telemark trail would take me.
I left the nordic center with my Pavos (my backcountry skis). While Broadway and Telemark were groomed, there were about three inches of light, fresh snow on the side of trail. It was time to leave the groomers behind. I ducked off onto an unnamed trail, which was marked by small red disks.
I climbed up and up. I was thinking that I'd bump into a moose, since I was quietly skiing on my own.
I made it up to a junction with Eagle's Nest an noticed some icy waterfalls. I climbed up a bit to a saddle and noticed some more among the snowy, rocky landscape. This was not the end of March, was it? It sure the heck looked like February up here.
I considered heading down the mountain bike trail that descended from the saddle in front of me, but I wisely checked my map and saw that it headed toward the Long Trail. It was the completely opposite direction I needed to go to get back to the resort.
I took some swooping turns around the hardwood trees in the fresh snow. In no time at all I was back on Broadway, kicking and gliding back to the nordic center.
There's still an amazing amount of snow in the mountains here in northern Vermont. I wondered if spring would ever come here.
The Skimeister and I packed up our gear and went for lunch at Toscana in Richmond. We had heard that it had great food, and not too pricey, and we had time to check it out.
It was terrific! We had the lunch specials, a beef tenderloin wrap and a scallop and shrimp pasta dish, which were just under $10. Heck, it was only a couple more dollars than a burger and the atmosphere and service were wonderful. You'll find this great little restaurant on Bridge Street, just across from the Bridge Street Cafe.
From here we went to visit some maple sugarhouses. It was Maple Open House Weekend, after all. Our first stop was at a rather commercial place on route 116 in Hinesburg, Vt. They were selling all sorts of maple-flavored snacks, even maple hot dogs! But the cool thing was that they had a bluegrass band playing in the building next to the sugarhouse. They sounded great and people were hanging around to listen and get a sugar high.
From there we headed to Williston to the Comeau family sugarhouse. We parked at their house and walked down through the maple trees to the sugarhouse. You could see the plastic taps and tubing that carried the sap down the hill to be collected and boiled.
But today there was no sugaring to be done on this side of town. The sap wasn't running here; it was too cold. Still, it was fun to see this family operation, to taste a free sample, and to pick up our 2008 syrup: Grade A Dark Amber, a very flavorful syrup. It was a tasty end to a beautiful Saturday.
Filed in: Backcountry skiing, Bolton Valley, Food, coffee & après ski
Share This Blog Post
Post a Comment
No Account Needed! To post without any kind of account, you can type in a name, nickname or trail name and an email (which we do not collect or use) then select "I'd rather post as guest." We'd love to hear from you!