Cold, snow, winter. Sweet!
Thursday, December 10, 2009 at 10:02 PM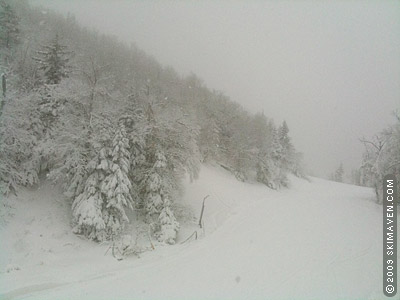 The temperature is dropping. The snow has been falling. Things are looking up!
Vermont's ski resorts are continuing to open (six more on tap for the weekend) and those that have been open are opening up more terrain. This a good thing, since more people should be hitting the slopes this weekend and a crowded slope cramps my style.
We had a nice snowstorm blow through the state -- and I mean it was really blowing. But several resorts enjoyed a healthy addition to their base, and that's what we need. In fact, on Vermont's highest peak the snow at the stake measures about 20 inches.
The temperatures are now dropping and the wind isn't quitting. Be sure to layer up if you ski this weekend and keep your face covered!
On the nordic side of things, Trapps, Stowe Mountain, Sleepy Hollow, Craftsbury, Okemo, Prospect, Ole's & Blueberry Lake nordic centers among those open this weekend.
Check this related blog post to see which alpine ski areas are opening this weekend. See you on the hill!
Filed in: Alpine / downhill skiing, Mt. Mansfield
Share This Blog Post
Post a Comment
No Account Needed! To post without any kind of account, you can type in a name, nickname or trail name and an email (which we do not collect or use) then select "I'd rather post as guest." We'd love to hear from you!