Gondolas and Groomers: Skiing this week at Killington Resort, Vermont
Saturday, February 1, 2014 at 07:22 PM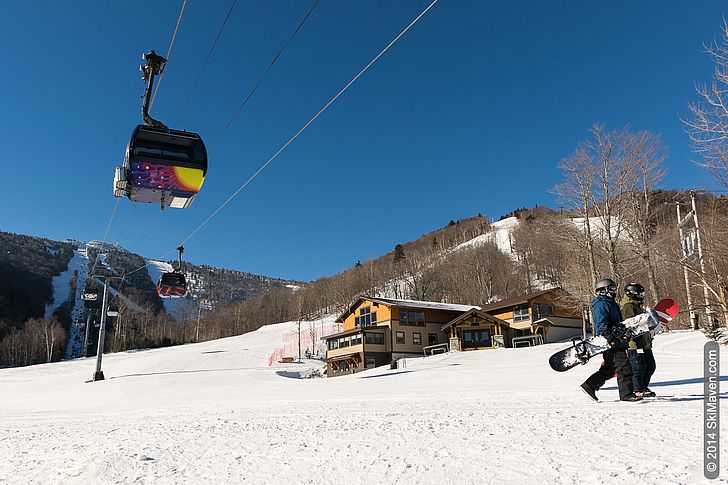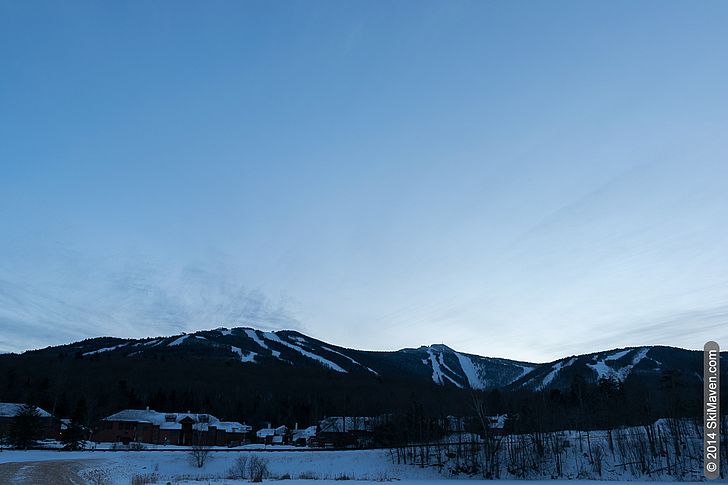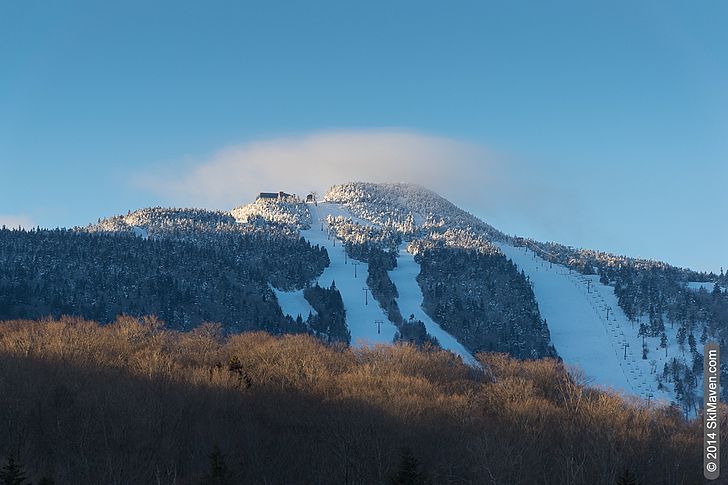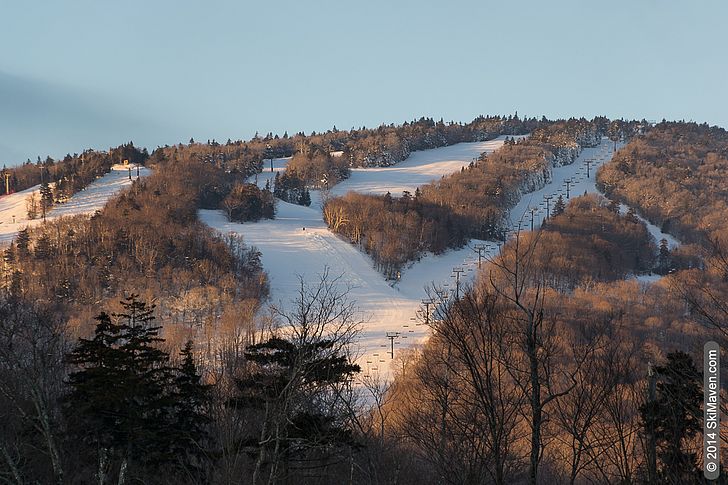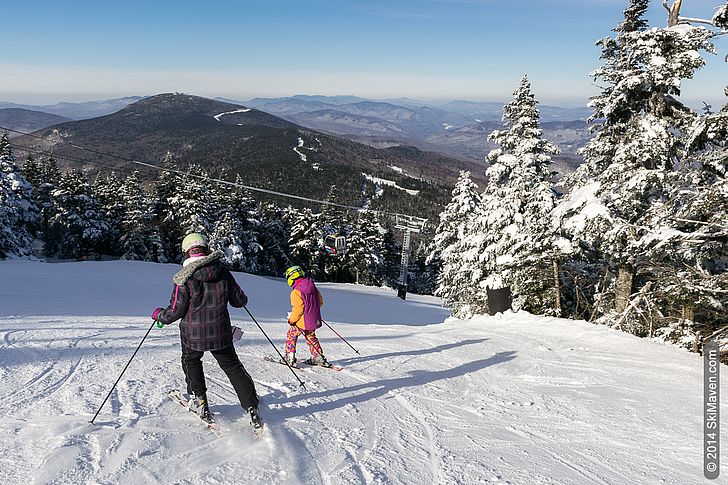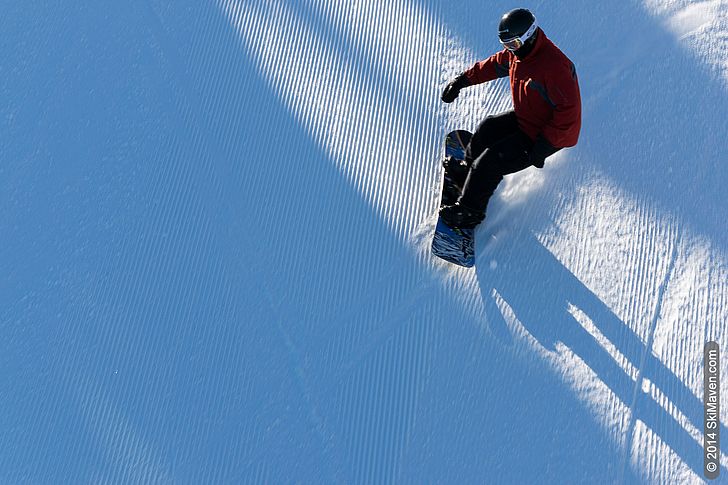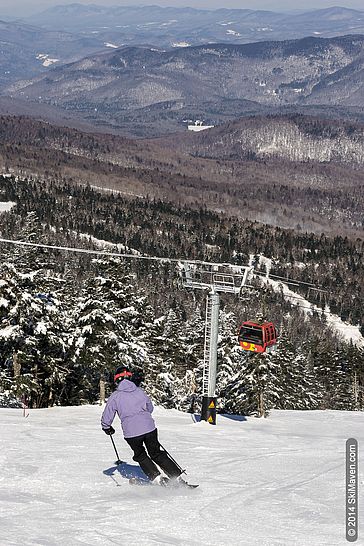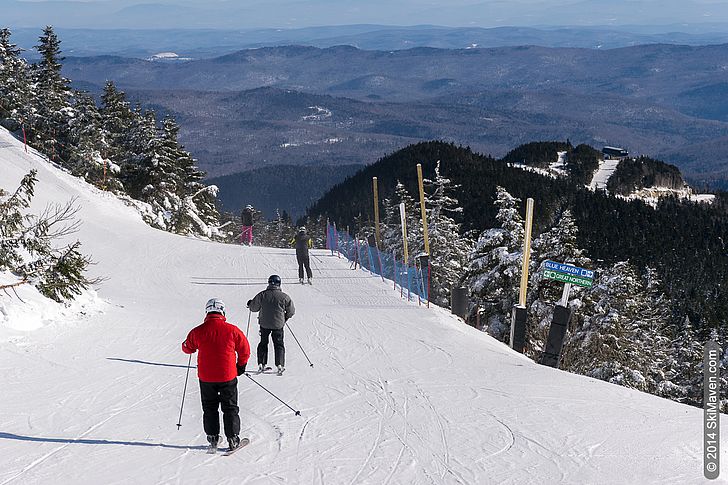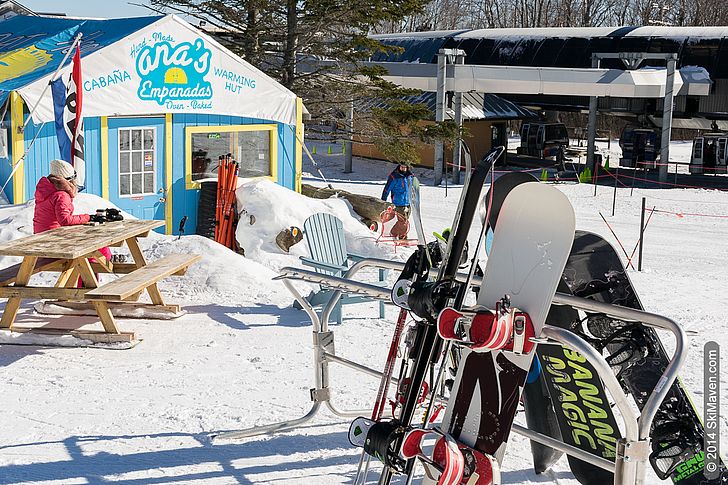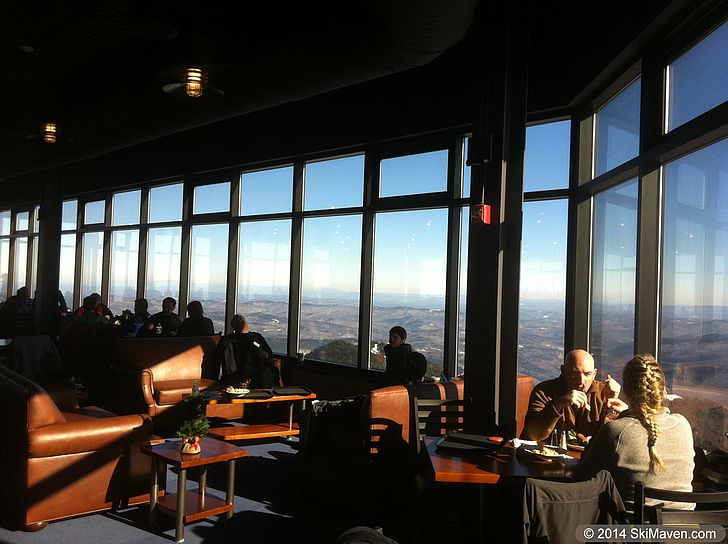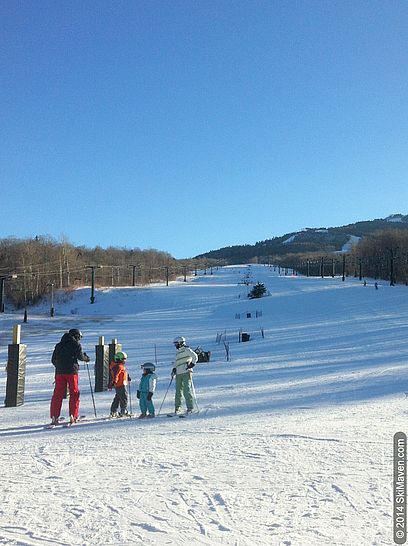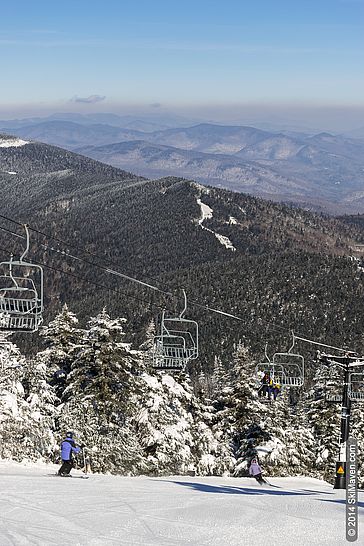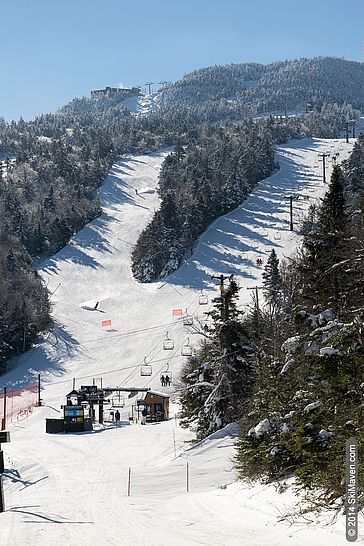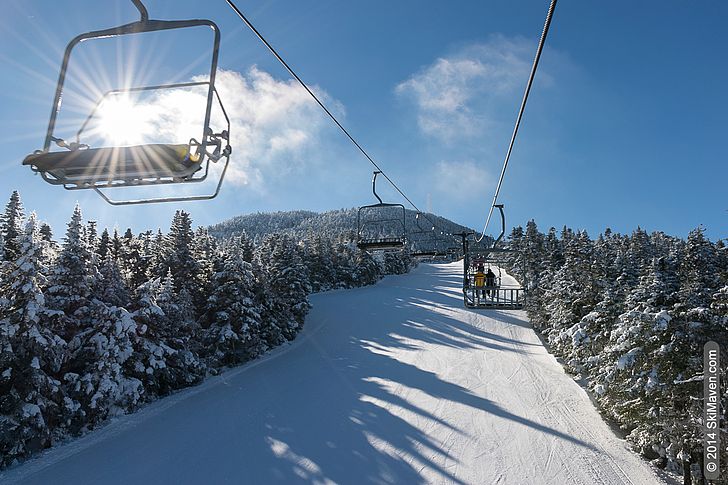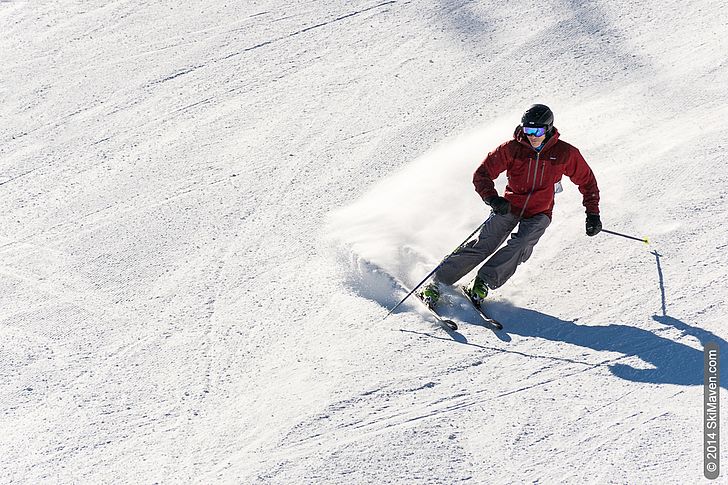 At Killington Resort this week, I gained a greater appreciation for gondolas.
It's been cold in Vermont recently and Wednesday and Thursday of this week followed suit. We bundled up to hit the slopes on two stunning bluebird days. The temperatures were in the single digits the first day so the Skimeister, Mother Skimeister and I had a plan: to ski off of Killington's two gondolas as much as possible.
The snow was cold and squeaky, and in the morning much of it was like a pair of starched corduroy pants. The freshly groomed snow made you feel like a superhero as you arced turns down the corduroy-covered slopes. Sweet.
We started by riding the K1 Gondola to the top of Killington Peak. Up here at 4,241 feet the trees were spackled with snow. The many trails that Killington has made snow on aggressively were well covered. We enjoyed cruising the groomers—and Killington has been grooming lots of trails each night. We liked our runs on Skyelark, High Road and Bittersweet. The Great Eastern trail helped to get us to the upper half of the Skyeship Gondola. Cruise Control may have been our favorite trail on Wednesday because of its consistent, groomed snow conditions and wide-open spaces.
With six peaks to navigate between, we noticed that we were afforded different views as we contoured around the peaks. The long and winding Great Eastern and Great Northern trails were helpful for moving between areas of the resort. In fact, just for kicks, we followed the Great Eastern trail all the way down to the base of the Skyeship Gondola, which is on Vermont Route 4. We were whisked back up the hill in comfort.
We stopped for a tasty, little snack at Ana's Empanadas, located in a tent at the mid-station of the Skyeship Gondola. Mother Skimeister also enjoyed a Cafe Choco and when we started to feel a chill again we jumped back on the gondola.
To further explore the resort, we ventured out on the Bear Cub trail to circle around Bear Mountain and ride the Skye Peak Express Quad (the Bear Mountain Quad was not open Wednesday). We noticed the dearth of snow on the expert Devil's Fiddle trail. It seemed like the wind whipped right across the trail to create a "Bare Mountain." (Get it?) The natural trails are not well covered due to lower-than-average snowfall so far this season. The few natural-snow trails we skied on had small bumps with rocky or grassy spots to avoid.
We enjoyed a run on the wide Bear Claw trail before heading back toward the gondolas. My final run of the day was on Superstar, an expert trail that drops down to the K1 Lodge. The steeper trails featured hard-packed conditions with less snow to push around. However, I found some small, fun bumps to play in on the skier's right.
We retired to our comfortable Trail Creek condo to change clothes and then head out for après ski. Thanks to a tip from a friendly Killington local, we enjoyed great drinks at the bar at Liquid Art on the Killington Access Road. They specialize in creative cocktails (such as the "Firetini"—two thumbs-up from the Skimeister) and coffee beverages. They also have a small menu and we nibbled on a cheese plate that included Fontina cheese. Yum. Back at Trail Creek, we cooked up a hot dinner and played card games by the fire.
On Thursday the temperatures inched up and the wind calmed down. We decided to venture away from the gondolas to explore other areas of Killington's rather expansive resort (155 trails and 22 lifts in all—though about one-third of the trails and lifts were not open during this low-snow, midweek visit). In the morning we targeted the sunny slopes in the North Ridge, Snowden and Ramshead areas. This western side of the ski resort catches plenty of morning sun, and we enjoyed skiing with our shadows.
The North Ridge Triple offered very fun cruisers such as Rime and Reason, and small bumps on the expert-rated run called Ridge Run. We kept moving by taking the East Fall trail and Great Northern over to Snowdon Peak. Wide, enjoyable trails here included Mouse Trap and Chute. The Snowdon Quad runs at a slow speed, which echoes the pace of Snowdon and Ramshead peaks. The trails here appear to be great for families and more novice skiers to earn confidence.
We frolicked on the rather flat, but snowy Frolic trail to reach Ramshead Peak. Here, we arced turns on a nice groomer called Header. We also made a pit stop in the quiet Ramshead base lodge.
We then worked our way back over to the busier Killington Peak and skied the expert trails called East Fall and Spillway. They were very firm and in the afternoon shadow of the mountain, as is much of this steeper part of the resort. (The north-facing, steep Superstar trail remains open late in the season because it's in the shade.)
The new Peak Lodge was a scenic place to warm up and enjoy a hot chocolate along with the sandwiches we carried in our pockets. All-glass walls afforded beautiful views. Another skier pointed out the ski areas that were in view: Pico, Stratton, Magic, Okemo and Mt. Sunapee.
I soon was pointing my skis down the Launch Pad trail toward the upper section of the Skyeship Gondola. I skied the expert pitches of Thimble and Needles Eye trails and also took another run on Cruise Control. I made my way back to the Snowshed base on Skyelark, which has a good pitch on its lower half. At Snowshed, I could catch a shuttle to our condo. (The condo ski trails were closed due to lack of snow.)
We haven't skied Killington for years and this was a great re-introduction during two bluebird days. I would love to come back when there is a normal amount of natural snow and I'd ski the selection of gladed trails and more of the expert runs that were not available this week. Plus, we know how to make strategic use of the two gondolas if it gets cold!
Killington Resort At a Glance
Summit elevation - Killington Peak, 4,241' (1,293m)
Base elevation - At bottom of Skyeship, 1,165' ( 325m)
Vertical Drop - 3,050' (957m)
Skiable Acres - 1509 (469 ha)
Miles of Trails - 73 (135 km)
Snowmaking covering 600 of skiable acres
Gondolas - 2 high speed, express gondolas
Quads - 9, including 5 high-speed express quads
Surface - 6 surface lifts, including 3 Magic Carpets
Uphill capacity - 38,315 skiers per hour
Filed in: Alpine / downhill skiing, Food, coffee & après ski, Killington
Share This Blog Post
Post a Comment
No Account Needed! To post without any kind of account, you can type in a name, nickname or trail name and an email (which we do not collect or use) then select "I'd rather post as guest." We'd love to hear from you!