As of Wednesday morning, we're part way through a major winter storm in Vermont. It has brought wet, heavy snow that will help with building a base on which to ski — whether you ski at resorts, in the backcountry or at Nordic centers.
Here's an image from the National Weather Service that forecasts the total storm snowfall through 1 a.m. on Thursday. Don't you love seeing double digits!?! Click here to see the updated NWS snow information and graphics. Or, follow this link for the two most southern counties in Vermont.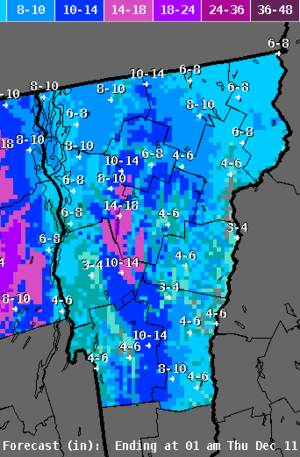 This morning the alpine ski resorts were reporting between 6 and 14 inches of snow at their higher elevations. And more snow and mixed precipitation was expected today.
Thanks, Mother Nature!
Note: With this heavy snow and mixed precip, some resorts are having trouble getting lifts open this morning. Check their snow reports before you head out!