January deals in Vermont for learning to ski, snowboard, and cross-country ski
Friday, January 3, 2014 at 02:40 PM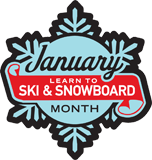 Vermont has enjoyed some fresh snow over the last couple of days, so it's time to get EVERYONE out there — even the newbies!
Here are a couple of deals that may help you convince a friend or relative to to try skiing, snowboarding or Nordic skiing this month.
Learn to Ski & Snowboard Month
January is Learn to Ski & Snowboard Month. For $29, beginner skiers and snowboarders get a special package including a lift ticket for beginner terrain, a lesson and equipment rental. Thirteen Vermont resorts are participating. Make a reservation in advance by visiting this website: www.skivermont.com/learn. The deal is not offered during holiday periods.
Winter Trails Day
Ever want to learn how to cross-country ski or snowshoe? I have to say Nordic skiing is a great way to spend part of a winter's day. Winter Trails Day on January 11 offers Nordic newbies discounted or free lessons, rentals and/or passes at 11 cross-country ski centers in Vermont. Visit this website for details: www.snowlink.com/wintertrails/findasite.aspx
Adaptive Cross-Country Skiing
On Winter Trails Day, January 11, the Northeast Disabled Athletic Association and Rikert Nordic Center in Ripton, Vermont, host a free introduction to adaptive cross-country skiing. People leave their wheelchairs behind as they get out on groomed cross-country trails. A collection of adaptive sit-skis paired with trained instructors will be available at Rikert Nordic Center throughout the day. Reservations are preferred by calling NDAA at 802-862-NDAA or Rikert at 802-443-2744. (Another clinic will be held by NDAA and Catamount Outdoor Center on February 1. Contact NDAA for details.)
Filed in: Alpine / downhill skiing, Cross-country skiing, Ticket discounts
Share This Blog Post
Post a Comment
No Account Needed! To post without any kind of account, you can type in a name, nickname or trail name and an email (which we do not collect or use) then select "I'd rather post as guest." We'd love to hear from you!