New in 2016 - 2017: Enhancements at central and northern Vermont ski areas
Friday, October 14, 2016 at 09:31 AM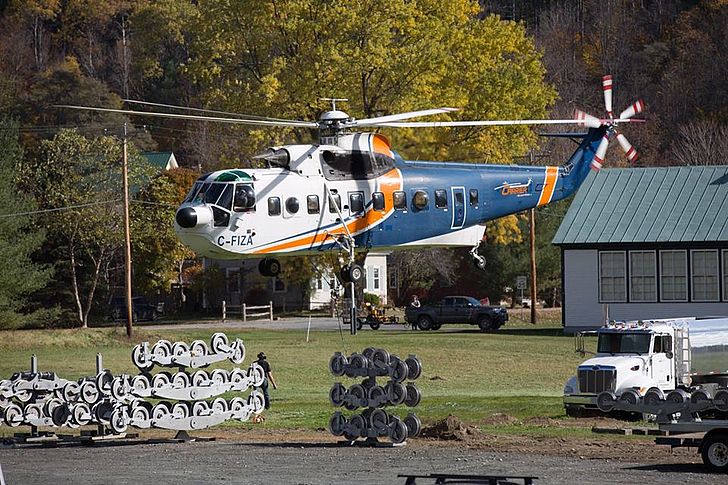 Vermont's ski resorts are getting prepared for a new — and hopefully MUCH snowier — ski season. Here's a recap of ski area improvements and investments in the central and northern portions of Vermont.
Bolton Valley
Bolton Valley is celebrating its 50th anniversary this year. The ski area plans to increase early-season snowmaking and will offer more night skiing in 2016-17. The mountain will be bringing in an additional air compressor for snowmaking for one month starting in late November. The additional equipment will allow the snowmaking crew to increase the amount of snow guns they have online at one time — cold weather permitting. The resort is also expanding its night skiing hours. Night skiing will be offered five nights per week this season (one additional night over last season). Night skiing will also run until 10 p.m. each night that it is offered. (Last season skiing closed at 8 p.m. most nights.) Over the past year many of the resort's slopeside hotel rooms have received upgrades including new carpet, drapes, furniture, mattresses, artwork, fresh paint and renovated bathrooms.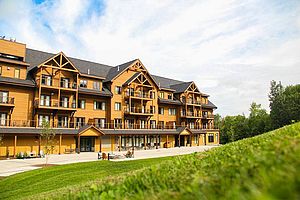 Burke Mountain Resort
The Burke Mountain Hotel and Conference Center opened its doors this fall. The 116-room hotel is situated mid-mountain, providing a ski-in-ski-out location. Amenities including a pub, restaurant, coffee shop, retail and repair shop. Twenty new HKD towers are being added to the snow gun fleet and the snowmaking team has been laying new pipe on Binney Lane and Little Dipper.
Photo: Half of the new slopeside hotel at Burke Mountain, Vermont. Photo courtesy of Burke's Facebook page.
Cochran's Ski Area
The folks at Cochran's are lengthening the ski area's t-bar. The refurbished t-bar will start at the very bottom of the slopes and extend 300 feet beyond the former summit terminal to offer longer trails, reduce crowding and provide a true beginners' trail from top to bottom. They are also continuing to improve snowmaking by adding energy-efficient snow guns and increasing the capacity of the pump system.
Jay Peak Resort
The resort is increasing the snowmaking capacity in its LZ and Jug Handle parks by 60 percent. It's also running a new waterline up the Interstate trail and installing 20 new snow guns along Interstate. The expansion will also allow the resort to open learning terrain in the Tramside area earlier in the season.
Killington Resort
Killington Resort has been gearing up for the women's World Cup slalom and giant slalom races to take place during Thanksgiving weekend. It's the first time in 25 years that alpine World Cup racing has taken place in the eastern U.S. (It's about time, no?) The resort's focus is on making a ton of snow for the course on the Superstar trail. In addition to summer improvements to the snowmaking water lines in this area, Killington is dedicating a snowmaking team to specifically build a deep base of snow on Superstar for the end of November.
Smugglers' Notch Resort
Smuggs is creating a new $4 million FunZone family entertainment center in the resort village. It's expected to open mid-winter 2016-17.
Stowe Mountain Resort
On the other side of the notch, Stowe Mountain Resort is the opening an $80-million-dollar Adventure Center at the base of Spruce Peak. It is home to all of the resort's children's programs. The building also includes new shops and family-friendly dining.
Sugarbush Resort
Sugarbush reports it has invested $750,000 into capital improvements for the 2016-17 winter season which include lift enhancements and improvements to the snowmaking pond. The resort repaired the weir in the Mad River that enables the diversion of water into the Sugarbush snowmaking pond when the river is flowing sufficiently.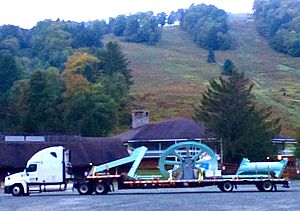 Suicide Six Ski Area
Suicide Six is replacing its chair #1, a 1976 double chairlift, with a new quad chairlift that will double lift capacity to the summit. A new Leitner-Poma lift with 65 chairs will carry approximately 1,800 people an hour to the summit. The ride to the top will take about the same amount of time as the old lift. The $1.5 million lift is funded through a grant from the Laurance S. Rockefeller Fund. The ski resort had problems with the lift last season, and was required more than once to close it for repairs due to safety concerns.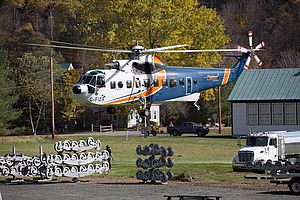 Photos: A new lift is being installed at Vermont's Suicide Six ski area. Photos courtesy of Woodstock Inn/Suicide Six's Facebook page.
See our recap of southern Vermont ski resort improvements, here.
Filed in: Alpine / downhill skiing, Bolton Valley, Burke, Cochran's, Killington, Resort improvements, Smugglers' Notch, Stowe, Sugarbush, Suicide Six
Share This Blog Post
Post a Comment
No Account Needed! To post without any kind of account, you can type in a name, nickname or trail name and an email (which we do not collect or use) then select "I'd rather post as guest." We'd love to hear from you!