New snowfall (no joke!) and a rail jam this weekend
Tuesday, May 20, 2008 at 11:50 AM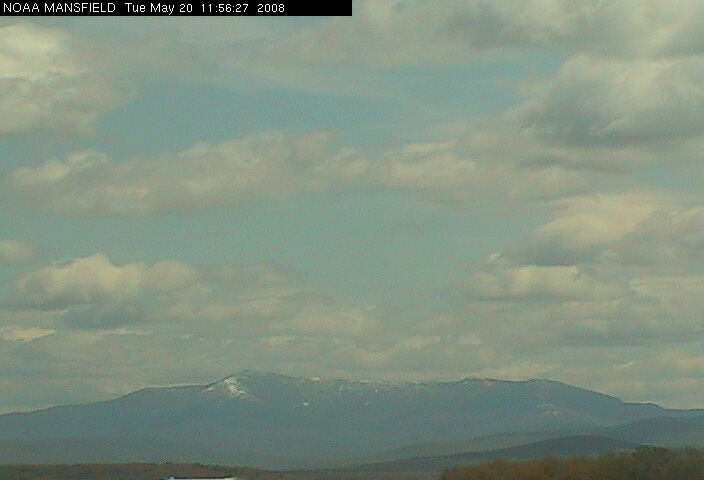 We've had a gorgeous morning in northern Vermont. When I drove home yesterday after work, however, I looked toward Bolton Valley ski resort and beneath the lifting clouds I saw ski runs. White ski runs.

Turns out the upper elevations were blanketed with snow yesterday. Stowe Mountain Resort reported about 5 inches fell on the top of the mountain. Not that I don't trust them, but I proceeded to the NOAA site and yes, there is about 18 inches at the stake near the summit of Mt. Mansfield. I understand the stake is located in a rather protected area so it tends to have more snow there than most other places.

Here's a view of Mt. Mansfield and its snowy ledges from Burlington today, found on this NOAA Web site: http://www.erh.noaa.gov/btv/html/cams.shtml
Stowe Mountain Resort announced today that they were having a Last Trick Rail Jam on Saturday, May 24, starting at 11 a.m. They are scrapping up the left-over snow from the Spruce halfpipe and placing rails on it so that people can compete for prizes. Sounds like fun!

While the forecast calls for rain around here this week, right now Saturday is looking sunny and lovely. Let's hope it holds out. Don't forget your sunscreen if it does!

As for me, I hope to be doing a little trail work on the Long Trail this weekend. My friend has adopted a portion of the trail and he's planning on cleaning it up on Saturday.
Last year about this time, the Skimeister and I hiked into the path of a young moose, who just stood in the middle of the Long Trail and kept an eye on us as he continued to munch on sticks. Maybe I'll see him, or his relatives, again this year!
Filed in: Mt. Mansfield, Spring skiing, Stowe
Share This Blog Post
Post a Comment
No Account Needed! To post without any kind of account, you can type in a name, nickname or trail name and an email (which we do not collect or use) then select "I'd rather post as guest." We'd love to hear from you!