This time of year can really try a skier's patience. Temperatures rise and fall. Rain can sneek in, rather than snow. And sometimes we can get a blizzard. You just never know.
As we turned our calendars to December this week, some colder temperatures returned to the region — thankfully — after a warm spell. Snowmaking guns and fans could be heard at several of Vermont's ski resorts. Small armies of snowmakers were painting the ski trails white.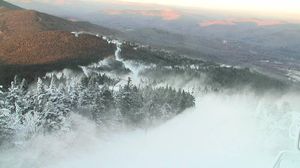 This weekend Stowe, Okemo and Killington remain open. Jay Peak reopens this weekend after taking a breather during this warm midweek. Sugarbush is hoping to do the same. Smugglers' Notch will run a lift for the first time this season on Sterling Mountain on Sunday. Other ski resorts are making snow in anticipation of opening ASAP or over the next two weekends.
Remember to check the <link internal-link>snow conditions links on our Vermont ski resorts page before you go to see the latest info on lift operations. And keep in mind that at some ski areas, the limited terrain is only for advanced skiers!
PHOTO: Impressive snowmaking firepower at Killington ski resort in Vermont this week. Photo courtesy of the resort.