Sunday cruising at Vermont's Bolton Valley Resort
Sunday, January 31, 2016 at 03:42 PM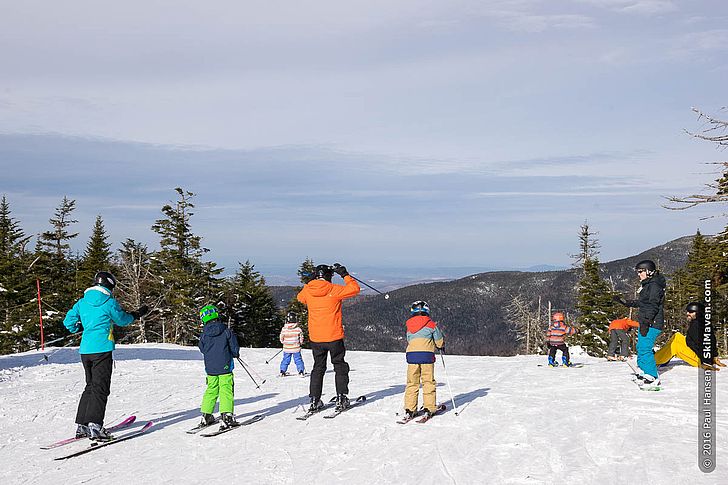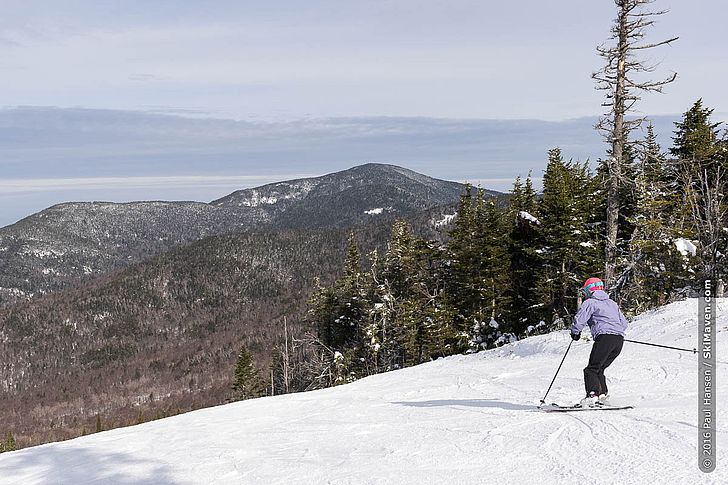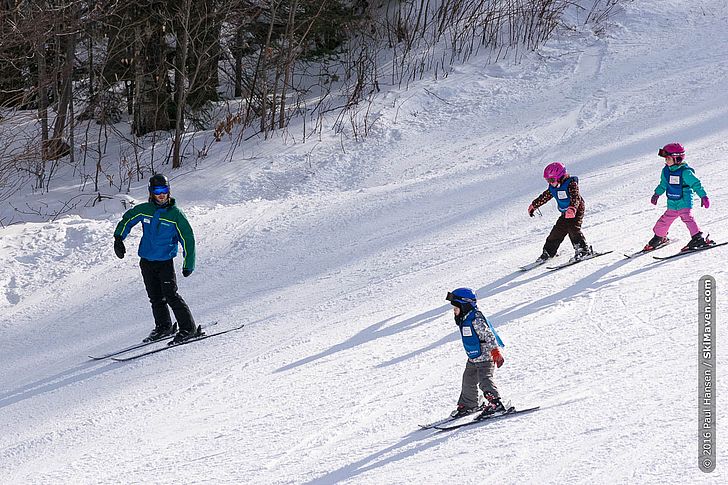 What a sweet surprise today to have the sun come out while we skied at Bolton Valley Resort this morning! We could ski along with our shadows on many trails, and we'd soak up the sun on the ride up the Vista Quad to the 3,150-foot summit.
Warm temperatures that reached into the low-40s and a lack of wind also meant you didn't have to bundle up to ski today. The snow was very edgeable because of it.
Four lifts were open: Vista Quad, Mid-Mountain Double, Snowflake Double and the Mighty Mite. The Skimeister and I just did laps on the Quad because there was no lift line early on and it didn't pile up much later in the morning.
The coverage on the snowmaking trails was very good and we especially enjoyed doing short, steep turns on Hard Luck as well as long, fast turns on Beech Seal. We like the feel of natural snow under foot, as well, so we skied over toward the Wilderness part of the ski area to try out the all-natural trails. Here the coverage was thinner, but with light traffic it was quite nice. On well-traveled corners you did have to watch for loose rocks. We liked making soft turns on Lower Turnpike and Lower Coyote. We dipped into the woods just a bit. We need more snow to cover up the brush and rocks and logs!
I'd estimate that 40% of the mountain was open. The Wilderness Double and Timberline Quad areas of the ski area rely more on natural snow so these lifts have not been open yet this season. The Timberline Quad was slated to operate midday this weekend only as an overflow parking transport lift. (You would then take a cross-over trail to get to the main mountain.)
There was a nice vibe at the resort today as many kids and parents skied together — some little ones making snowplow turns without poles and older kids catching air or doing tricks in the terrain park. Bolton Valley is an affordable ski area for families and it is also a short drive from the populous Burlington, Vt., area.
This was just the place to be on a sunny Sunday morning!
Bolton Valley Resort, Vermont, at a Glance
Lifts: 2 fixed quad lifts; 3 doubles; 1 surface lift
71 trails
Easy: 34%
Intermediate: 38%
Advanced/Expert: 28%
300 skiable acres
Summit elevation: 3,150 feet
1,704-foot vertical drop
Three terrain parks
Night skiing Wednesday - Saturday nights (plus some holidays)
Adjacent to the ski area are cross-country and backcountry skiing trails, based at the Sports & Nordic Center building.
Filed in: Alpine / downhill skiing, Bolton Valley
Share This Blog Post
Post a Comment
No Account Needed! To post without any kind of account, you can type in a name, nickname or trail name and an email (which we do not collect or use) then select "I'd rather post as guest." We'd love to hear from you!