A few inches of fresh snow, and three more ski resorts are slated to open
Friday, December 9, 2011 at 07:49 AM
One to seven inches of snow fell around the state on Wednesday night to help make things look a bit more wintry in Vermont. Today and tonight some areas will see snow showers.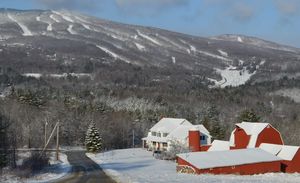 Dipping temperatures have helped with plans for three more ski resorts to spin their lifts for the first time this weekend. Bolton Valley Resort plans to open Saturday, as does Mount Snow. Bromley Mountain plans to open on Sunday.
Mount Snow will celebrate the "first flight" of the Bluebird Express, its new six-passenger bubble lift. (See this post for details.) Visit the links on our Vermont Ski Resort page to check on what lifts and trails are open at your favorite resorts. In some cases the open terrain is only appropriate for intermediate and expert skiers and riders.
We need some more natural snow to help out those nordic ski areas! Right now, only Craftsbury is open with very limited terrain, and they were helped by snowmaking. Last night they reported, "24 degrees and the snow guns are cranking."
In other news, American ski racers have been tearing up the ski slopes, cross-country trails and jumping hills. Check our SkiMaven Facebook posts and Twitter feed for those tidbits. It's a fun year to be following the US skiers!
I'm going to get some more turns this weekend. Have you skied yet?

Photo: A pretty snowy morning view of Okemo, taken on Thursday morning. Courtesty of Okemo Mountain.
Filed in: Alpine / downhill skiing, Bolton Valley, Bromley, Cross-country skiing, Fall & Early season, Mount Snow, Okemo
Share This Blog Post
Post a Comment
No Account Needed! To post without any kind of account, you can type in a name, nickname or trail name and an email (which we do not collect or use) then select "I'd rather post as guest." We'd love to hear from you!